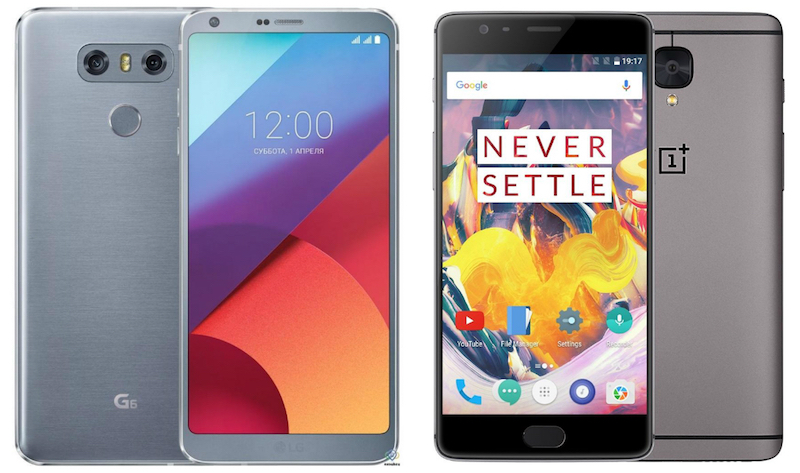 Yes, it's tough comparing Android phones which are actually one of the most buzzing electronic gadgets of the era. And when it's about the latest ones then the task becomes tougher. You might get many perplexing thoughts in your mind regarding which one is the best but one thing is common and that is you can grab the up-to-the-minute Android phones in the market after some days of those getting launched at various leading technology stores.
Though it's a tough job to do, I am here with a comprehensive comparison of the two latest Android phones in the market nowadays and these are LG G6 and OnePlus 3T. Have a look!

1. Design and Build
You've to agree with me that these two smartphones are both having an astounding stature with the stunning constructions of metal and glass. Due to this reason both of these are having generous screens and a pleasing weight which can be easily carried.
The LG G6 has an exclusively tall screen which is 18:9 in measure and OnePlus 3T has a standard 16:9 screen. So, you can understand easily that G6 has some attractively narrow bezels in both top and bottom as well as even on the edges of the phone. The corner of this phone is having a round shape which gives an aesthetic look to the phone but not a functional one. But, still, it's an eye-catching design point.
G6 further has a metal rim and gorilla glass in front and rear and it's very easy to hold and scroll. While OnePlus 3T has a matte metal rear to great effect.
2. Processor and RAM
The LG G6 and OnePlus 3T both have Qualcomm Snapdragon 821 processor. These two are quite the same when it's about benchmarks. LG G6 has a Geekbench multi-score of 4251 while One Plus 3T has of 4257. These scores are even faster than the Google Pixel making these two, one of the fastest phones in the world. Moreover, G6 has a 4 GB RAM and 3T has a RAM of 6 GB. The latter one is something very nice to have and in the coming years it will be very beneficial but for now, having a 6 GB RAM is a showboating.
3. Storage
The storage capacity of LG G6 is 32 GB and OnePlus 3T has 64 GB/128 GB. Moreover, though G6 has a storage capacity of 32 GB and with an expandable microSD storage, it can rise up to 256 GB. On the other hand, OnePlus 3T has set storage options which are actually a bit odd for the Android phones of today's era. But, with 64 GB and 128 GB, 3T is quite generous with the storage.
4. Display
The display of G6 is 5.7-inch IPS LCD, 2880 X 1440 pixels (564 PPI) and 3T has a 5.5-inch optic AMOLED, 1920 X 1880 pixels (401 PPI). Here, the main difference lies in the aspect ratio. The G6's screen is absolutely stunning which reproduces colours in a slightly more realistic way than the 3T. It has a fresh and clean feel. The 3T's AMOLED screen is also outstanding but accentuates the bold colours clearly within the OS. It's totally one's personal choice which one to opt for. But, G6 is the winner here due to the lively colour reproduction and an unusual 18:9 ratio when it's comes to the build of the screen.
So, if you're about to buy a new phone soon and you have these two latest contemporary technological marvels in your mind then the aforementioned points will surely help you to understand which one will suit you the most. Just read those, understand, decide and buy your favourite one at the earliest!