TreeSize Mobile – Manage your Smartphone disk space
TreeSize Mobile helps to easily locate the big files on your Smartphone when it runs out of disk space. You don't need to manually search for large files and folders which can take a long time. The file system is represented in a tree view and it shows you the size of folders, including their subfolders. It's 100% Free.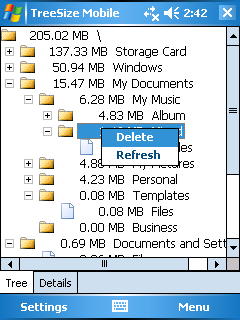 TreeSize Mobile requires Windows Mobile with .NET Compact Framework 2.0 (or higher) (contained in Windows Mobile since version 6.0).
Download TreeSize Mobile
It also has a similar application which can easily locate big chunks of files & folders on your Windows – TreeSize Free