YouTube has a huge collection of Full-length movies available to watch online for free, while paid movies are available for rent or purchase. There are thousands of movies on YouTube from different genres and finding the free full-length ones isn't really a straightforward task. Amit Agarwal of Digital Inspiration, the infamous and skilled pro blogger from India has launched a new site "Zero Dollar Movies", which makes this task easier than ever! Earlier, Amit had introduced a similar site 'Hundred Zeroes', that comprises a comprehensive collection of Free eBooks on all subjects.
Zero Dollar Movies is your one-stop destination for all the free full-length movies available on YouTube for free. The site comprises a collection of 15,000+ movies, one can simply browse the movies directory by their year of release or regional languages such as those from English, Gujarati, Hindi, Marathi, Punjabi, Tamil, etc. The catalog features English and Bollywood (Hindi) movies. The site indexes only Free Full Complete Movies on YouTube and no trailers, rentals, or partial uploads. The movie data is sourced from YouTube using its data API and from a Reddit community, where members post links for full free movies.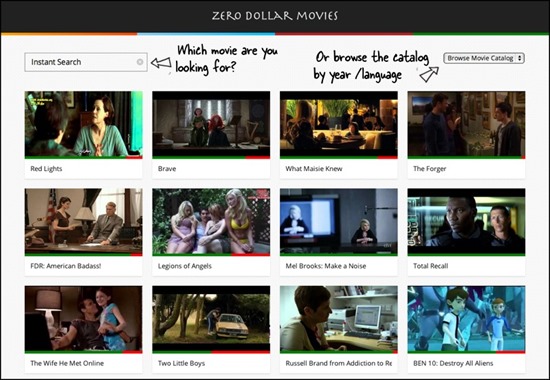 Instant Search, is one of the most useful and interesting features of ZDM that instantly shows the relevant films as you type the search term. You can use it to quickly check if a particular movie title is available for viewing on YouTube. The search feature is location-aware, thus will only show movies available in your current geographic location. Do check it out!
Zero Dollar Movies [Watch Full Movies Online for Free]