Recently, Twitter introduced the much-needed Bookmarks feature that allows users to save tweets for quick access later. Bookmarks make it easier to view specific tweets at a later time without searching for them across your timeline or digging a certain profile. They are simply accessible in Bookmarks section and no other person can view the bookmarks saved by you. Bookmarks are now available on Twitter for iOS and Android, Twitter Lite and mobile version of Twitter.
Unfortunately, Twitter hasn't rolled out the bookmarks feature for its web aka desktop version. This makes it difficult for users like us who frequently access Twitter using both the desktop and mobile platform. Hence, if a user has bookmarked an article on Twitter's mobile app then they've to either view it using mobile or share the tweet via email, message, etc. to view it on a desktop. This is certainly cumbersome in case you wish to view and access all your bookmarked tweets on a PC using Twitter's web interface.
Well, there's an easy workaround for this limitation.
View Bookmarks from Twitter website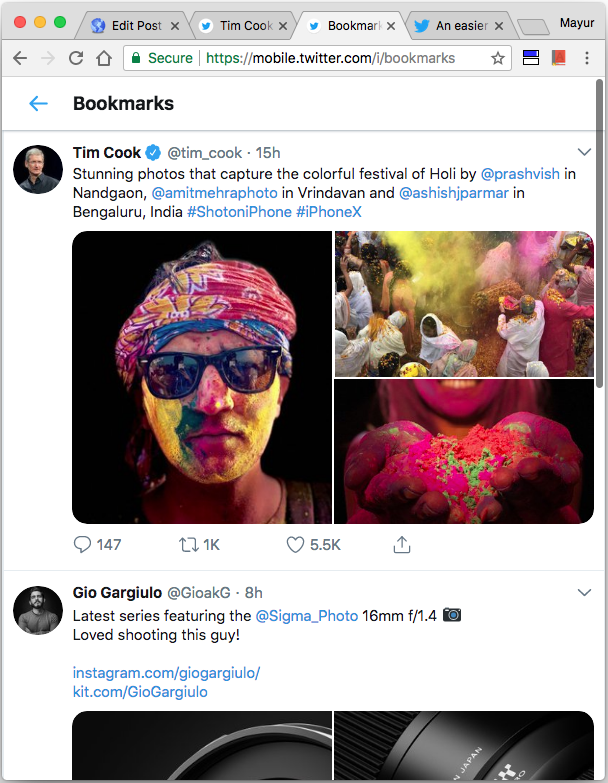 As Twitter provides Bookmarks on its mobile website, you can simply visit mobile.twitter.com/i/bookmarks to access all your bookmarks on a PC. Tip: Bookmark the link for faster access.
Bookmark Tweets from Twitter website

While on a desktop, append an "m. or mobile." before twitter.com in the URL (refer image) to open it in the mobile version. The timeline or certain tweet will open up in mobile view.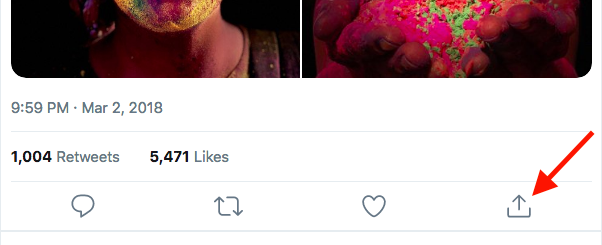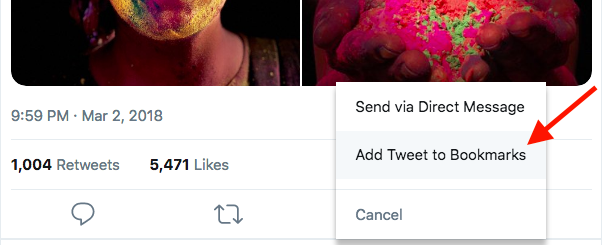 You can now bookmark it by clicking the Share option and selecting "Add Tweet to Bookmarks". A message will appear saying "Tweet added to your Bookmarks".
Hope you found this tip useful.