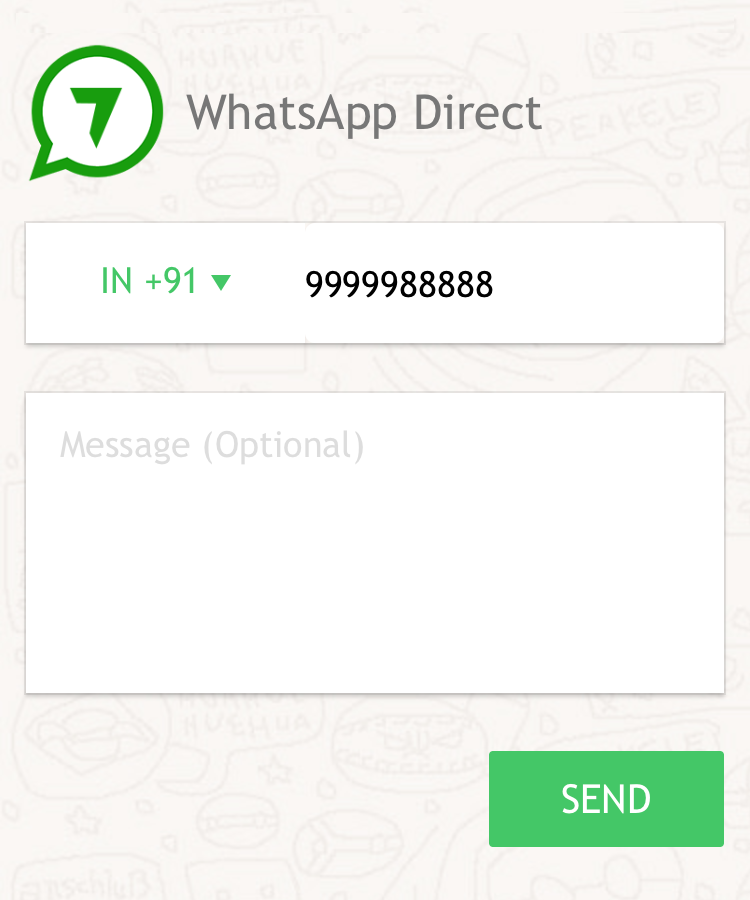 WhatsApp, one of the most popular instant messaging app is perhaps the perfect replacement for conventional SMS. This chat and VoIP client for mobile devices is used by over 1 billion users daily. For most of us, WhatsApp is an essential part of our lives and it's really tough to avoid it. One can deny the fact that WhatsApp despite being free, makes it very easy and quick to share text messages, photos, documents, voice notes, and even payments (only in India via UPI) without any hassle.
However, as compared to SMS messaging, WhatsApp lacks one small yet crucial feature which is the ability to send a message to a person who is not on your contact list. Hence, if a certain person is not in your contacts already, then you can't message them without adding them as a contact first.
Though adding a contact isn't a big deal, but it's bothersome for WhatsApp users who often need to send just a text, photo, or a PDF file to someone with whom they would never interact afterward. Adding such numbers to contacts for one-time usage doesn't make sense and this tends to clutter your phonebook as well. To solve this problem, we've figured out few workarounds that allow users to send a WhatsApp message to someone without saving their phone number in the address book.
How to Send a WhatsApp Message to an Unsaved Number
Method 1 (Without installing an app)
This method involves using WhatsApp Direct, a nifty web app with a simple and clean interface. It works on Android, iPhone, and Windows Phone. You don't have to install an app because it is just a web app that's added as a shortcut to your device's home screen for quick access. The app simply uses WhatsApp Click to Chat feature, thus allowing you to begin a chat with someone whose number isn't saved in your phone's address book.
WhatsApp Direct web app doesn't pack any unwanted settings. Moreover, it is completely ad-free which makes for a better user experience. One shouldn't be worried about privacy because WhatsApp Direct uses the official WhatsApp API to get the job done. As a result, it neither stores your information such as phone numbers or messages nor shares it with third parties.
Using WhatsApp Direct is very easy and self-explanatory. To do so,
Visit 7labs.io/a/whatsapp-direct on your mobile device.
Select the receiver's country code.
Then enter the phone number (without the country code) and add a message (optional).
Tap the Send button
The app will redirect to WhatsApp (grant permission if required) and open a new chat for that particular number. It also notifies you if the entered number isn't on WhatsApp.
Installing WhatsApp Direct –
For faster access, we suggest you add WhatsApp Direct web app to your phone's home screen. Below are a series of screenshots in sequence, guiding you on how to do so on iPhone (iOS) and Android.
On iPhone (using Safari)
On Android (using Google Chrome)
P.S. This is the best and most recommended method.
ALSO READ: How to find WhatsApp voice notes on your iPhone
Method 2 (For Android) –
Alternatively, if you're an Android user then you can install one of the below-listed apps that are available on Google Play.
Send WhatsApp Message Without Saving Contact – The best thing about this app is that it's completely ad-free and has a very simple interface.
Quick Message – This app supports ads that could be annoying for some users. However, it features a catchy design and shows a dialog to send a WhatsApp message when you copy a number from call logs.
Note: The receiver's phone number must be registered on WhatsApp or else the message won't be delivered.
The above multi-platform web app and Android apps work like a charm for WhatsApp users across the globe. They also come in handy when at times WhatsApp doesn't show the contact even after adding it to the address book.