Easily Manage & Backup your iPhone Contacts with New CopyTrans Contacts
CopyTrans has recently released their new product 'CopyTrans Contacts', an efficient program designed to easily manage your iPhone, iPod Touch and iPad contacts without iTunes or any Cloud-based services. Your contacts address book is very precious and loosing it accidentally can be a nightmare come true. So, it's highly recommended to have a proper backup of all your contacts at one place, preferably on your computer.

CopyTrans Contacts is a useful and easy to use application for Windows that offers a quick and easy way to organize, edit, backup and export iPhone contacts to your PC. It's a safe and reliable solution to instantly download your iPhone contacts to computer and not in the cloud, where users can edit, copy, delete, group contacts, import, add or remove contacts on PC and sync later with iOS device in a matter of few clicks. Besides backing up your iPhone contacts to PC, it provides the ability to transfer contacts book from iPhone to Outlook, Gmail, Yahoo, Excel, Android, Windows and other devices.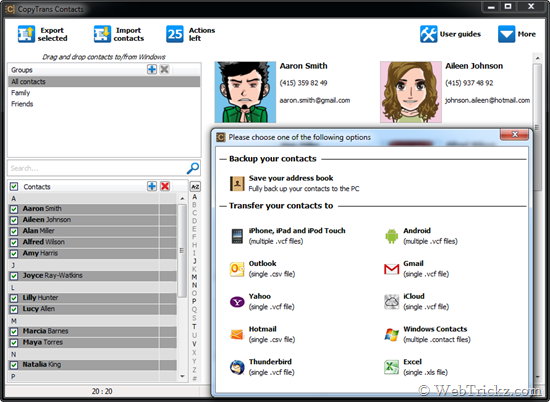 There's more than just organizing and managing the iPhone address book easily with CopyTrans Contacts. You can seamlessly add contacts to your new iPhone by importing them from iCloud, Gmail, Outlook, Windows Contacts, etc. with a simple drag and drop or transfer the *.csv or *.vcf contact files to your iPhone and you're done! It makes easier than ever to organize your iPhone contacts in groups like family, friends, etc. and delete multiple iPhone contacts at once from the comfort of your PC. Moreover, with CopyTrans Contacts one can transfer all their iPhone contacts to any Android device.
Video – Brief introduction of CopyTrans Contacts
CopyTrans Contacts is currently available for a special launch price of $1.99 USD through September 30 followed by a price increase to $4.99 USD through October 21. Final retail price will be $9.99 USD. It is available in 23 languages.
Supported OS: Windows 8, Windows 7, XP and Vista
– Fully compatible with iOS 6 and iPhone 5
Note: You get 50 actions during trial which can be extended up to 200 by sharing about it on social networks from within the app.