Facebook is a huge social media platform and hence it isn't surprising to see spam, hateful and disrespectful comments on public posts. In an attempt to make conversations on public posts more meaningful, Facebook has started ranking comments since past few months. The company has incorporated a number of signals to show comments that are most relevant to users. This change, however, only applies to comments on public posts from profiles and pages with a lot of followers.
Most relevant comments displayed by default
While Facebook's move to show relevant and quality comments make sense, a lot of users hate this particular feature. That's because Facebook shows most relevant comments by default on public posts that qualifies for comment ranking. Moreover, the ranking of public comments is entirely forced upon and Facebook provides no setting to change it either. Hence, if you want to view all comments or newest comments, then you have to navigate to the top and select your preference every time on every single post.
It's certainly annoying to see that end users have no control over the comments they want to see by default. Fortunately, a Facebook profile owner or a page admin has the ability to enable or disable the comment ranking system for their profile or page. By doing so, they can choose to either display the most relevant comments by default or the most recent comments first.
Without further ado, let's see how you can turn off most relevant on Facebook for your profile or page. In addition, here's how you can manually change the ranking order of comments on a public post.
ALSO READ: How to become a Top Fan on Facebook
Changing the order of Facebook comments
As you might have noticed, most relevant is the default selection for comments on popular public profiles and pages. You can, however, change the sort order of comments on a post but you have to do it every time to see unfiltered comments.
To do so, tap the "Most Relevant" dropdown box at the top of the comment section.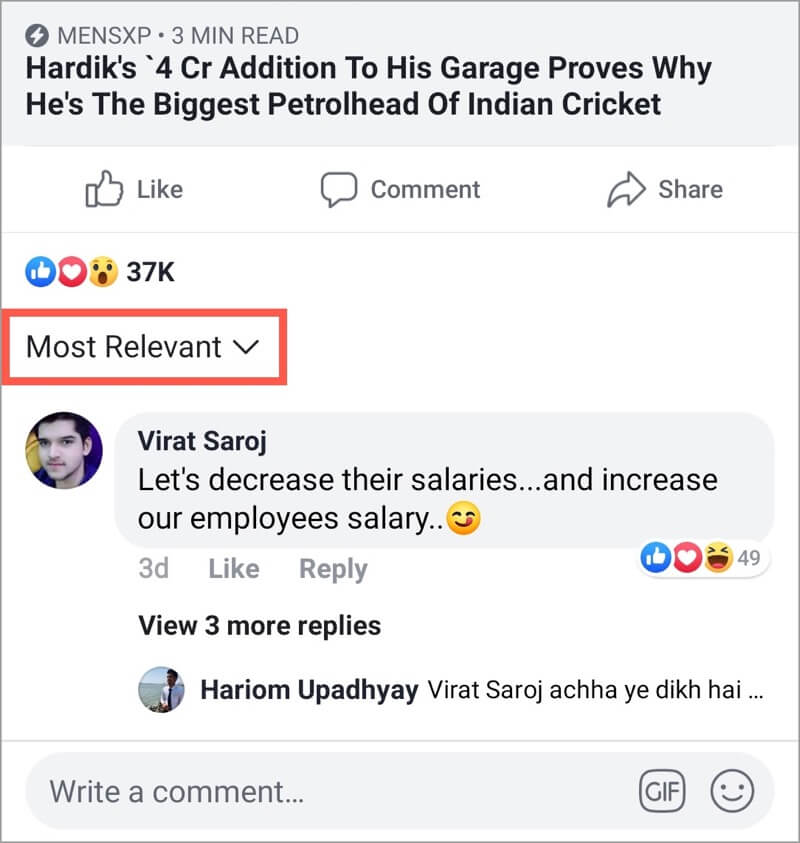 Here you will see three choices – Most Relevant, Newest and All Comments. Select the option that you find appropriate.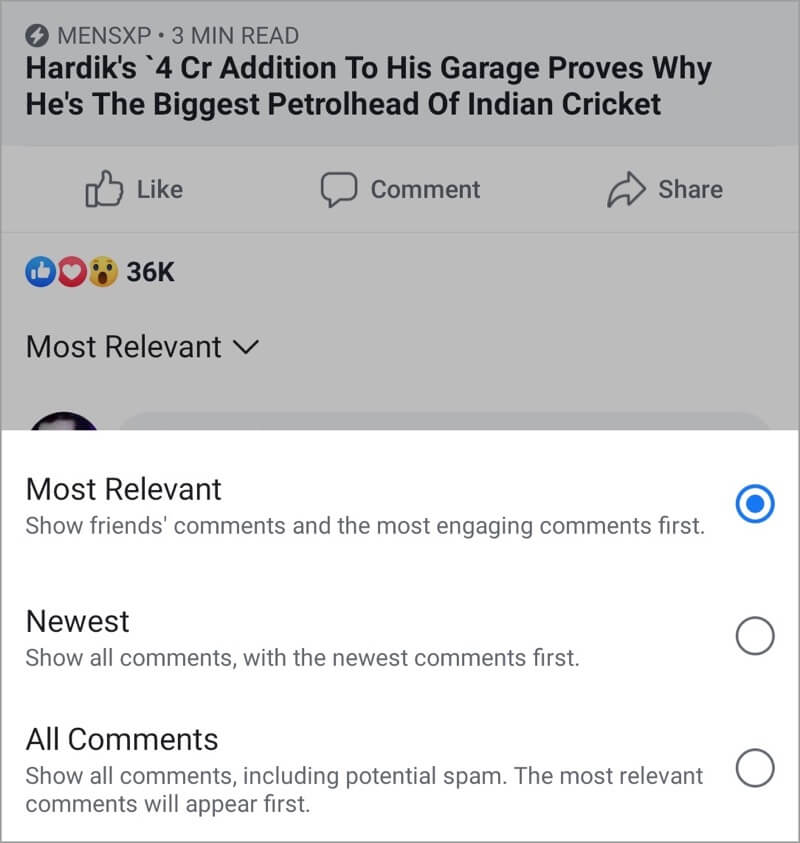 Unfortunately, the change is temporary and you will be forced to see the most relevant comments on every page unless the page admin or profile owner has chosen to display the most recent comments by default.
How to Turn off most relevant for your profile or page
The comment ranking is automatically enabled for all pages and popular profiles. What's noteworthy is that one can easily turn off comment ranking option for their respective profile or Facebook Page. This will turn off most relevant and the page will display comments in chronological order by default. To turn off comment ranking, follow the steps below.
For Pages
Visit your Facebook Page and click on Settings at the top right.
Click on General and select the "Comment Ranking" option.
Uncheck the box next to "See most relevant comments by default."
Click on Save Changes.
For Profiles (On a desktop)
Visit facebook.com and click the down arrow at the top right.
Select Settings.                     
Click on Public Posts from the left sidebar.
Click the Edit button next to Comment Ranking.
Select Off from the dropdown box.
Using the Facebook app (On Mobile)
Open the app and go to the Menu tab.
Scroll down and navigate to Settings & Privacy > Settings.
Tap on Public Posts under Privacy.
Turn off the toggle for Comment Ranking at the bottom.
We hope you found this article helpful. Don't forget to explore our Facebook and Messenger section for other interesting tips and tricks.