Google Play (formerly known as Android Market) is an online store for all your favourite Android apps, games, music, movies, books, and magazines. The market offers both free and paid applications, where purchases can be made using an applicable credit, debit, or gift card and the payments are directed securely through Google Wallet. Perhaps, you must have noticed that Google asks for your Credit Card when making your first purchase from Google Play Store. And the next time you wish to buy an app, it doesn't ask for the CC because by default it saves your Credit Card credentials during the first checkout without offering any option to continue without saving the card information.

Now there are certain instances where this facility can be beneficial and risky as well. Let's say your Android phone or tablet is accessed by multiple users or your friend asks you to buy an app for him using your Credit Card. Considering payment information is added to Google Play, your CC can be easily misused by those users for buying any of the paid Android apps from the linked device in a few clicks. If you don't want to save your payment information in your Google Play Account, you need to delete your Credit Card after making a purchase. This however currently can't be done from within the Google Play app and requires a web interface. Follow the steps below:
1. Sign in to your account at 'https://wallet.google.com/manage' using the same email address that you used to buy apps from Google Play. (This can be done either from your mobile phone or computer).
2. Google Wallet will show all your transactions. Click Payment Methods from the left pane, where your added cards will be listed.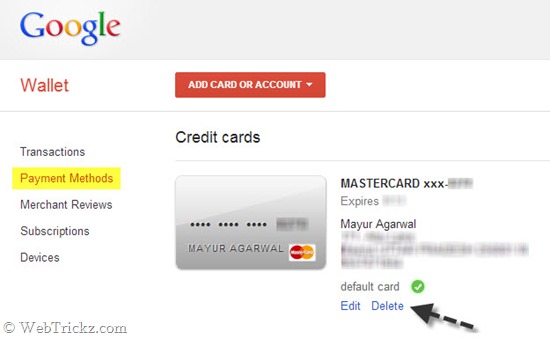 3. Click Delete next to the card information that you'd like to remove. A confirmation message will appear, click 'Yes, remove it'.

You can also add a new card, update your payment or billing address information using the 'Edit' option, and set one of the added cards as your default payment method by clicking 'Set as default' from the same webpage.
Note: Removing your payment method from your account won't stop the payment for a transaction that's in progress.
Hope you found this info useful. 🙂
UPDATE (15 May 2014) – Google has added PayPal as a new payment method that users can use to buy apps and digital content on Google Play. PayPal is currently available in the following countries: Austria, Belgium, Canada, Finland, France, Germany, Ireland, Italy, Netherlands, Spain, United States, United Kingdom. You can add PayPal to your Google Wallet account using the Google Play store app or your computer.
In case you want to Remove/Delete your PayPal account from Google Wallet, go to Google Wallet and select 'Payment Methods'. Then select PayPal and click Remove.