The Internet today has soldered its place in our lives to such an extent that our dependence on it has reached dangerous levels, undoubtedly. Online security has become a big concern for people these days. While surfing the web, we have to ensure proper security measures of all our accounts such as emails, social media accounts, online shopping accounts, and what not!
The word 'online privacy' has just become a myth as a data breach is happening with millions of people every now and then, and email service providers are no exception to it.
Though continuous measures are being taken by tech giants to protect their users with the ever-growing malicious attacks and privacy invasion, you need to take charge of your email security.
If you're handling sensitive data on your mail? Or what if you just sent it to the wrong person? There is no way you can unsend the mail. But with EPRIVO's private email account, you can certainly do so. So, without any further ado, let us have a look at what EPRIVO is.
What is EPRIVO Private Email?
EPRIVO is a private and secure email service that is quite ahead of its competitors and offers security that other providers fail to do. EPRIVO is not an email provider like Gmail and Outlook; instead, it is a security provider who can encrypt and authenticate emails and provide a plethora of unique security features.

EPRIVO is developed by BlueRISC Inc, who is a global leader in the vertical of Cyber Security & Forensics. It offers enhanced security and control updates to give the sender full control of the ownership of the email.
Apart from encryption and authentication additions, EPRIVO is an anonymous email that also provides you physical security. That means, even if one of your account's passwords got compromised, your privacy is still maintained.
Major Features of EPRIVO's private email service
What makes EPRIVO so different from others is the industry-specific features that it offers. So, here are some of the most promising ones of this private email service that'll secure your emails:
Add security to your existing email
There is no other email service that lets you add extra security to your existing email account. You need not sign up on EPRIVO to use its services.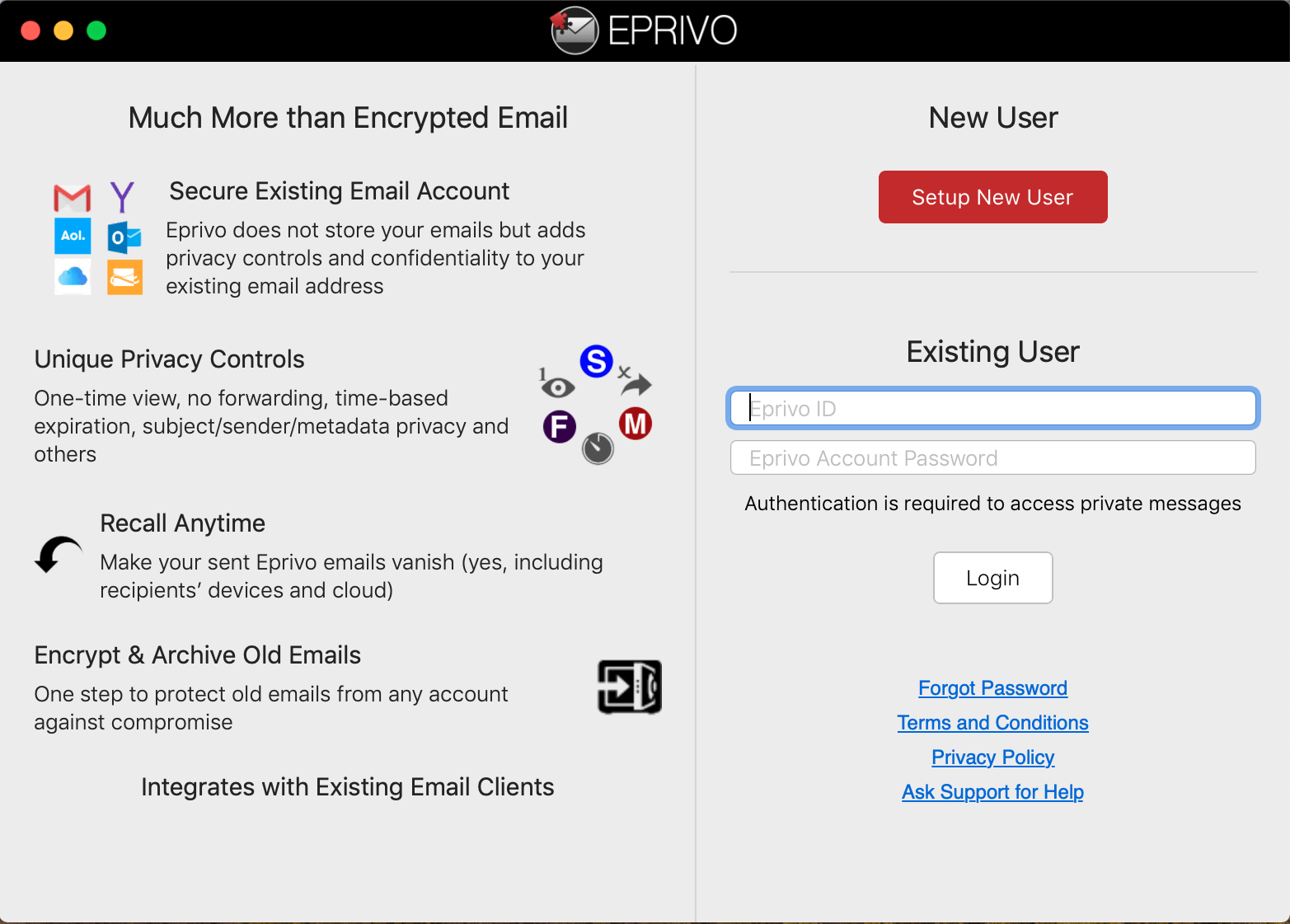 It becomes extremely crucial when you want to a secure email without creating a new account. EPRIVO will secure all your email addresses to manage private and non-private emailing for you.
Two-Factor Authentication
EPRIVO encompasses its users with two-factor authentication by which you can set your biometrics as an extra security option for your email credentials.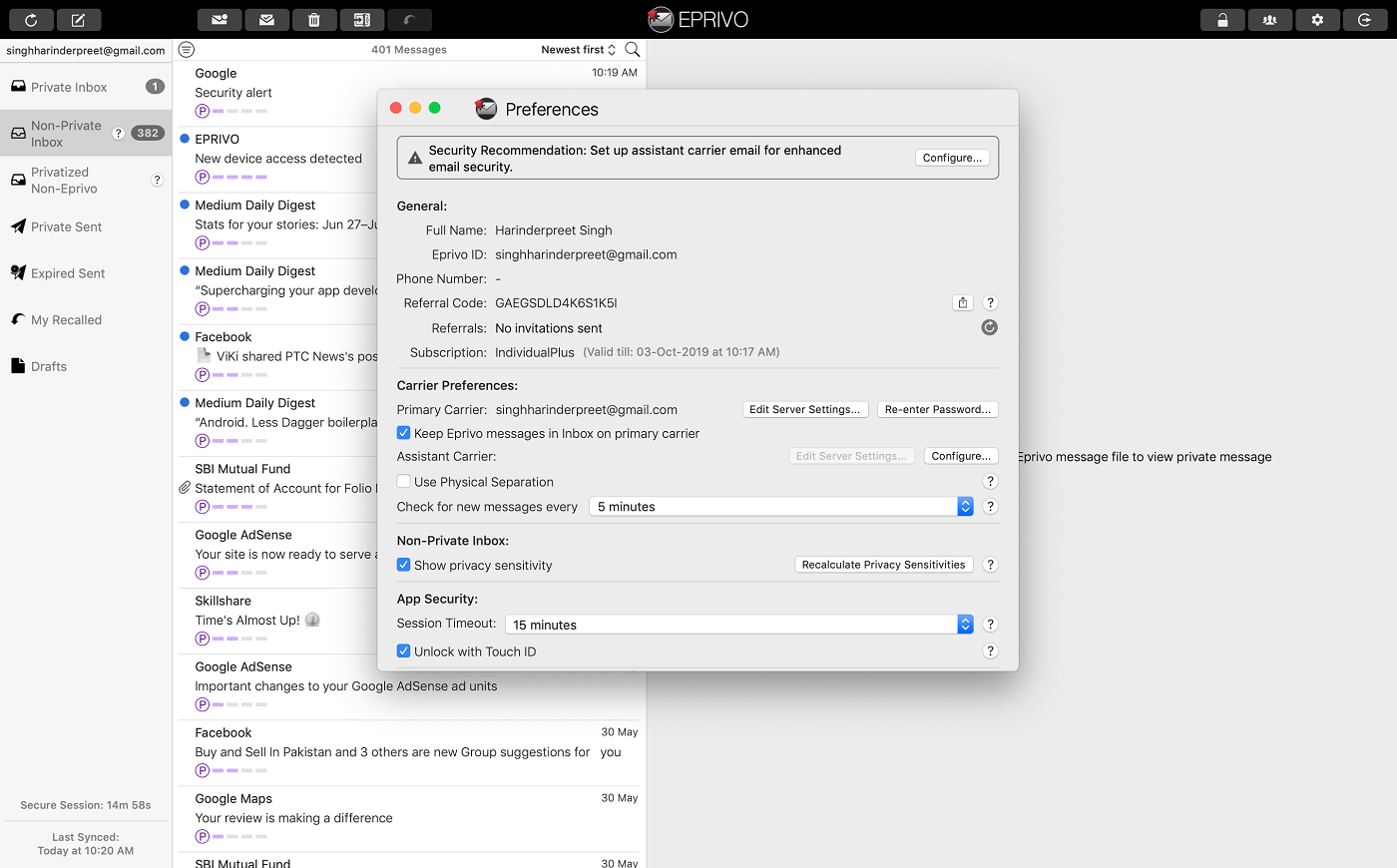 Most of the providers don't offer this feature, which means anybody who has access to your phone can access your emails and misuse them. But with two-factor authentication, it makes it difficult to enter in the EPRIVO app and access your mails.
Sender Controlled Emailing
Want you call back an email even after the receiver has read the message? EPRIVO does it for you! When you do so, the mail disappears from the inbox, cloud, as well as from all the servers and recipients.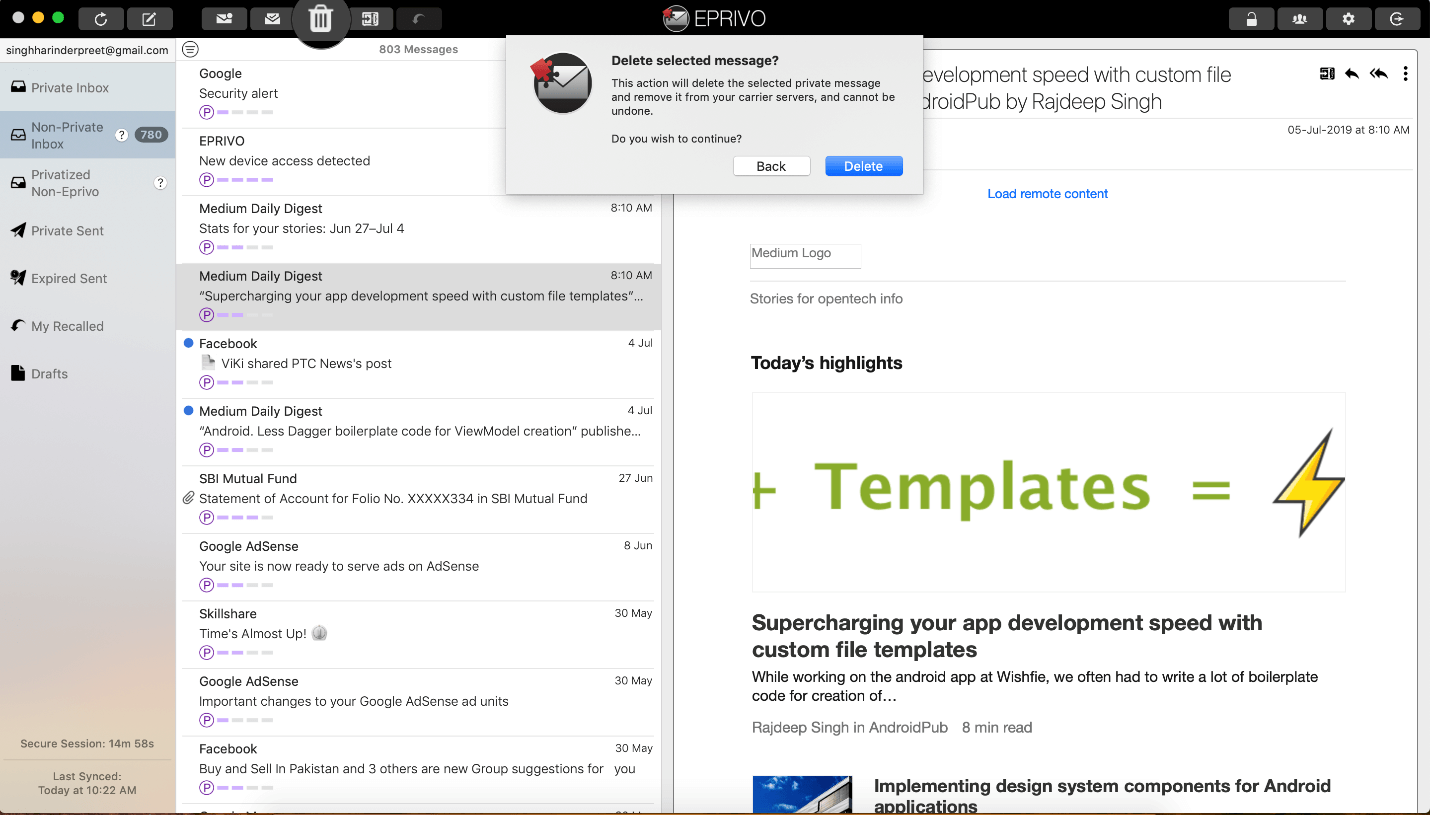 Along with that, you can also choose if an email should be blocked from forwarding to other users. There is a feature that lets you select the expiration time of the email, which can sender can decide. The expired emails will be put in the 'expired' folder with a timestamp so that you, as a sender, know it happened and when.
Encrypt the older messages and emails
This is probably one of the best features of EPRIVO private email service. Are you thinking about what the need to secure an existing email account is? Well, firstly, you don't have to create or sign up for a new email account. And secondly, you can secure the message that you have previously sent.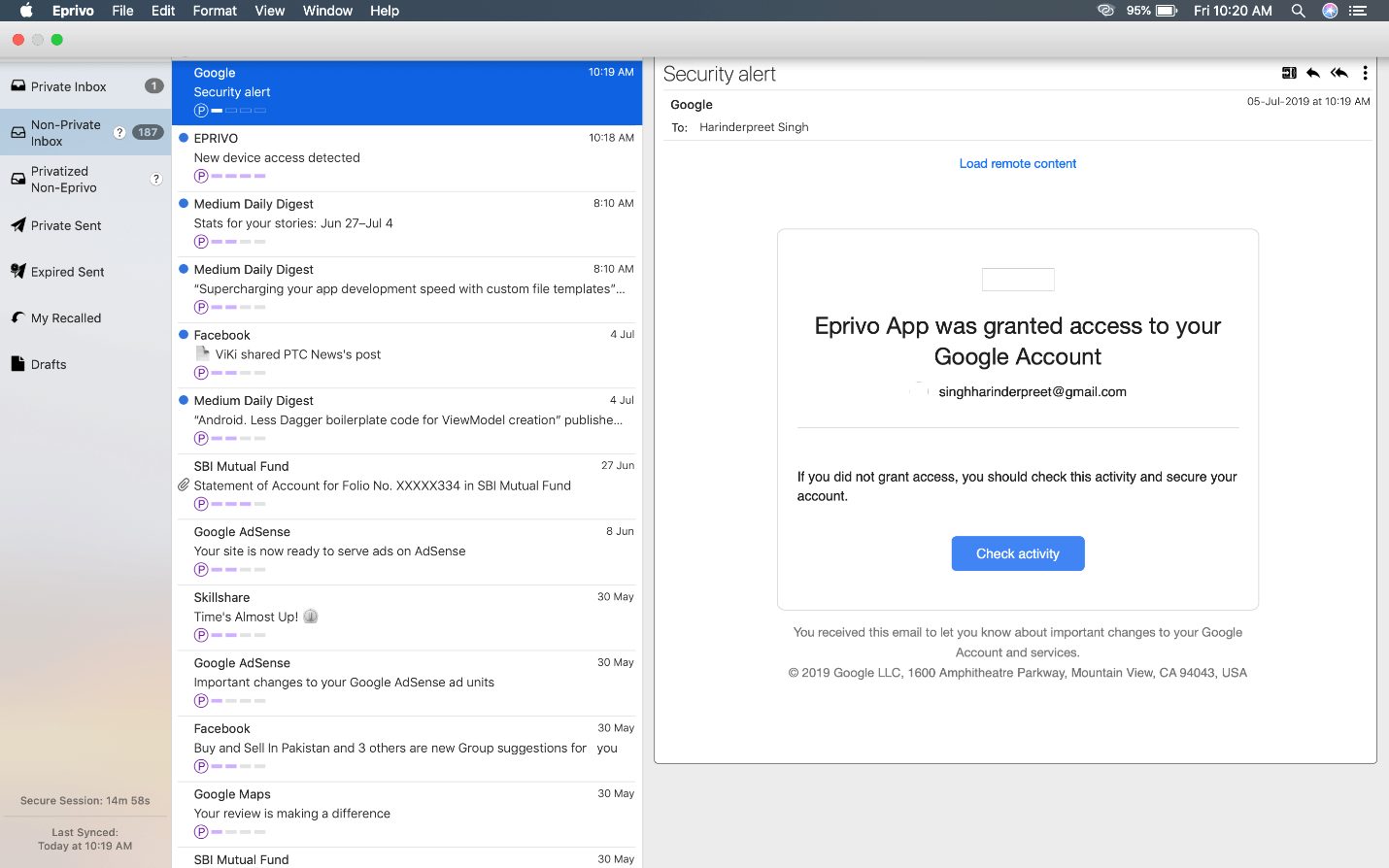 You can easily use EPRIVO to privatize, archive, and encrypt the mails from your previous accounts. Moreover, if you want to delete any messages, you can switch to EPRIVO without any doubt or second thoughts.
Shared storage of user data
When you send or receive a mail, your data is stored with the email service provider, and they can easily access it. However, when you send a mail using EPRIVO, your data is not stored with it as EPRIVO is not a hosting email service.
That data is shared in an encrypted and shattered form on your email carrier(s) clouds. The algorithms are designed in such a way that your whole data is never at the same place, even in the encrypted form.
Lastly, EPRIVO also allows you to send and privatize voice notes on your email, which we are quite fun and new. So, you can choose to send or respond with either voice or text while having a conversation with someone on mail.
Plans and pricing
With EPRIVO, you get a free 3-moths trial period. After that, you can choose from one of the following plans:
INDIVIDUAL PLUS – It is priced at $11.99 per year and is valid for a single user only. Some features such as privatizing 'from' address are locked, which can be unlocked by a one-time purchase.
FAMILY PLUS – Family plus is priced at $17.99 per year and can be used by a maximum of 5 people.
CELEBRITY GOLD – Celebrity Gold Plan is priced at $35.99 per year and gives you full access to all the exclusive features along with high-level support.
CELEBRITY PLAN – Lastly, the Celebrity plan costs $89.99 per year, and you can add a maximum of 5 users with full access to all the features.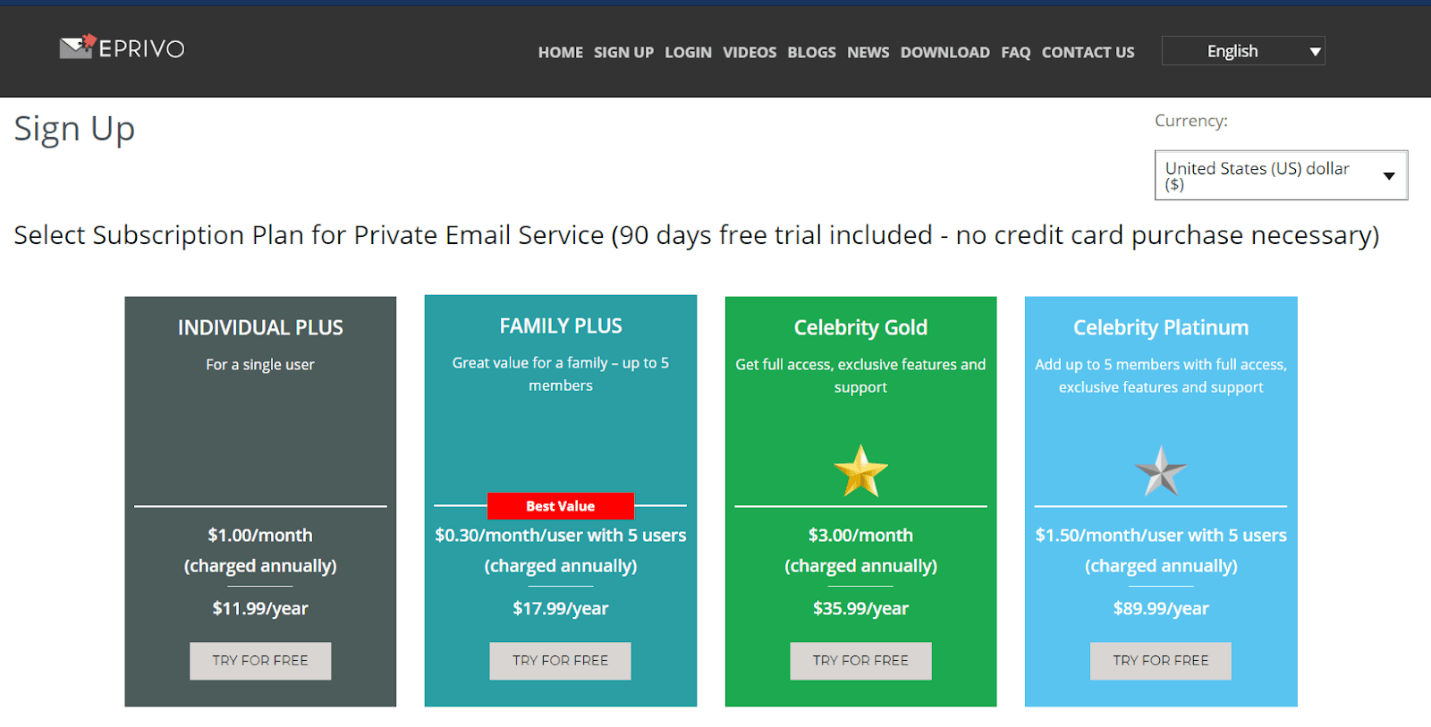 The veterans from the US are allowed to use EPRIVO for free. You can maintain a free service by becoming a beta tester or being a very active user too.
How to set up EPRIVO?
Let us see how you can create an EPRIVO account on your phone and start sending private emails.
Step 1: To get started with your smartphone, you and download and install the EPRIVO app from the Apple Store or Google Play Store. EPRIVO is also available for Mac & Windows devices.
Step 2: Now, sign up by creating a new account or login if you have an existing account. You can select the appropriate plan from its official website or enjoy the 3-month trial period.
Step 3: Once you enter your login credentials, the service will take a few moments to verify your device and necessary aspects.
Step 4: To protect your existing account, you need to give access to secure the registered email address.
Step 5: After the configuration is complete, tap on the Next button at the right corner, and you're using the EPRIVO private email world
There are dozens of features and preferences that you can configure on the app. So, make sure you explore every possibility of securing your data and emails online.
Bottom Line
These were some of the key points about EPRIVO that you should know before using it. The features offered by EPRIVO are amazing, and they come at an affordable price too. They are also known to provide the best customer support.
Along with all the features, its user interface is highly innovative, and I am sure you will enjoy using their services. The user ratings are enough to suggest that EPRIVO private email service is the best in its field.