Google has quietly launched a new extension for Google Chrome that makes it real easy and fast for Google Adsense publishers to check their earnings or revenue reports. This official extension 'AdSense Publisher Toolbar' introduced specifically for Chrome browser offers AdSense publishers two efficient ways to access real-time information about their accounts and the ads served on their websites.
AdSense Publisher Toolbar is a great and handy Chrome extension, allowing users to view their adsense account earnings in an overlay without visiting Adsense site and from any webpage in Chrome. Apparently, it is weird to see that Google named this cool extension as a toolbar which it's certainly Not. It's a boon for those interested in checking their site earnings several times a day. Account earnings summary are displayed for today, yesterday, this month, last month. It also shows Top 5 custom channels and even the 'Lifetime revenue' generated from the linked Adsense account.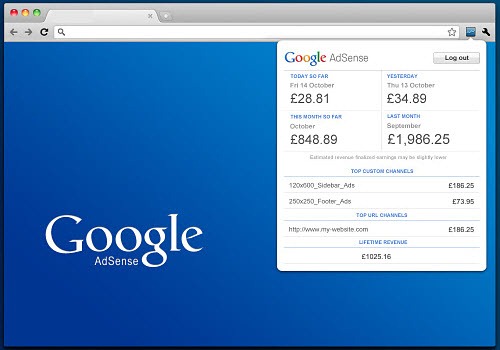 Besides just showing your income, the extension has another amazing feature 'In-site ad overlay' that shows instant summary of each ad unit's earnings (today, yesterday, last 7 days) running on your site and also the ad unit size. To enable ad overlays, simply visit your site and tick mark the 'Show ad overlays' option from within the extension. Instantly, you will be able to see earnings summary for every individual ad unit directly on your site. This is something really impressive that could help users in determining how their ad units are performing.

Chrome extension – AdSense Publisher Toolbar (by Google)   via  [labnol]