Due to obvious reasons, most users on Twitter end up blocking a lot of accounts over a long span of time. Blocking an account allows one to restrict specific users from viewing their tweets, following them, sending direct messages, tagging them, and more. Though Twitter allows the users to easily block or unblock an account, there is no way to unblock all the blocked Twitter accounts at once. In case you're being generous and want to give a second chance to everyone on your blocked list, then it could be a tedious job to unblock each user account manually, especially when you've blocked hundreds of accounts.
To ease the process, one can simply bulk unblock Twitter accounts using a javascript script available on GitHub. The script offers a safe way to unblock people on Twitter without using any third-party extensions or granting access to unblocking apps. It also comes in handy in case all your followers are blocked when the Twitter account gets hacked. The script automates the process of scrolling and allows you to unblock all the accounts in a few clicks. Here's how it works:
The unblock.js script performs each of those tasks by scrolling to the bottom of the page, waiting for it to load via a set timeout, and then continuing to scroll until it observes no difference in scroll height. Once the script can no longer scroll, it finds all of the unblock buttons, by searching for the 'blocked-text' class elements and clicking on each of them individually.
Unblocking All Twitter accounts automatically –
1. Visit Twitter Settings > Blocked accounts (twitter.com/settings/blocked) in the Google Chrome browser.
2. Then open the JavaScript Console by right-clicking and select Inspect > Console, or simply use the shortcut key Ctrl+Shift+J (on Windows) and Cmd+Option+J (on Mac).
3. Inside the console, paste the contents of unblock.js and press enter.
4. Now type main() and press Enter. Let the process run, it may take a while depending on the number of blocked accounts.
5. A dialog box will pop-up. Simply click Ok to unblock all the accounts.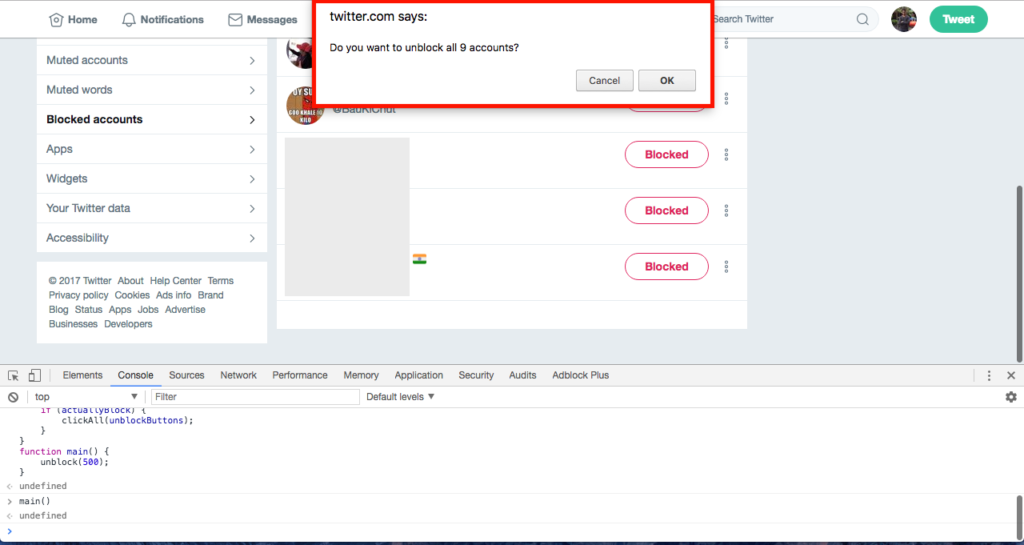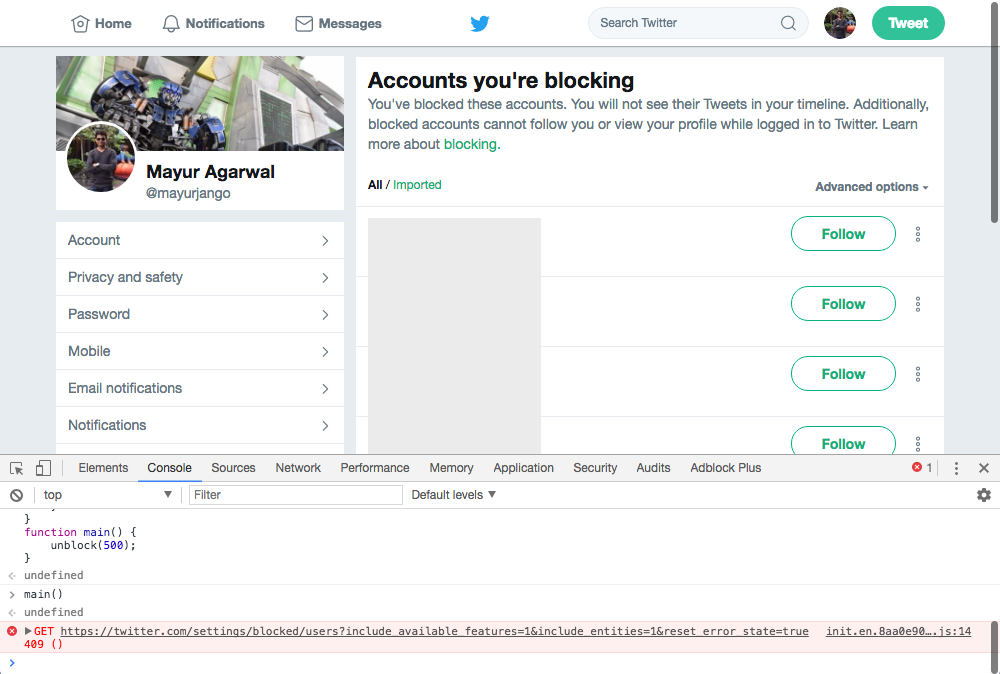 The blocked button will change to follow. Blocked users will now be able to follow you and read your tweets. Refresh the page to verify that accounts have been unblocked.
Note: DO NOT run the unblock script twice as you might end up following everyone you just unblocked.
Hope you found this tip useful. Follow us @webtrickz 🙂