Windows 7 and Vista provides an easy way to protect your private and important data from being copied or stolen by unwanted people. This is possible if you disable read/write access to Removable Storage devices like CD/DVD drive and USB Flash drives/Pen drives.
Users can either opt to deny read access/deny write access or both. When disabling read access, you can't open or copy any files from desired removable media. When disabling write access, you can't paste any files/folder on the removable device.
How to Disable system devices:
Go to Start, open Run or Search and type "gpedit.msc". Navigate to User Configuration > Administrative Templates > System > Removable Storage Access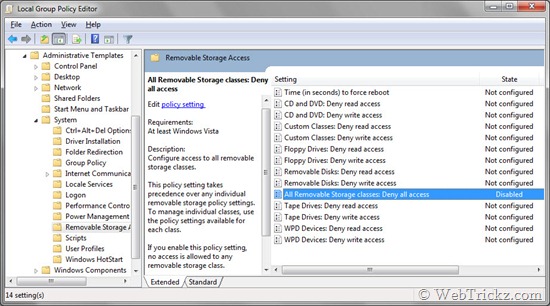 You'll be presented with various options for different devices. Just open the entry you want to modify, chose Enabled button and click Ok.
Note – Make sure to Logoff or Restart Windows for letting the changes to take effect. You can revert to previous settings anytime, by simply Disabling these functions.