The Restrict feature on Facebook is an ideal way to hide your posts from people you are friends with on Facebook, without blocking or unfriending them.
When you restrict someone, you still remain friends with that certain person on Facebook. The friends added to your restricted list can only see posts that you share publicly and posts you tag them in.
In short, restricted people can only view your Facebook profile and its information as Public.
Thankfully, Facebook doesn't notify the person when you restrict them and you continue to see their posts and updates on your timeline.
The restricted option comes in handy when you need to stay friends with someone but don't want them to see your personal updates. For instance, you might want to restrict your boss or employer, your co-workers, certain acquaintances, or a sneaky relative.
Perhaps, a lot of people on Facebook still aren't aware of the Restrict option. Moreover, you can't restrict someone on Facebook 2022 right away as the setting isn't easily accessible in Facebook's new interface.
To ease this, here's how you can add someone to your Facebook Restricted List on mobile and desktop.
How to put someone on Restricted list on Facebook
On iPhone and Android
Make sure you're running the latest version of the Facebook app.
Open the Facebook app and go to the person's profile you want to restrict.
Tap on 'Friends' under their profile name.
Select "Edit Friend Lists".
Select the "Restricted" option and tap Done.
On Computer
Visit facebook.com and open the person's profile.
Click the "Friends" button under their profile photo.
Click on "Edit Friend List".
Tick the checkbox next to "Restricted".
How to view Restricted list on Facebook
On Computer
The below steps are applicable to Facebook's new web interface on a desktop browser.
Visit facebook.com and log in to your account if you aren't already.
Click your profile picture at the top-right corner and select "Settings & privacy".
Select Settings.
Click on "Privacy" in the left sidebar.
Under Privacy, select the "Blocking" option.
Under Manage Blocking, click "Edit" next to the Restricted list.
Click on "See your restricted list" to see all the people you have restricted.
To remove someone from your restricted list on Facebook, click the 'Remove' button next to the person's name you want to unrestrict.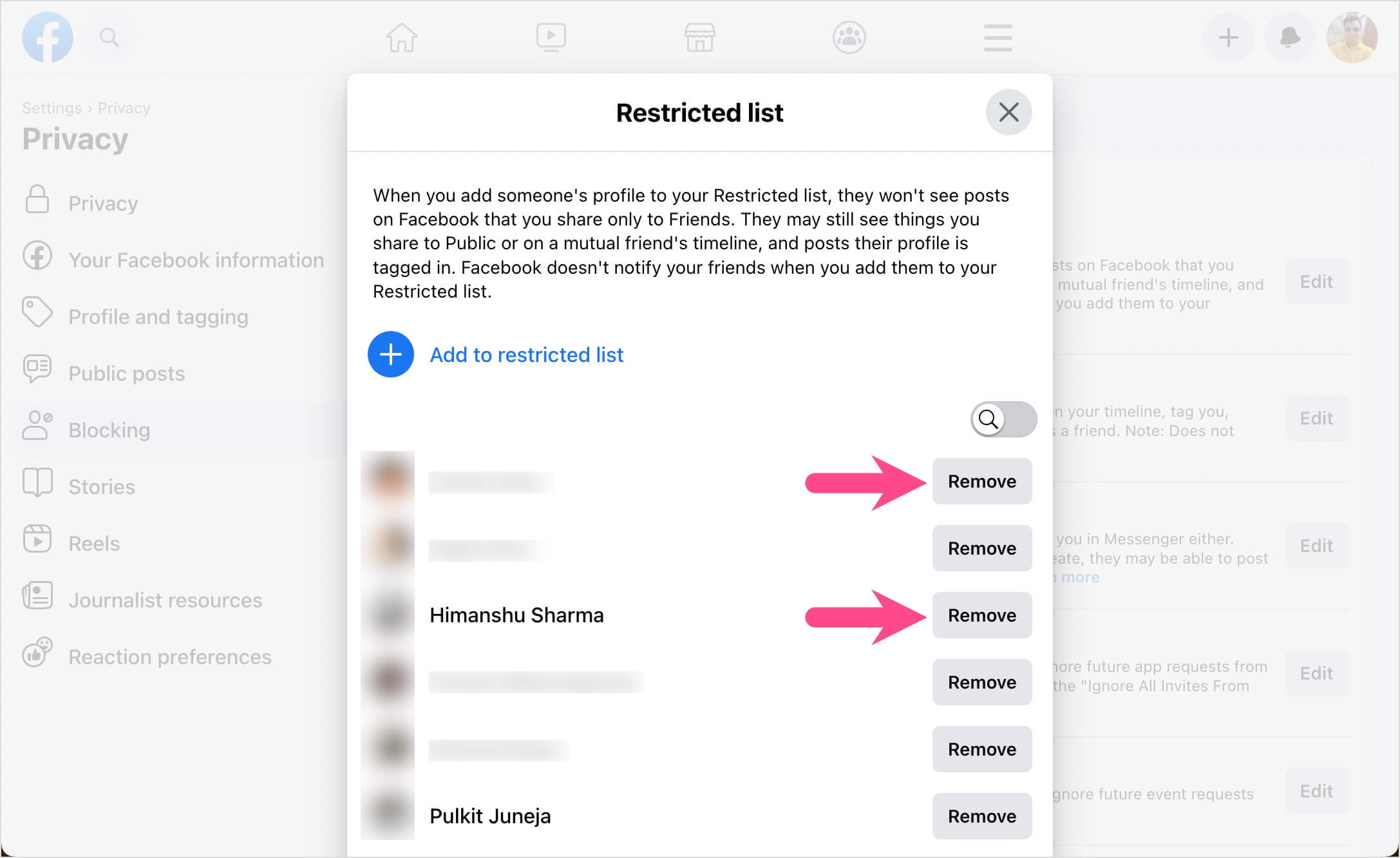 On Mobile
The Facebook app offers no setting to see the list of restricted people. However, there is a trick you can try to see your Facebook restricted list on iPhone and Android devices.
Visit https://www.facebook.com/settings?tab=blocking in Safari or Chrome browser on your mobile. Then tap the "Request Desktop Site" option to view the desktop version of Facebook. Now go through your restricted list following the above-stated steps.
ALSO READ: