In the past, we've covered a couple of programs to get back Windows 7 like old start menu in Windows 8. Here is another similar new program 'StartMenu8' released by IObit that brings back the old start menu and start button to Windows 8. It's totally free, offers a variety of customization options, and apparently is the best free start menu replacement for Windows 8. The tool is really handy for users accustomed to working with the old start menu and who don't find the new Metro start screen comfortable to use.
StartMenu8 is specially designed for Windows 8 that provides a quick and efficient way to get back the traditional Windows Start Menu and Start button in Windows 8. It integrates perfectly, offers faster access to programs and files, seamless search and power options are included too. StartMenu8 also offers four easy-to-use and fully configurable menus, thus allowing users the ability to customize the menu as desired.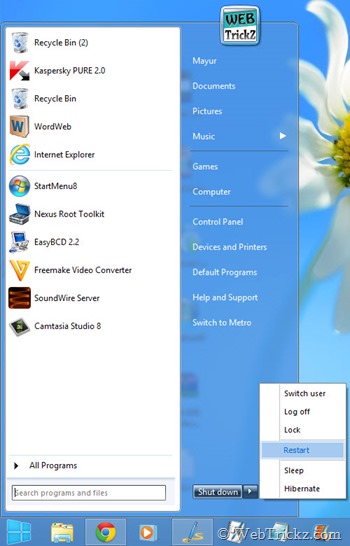 It has the option to Skip Metro screen which automatically skips the Metro UI and boots Windows 8 directly into the desktop interface. There are options to disable certain Metro features like Windows 8 Hot Corners, the Metro Sidebar, and hotkeys. One can quickly switch to the Modern start screen using the hotkey (Alt + X) or a custom-defined shortcut.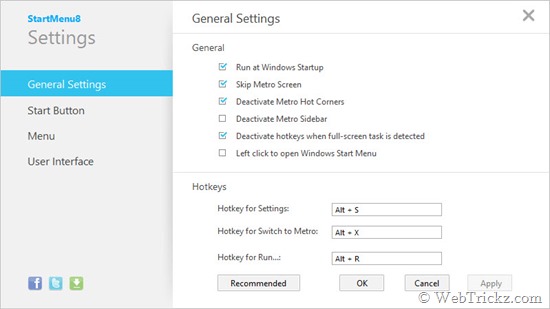 From Settings, you can change the start button icon and customize User Interface options such as font size, current skin, power button action, and modify user image.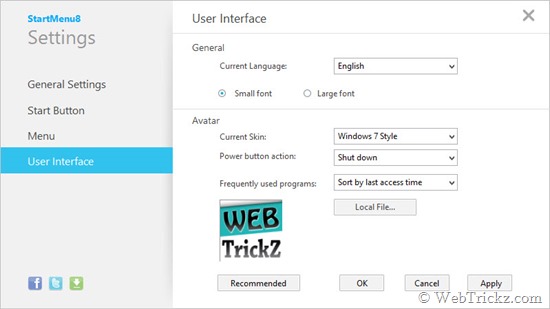 Moreover, with StartMenu8 users can customize the function of start menu items such as Documents, Pictures, Music, etc. to not show or show as a link or show as a menu. You can also create quick access links to your favorite and most-used applications by right-clicking to "Pin to Start Menu" or "Pin to Taskbar".
Download IObit's StartMenu8 Free [Size: 4.4 MB]