In the current world where feature phones have almost become extinct and most of us carry smartphones and in that, most of us are hooked onto the net non-stop. And with phones becoming more and more affordable and loaded with good cameras clicking pictures is one of the main purposes. Now all of this comes with a catch – the battery running out of juice. It is hard to keep hooked into a wall every now and then and hence most of the OEMs are now coming up with tiny juice boxes called power banks that come in many different capacities.
While most of the companies just dump the batteries into a box, there is one company that has been very unique right from the way they package their products to building some stunning designs in whatever they produce. We are talking of none other than OnePlus. We have seen how well they package their phones and now with the power bank being released in India, one gets to experience their other products as well. Let's look at the various aspects of the OnePlus power bank.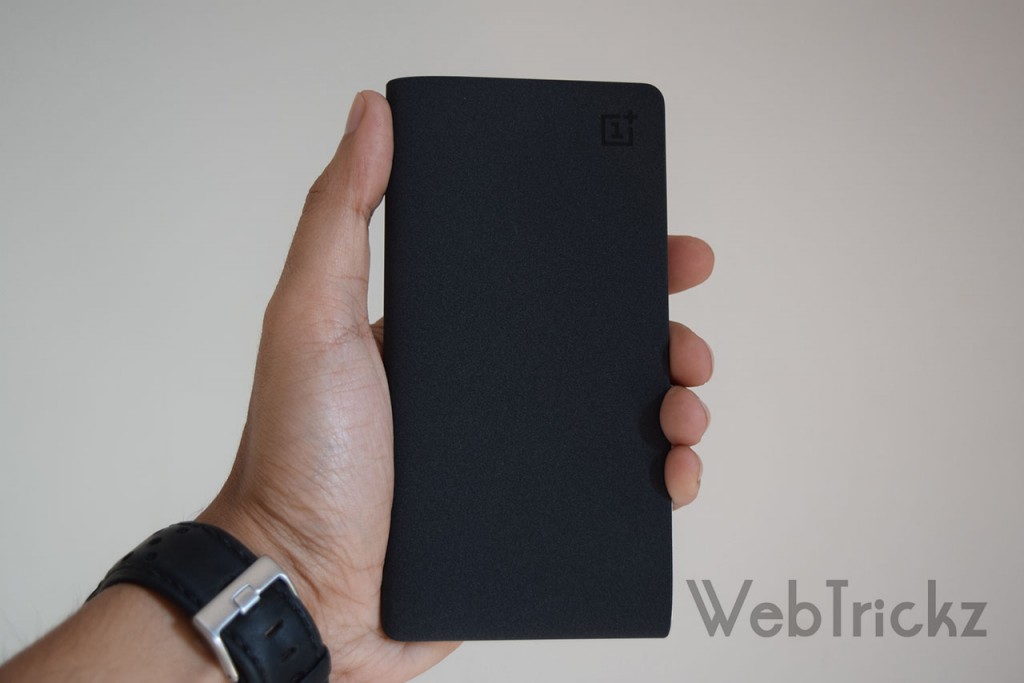 In the package:
One  power bank
USB cable
Manual
Specifications:
10,000 mAh capacity
Lithium-polymer
16.2mm in thickness and 220 gms in weight
Input: 5V/2A
Charging Time: 5-6 hours
Dual USB ports (5V-2A)
Blue LEDs as indicators
Safety features to prevent overcharging and overheating
Design:
Just one word – Art! yes, we are not exaggerating but this power bank is a piece of art. While other players like Xiaomi have just dumped cells into a box and then created shiny exteriors and giving it many different colors, OnePlus has spent a lot of time in truly designing a piece of marvelous art. When the OnePlus One was out, people were in for a pleasant surprise as the phone came in two options – Sandstone Black and Silky White back options. These two were so unique that everyone who got the phone loved it. So much so that case manufacturers like Pelosi made sandstone cases themselves! Leveraging on the success there, OnePlus has extended the sandstone black and silky white surfaces to its power bank.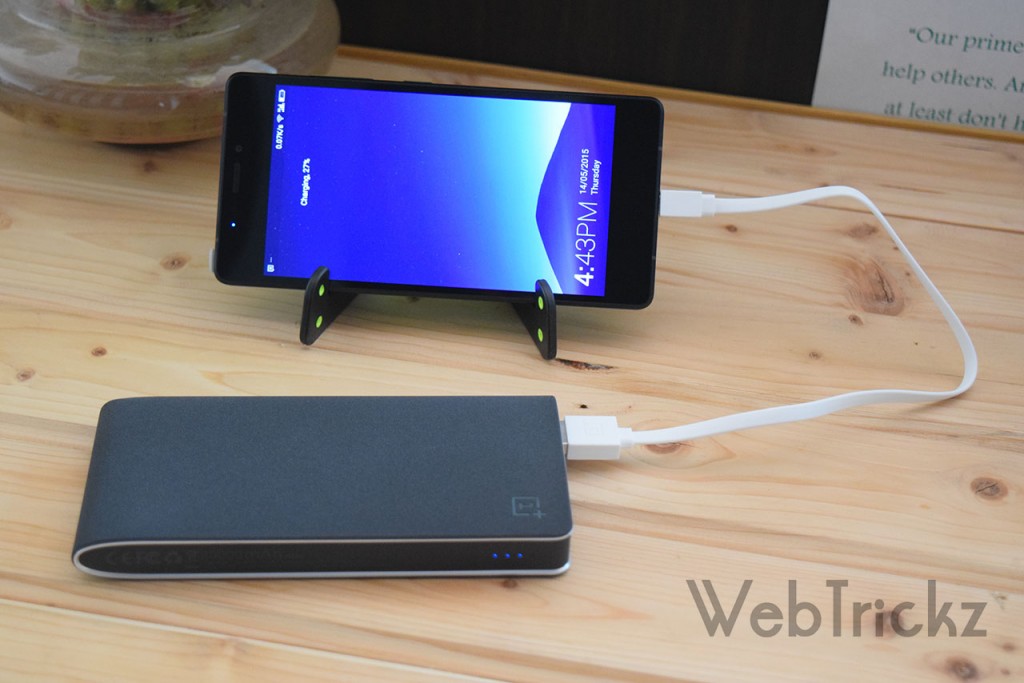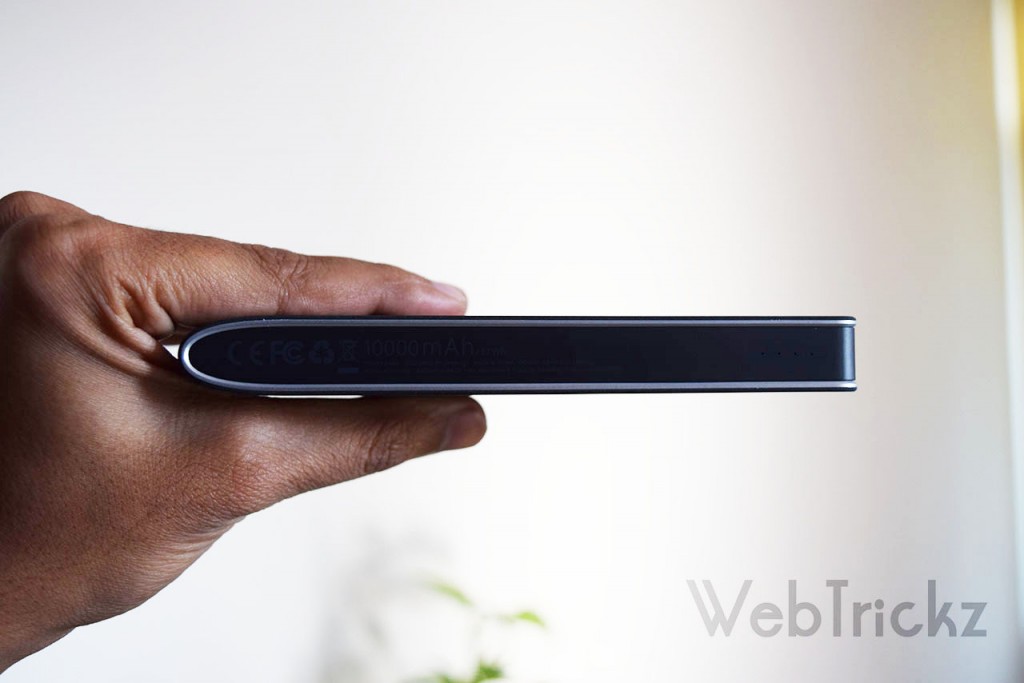 The overall design of the power bank is so good that it literally feels like you're holding a wallet. The form factor starts with parallel lines on one end that meet at the other end as they pass thru the curves. At the right-hand top sits the OnePlus logo and on the top side, you'd find two USB ports and a charging slot. Onto the right side edge, there are 4 blue LEDs that light up and crawl as they charge or discharge and indicate that they are active.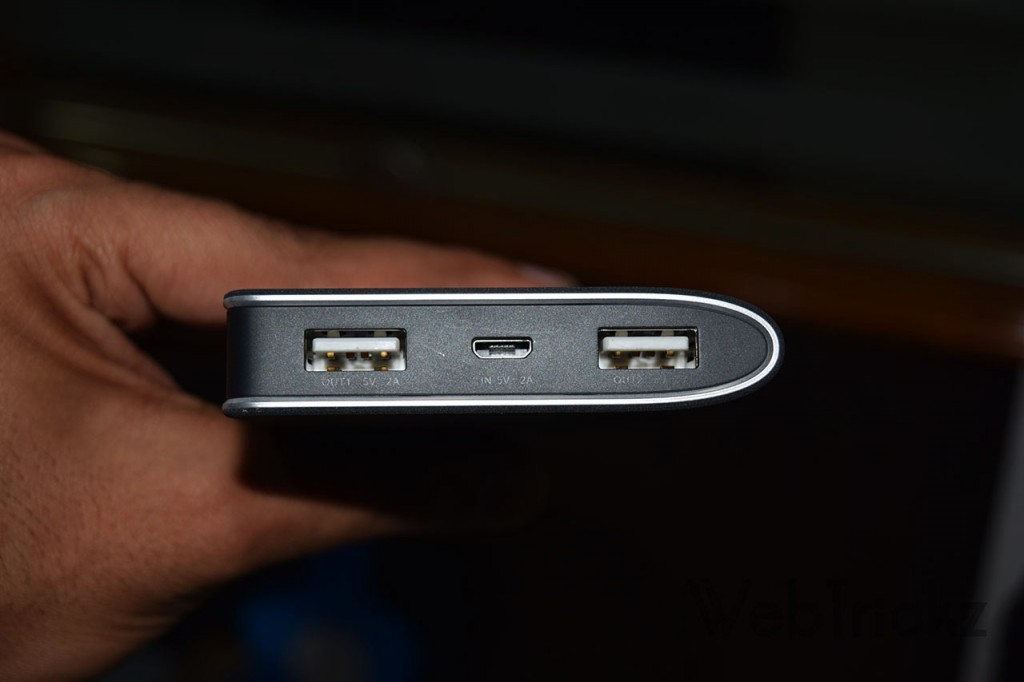 What we loved is the "Shake" to wake! Shake the power bank and the LEDs come up for a brief moment to let you know how much juice they have – cool ain't it? We loved it.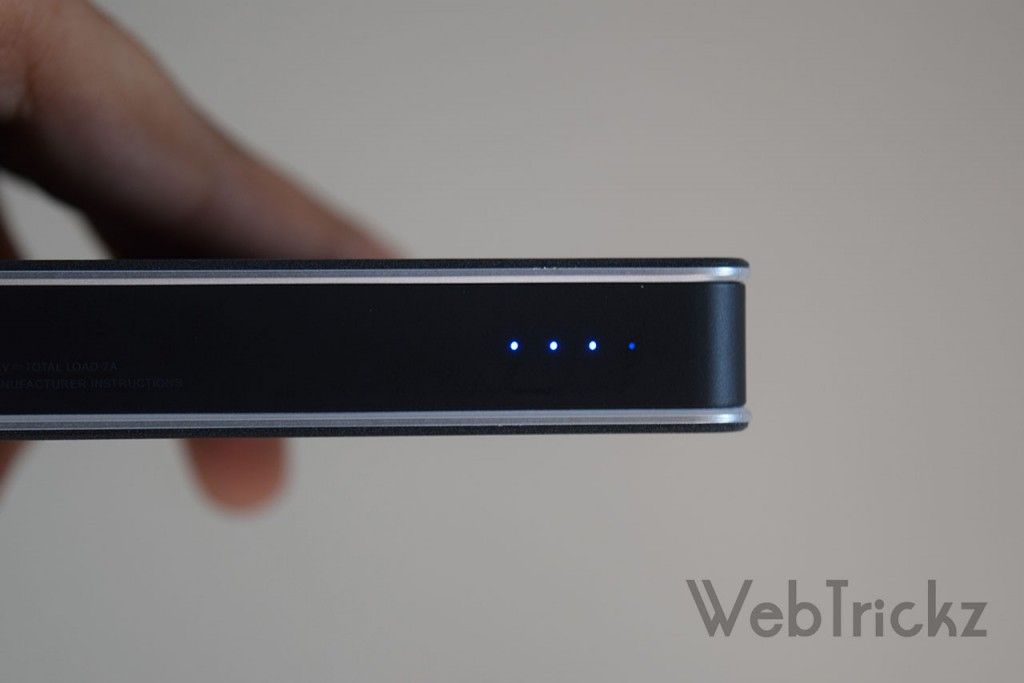 Coming at dimensions of 142.8×72.6mm, it's a tall tall fella. But thanks to the overall design holding it is simply no problem. And compared to the bricky Xiaomi Power Bank this is a tad lighter. Of course, the Xiaomi power bank holds 400mAh more worth of juice.
Performance:
OnePlus made the following claims about the power bank:
Charges from 0-100% in 5.5 hours
Can charge a OnePlus One 3 times with a single charge
Will not get overheated or to any levels so as to cause discomfort
Has inbuilt safety to prevent overcharging
We tested the device for a week and the following are our observations:
The power bank took a little more time to charge up from 0-100% compared to the claim and here are the readings:
Charge 1 – 5 hours 43 minutes
Charge 2 – 5 hours 39 minutes
Charge 3 – 5 hours 47 minutes
Charge 4 – 5 hours 44 minutes
Charge 5 – 5 hours 42 minutes
So it is not way off the claims and one can consider it takes anywhere between 5-6 hours to charge up fully. It is quite long and one is better off putting the power bank to charge while going to sleep and unplug it once you wake up, thanks to the inbuilt feature that prevents it from overcharging or overheating
We tried charging our OnePlus One many times and the following is how the power bank discharged itself:
2 times of 0-100% and 40% in the third time before it juiced out
2 times of 0-100% and 35% in the third time before it juiced out
2 times of 0-100% and 30% in the third time before it juiced out
So the closest it came to was charging 2.45s of the OnePlus One which is not bad at all!
We tried using both the ports in charging a OnePlus One and a Motorola G 2nd generation and the following is how the power bank discharged itself:
1x OnePlus One + 2x + 0-20% of Motorola 2nd Gen
1x OnePlus One + 2x + 0-11% of Motorola 2nd Gen
1x OnePlus One + 2x + 0-17% of Motorola 2nd Gen
Heating up – though OnePlus claimed that the power bank will NOT overheat we did observe that the temperatures shot upwards of 50 degrees C while it was being charged and upwards of 45 degrees C when it was connected to a device for discharging. Well, this was expected as most of the power banks do get heated up with so much power being packed into them. One has to be really cautious NOT to place the power bank in the pocket while it is connected to a device for charging.
Verdict:
The Good:
Design
Performance
Faster charging as compared to other power banks of the same capacity
Though a tall one, the power bank easily fits into a jeans pocket if you want to carry it along (while unplugged of course!)
The Bad:
Heats up a lot
Discharge while idle is a tad more compared to Xiaomi Powerbank as this is made of Li-Polymer
1399INR – pricy when compared to other offerings at 999 INR
We are satisfied with the overall performance of the OnePlus power bank. Initially, we did think that the 10000 mAh as compared to the popular 10400 mAh of other offerings could be a big shortcoming but this has been a solid performer. Brilliant design is the true strength of this power bank and one will never feel they are carrying around a rudimentary brick or a cheaply designed product. But there is one huge drawback which is the price (1399INR). While OnePlus says that this is due to the import taxes levied by the Indian government, there is nothing much that can be done here. So if you are looking for a cool design, good performer, and do not mind shelling out 300-400INR more we have just one thing to say to you – GO GRAB ONE and you'd simply fall in love with it. After all, that is what you'd want when you get something right? 🙂
Giveaway! 2 OnePlus 10000mAh Powerbanks (Sandstone Black)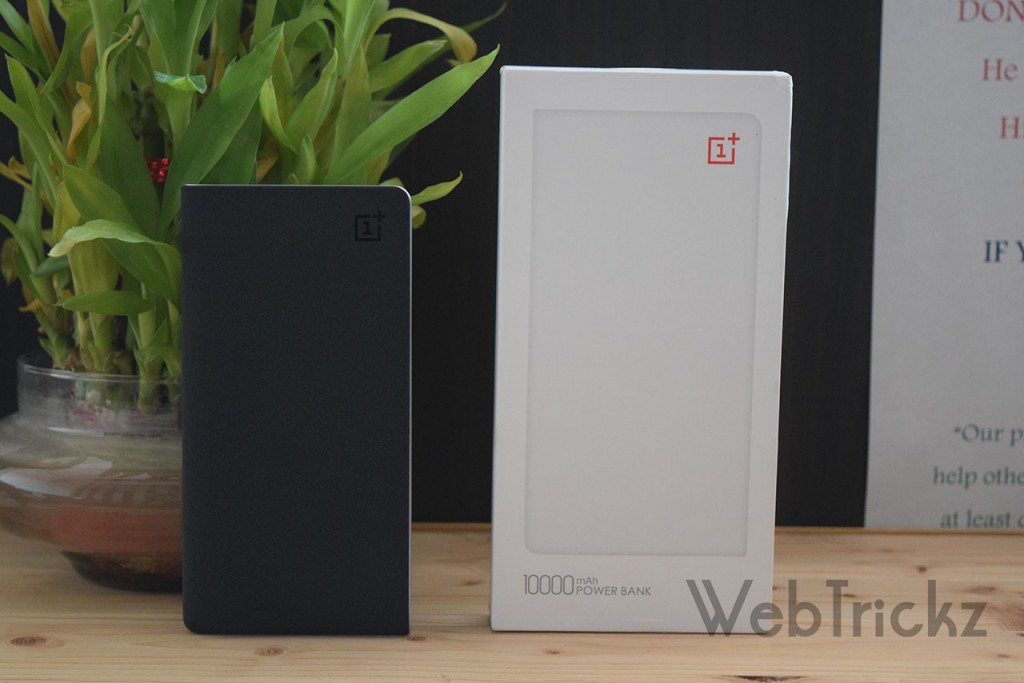 Alright, we arrive at the best part – Do you want a OnePlus Power bank? Love wicked awesome design? Were yearning to lay your hands on one but did not manage to get one before the stocks went out? Worry not, we are giving away two power banks! Here is how you stand a chance to win:
Follow us on Twitter @webtrickz
Tweet about this giveaway on Twitter. "OnePlus Powerbank Review & Giveaway by @web_trickz Enter now! http://t.co/4suxhrwfxa" Tweet
Tell us why you'd love to have a OnePlus power bank or why we should give you one – Comment below or reply to this tweet with your answers.
We will announce the winners on the 22nd of May! All the best 🙂
Update: Giveaway closed! The 2 lucky winners are Kartik Bansal and Nathaniel. Thanks to everyone for their participation.
P.S. This giveaway is NOT sponsored by OnePlus. The contest is only applicable to residents of India.