With a rising demand for power banks, more and more smartphone makers are releasing their own power banks and some have done that in multiple capacities! We saw that Sony was one of the first to do it, then came Xiaomi to offer some decent ones at rock bottom prices and then the OnePlus, ASUS, Honor, and so on. With so many offerings out there, it is such a daunting task to pick and choose the right one! Many of us have phones and tablets made by many different OEMs and we look to get power banks that will be suitable for most of the devices we have.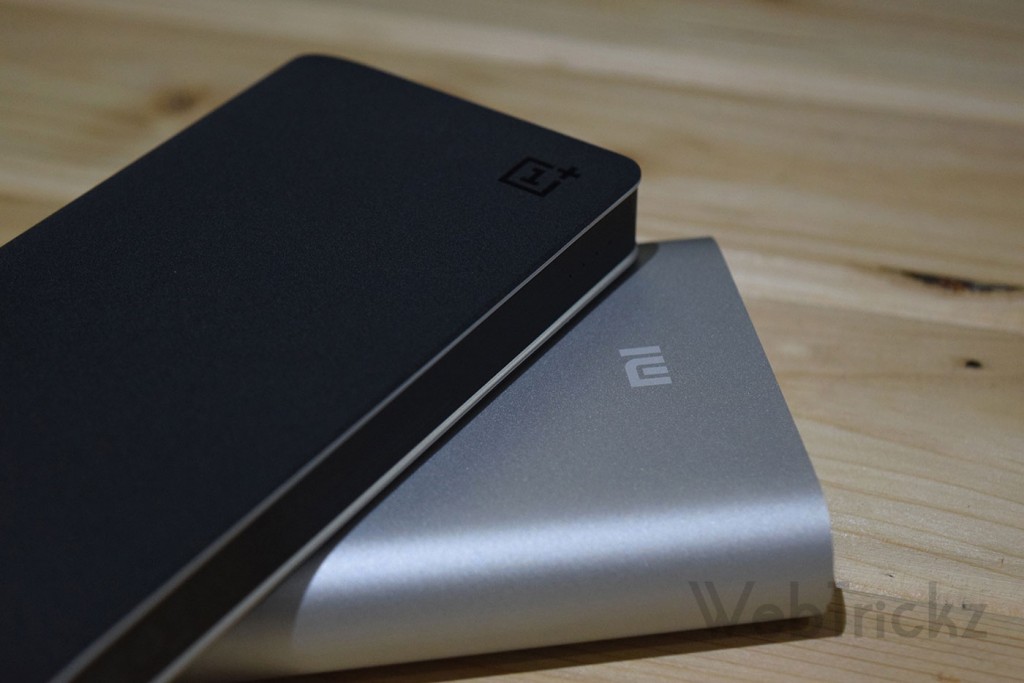 We've used the Xiaomi 10400 mAh power bank for a while and in the last week and a half, we've also used the OnePlus 10000 mAh power bank. So we decided why not put them together in one battleground and see which of them is good for what and make an attempt at suggesting which is the one for you, based on your needs and preferences thus to make an educated decision! Here we go.
Comparison between Mi & OnePlus Power Bank –
Specs:
| | | |
| --- | --- | --- |
| | Xiaomi Mi Powerbank | OnePlus Powerbank |
| Box contents | Powerbank, USB cable, and User manual | Powerbank, USB cable, and User manual |
| Dimensions | 9.05 cm in length, 7.7 cm in width, 2.16 cm in thickness | 14.28 cm in length, 7.26 cm in width, 1.62 cm in thickness |
| Model | NDY-02-AD | 02030002 |
| Weight | 260 gms | 220 gms |
| Battery type | Lithium-Ion | Lithium Polymer |
| Input | DC 5V | DC 5V |
| Output | DC 5.1V | 2 x DC 5V |
| Material | Aluminium Alloy | Sandstone Black / Silky White |
| Safety Features | Input Overvoltage Protection, short-circuit, overcharging | Electrostatic, short-circuit, overcharging, overheating protection |
| Price | 999INR | 1399INR |
| Total charging time | 5.5 hours | 5.5 hours |
Design: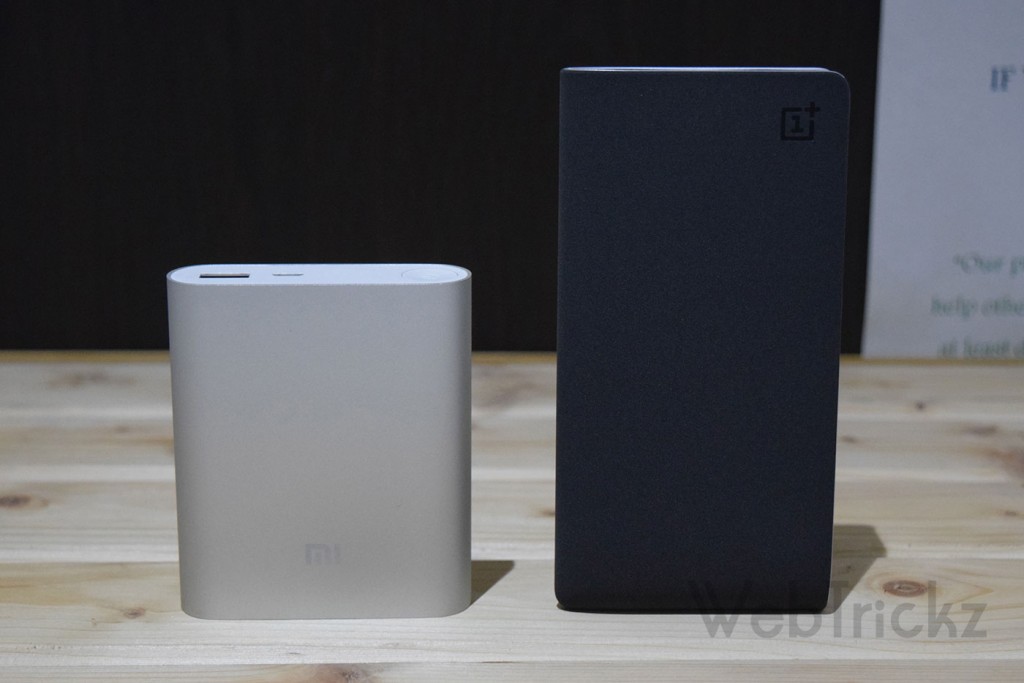 The Xiaomi power bank goes for a simple design where the 3 LG/Samsung made batteries are placed and the edges have curves. Thanks to the aluminium casing it does look premium and the casing comes in many different colors. However, the ones that are sold in India come in Silver only. It is not easy to hold for two reasons – slippery and heavy. Xiaomi has cared to provide a rubber casing that can be used as a skin to the power bank and fits well (comes separately). This makes it easier to hold but it covers the body so completely that the entire look is concealed. There are 4 white LEDs that light up in white to indicate the % of charge remaining when you click the big round button next to them and also crawl when being charged to let you know when you may plug them out once charged fully. Accompanying them is the single USB port and a slot one that can discharge and the other for getting charged.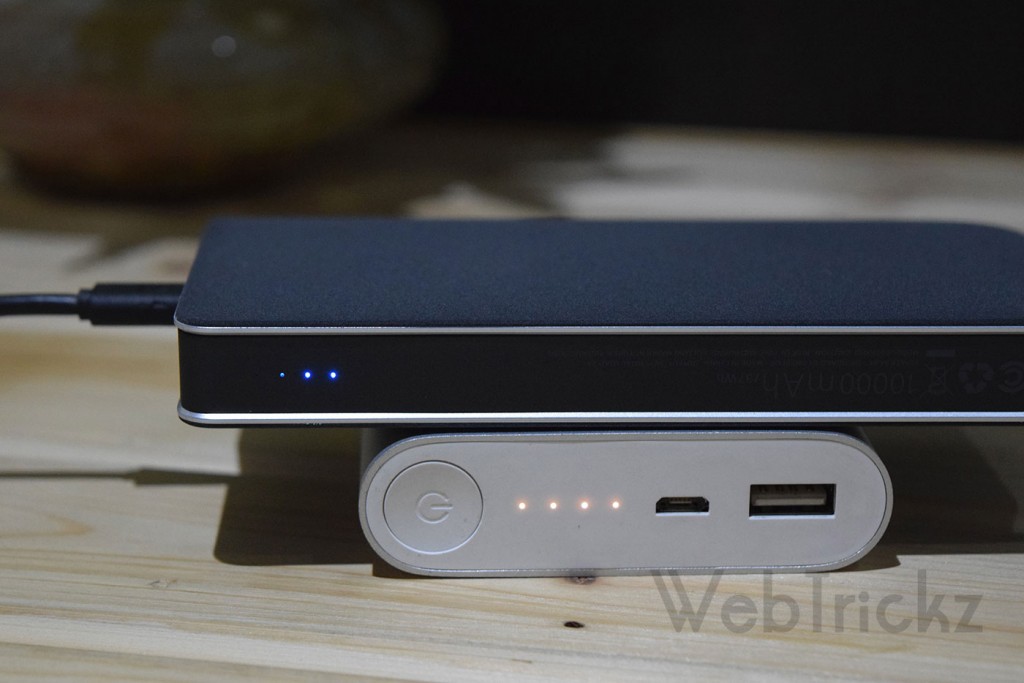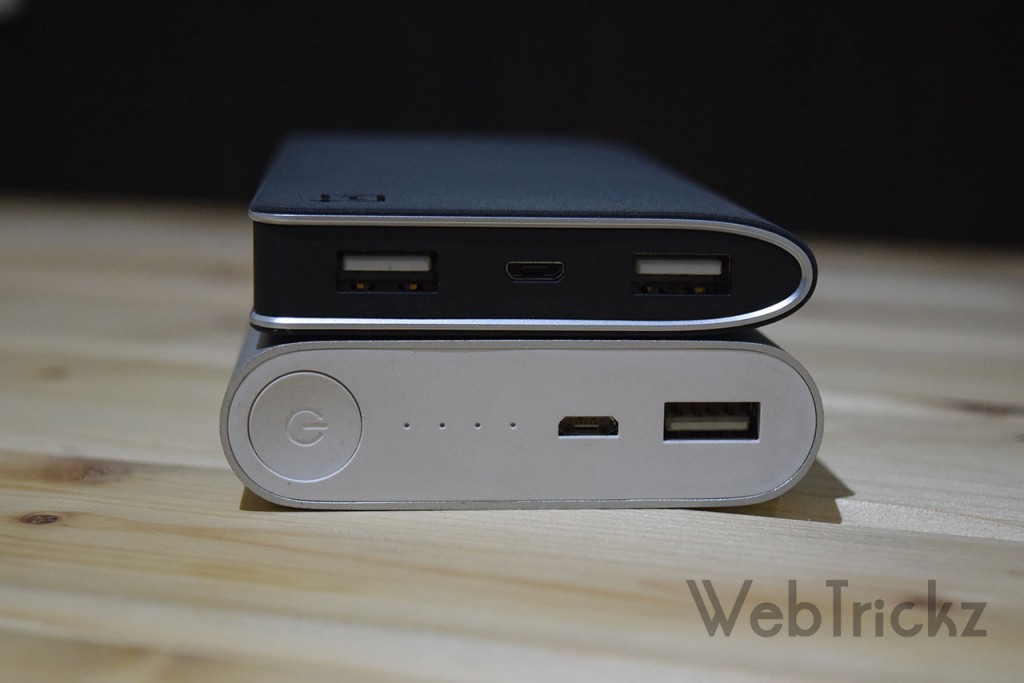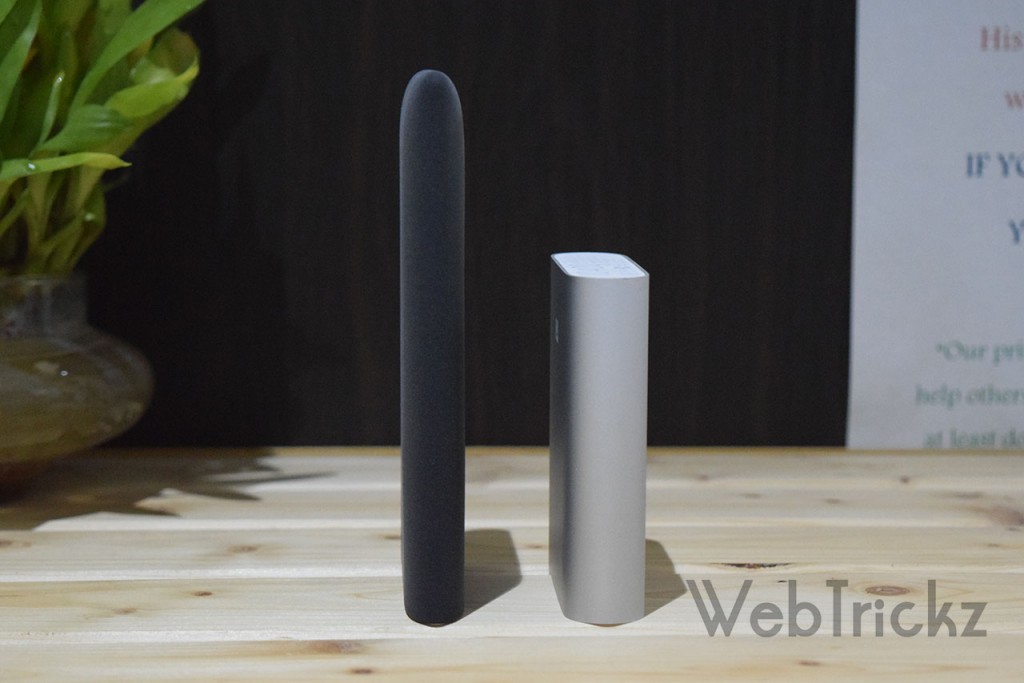 OnePlus on the other hand has spent lots of time and effort in coming up with what we call a piece of ART! we said this in our detailed review and love to mention it again. It's slightly taller than the Xiaomi power bank but the special surface or the silky white surface makes it so special. What's more, it weighs less (thanks to 400 mAh lesser-capacity). It starts with two parallel lines at one end that meet into a curve on the other. The overall feeling is truly that of a wallet! On the top side sits the dual USB ports and a slot for charging. Onto the side is 4 blue LEDs that light up when you SHAKE the unit to know how much juice is left out.
Clearly, the OnePlus is a winner here and one cannot stop falling in love with the design.
Performance:
Xiaomi Powerbank:
Xiaomi claims that their power bank can charge an iPad mini 1.5 times, a Mi3 2.5 times, and an iPhone 5s 4.5 times. We did some tests with the devices that we had and the following is how the power bank performed:
Mi3 – 2 times + 60%
Mi4 – 2 times + 30%
OnePlus One – 2 times + 40%
Moto G 2nd Generation – 2 times + 57%
iPad Mini – 1 time + 22%
iPhone 5s – 3 times + 90%
So that is a decent performance when compared to the claims that the company has made. The LED indicators too are very accurate in the message they wanted to tell us and the power button works just fine. Having said that, the device does get heated up a LOT when the unit itself is being charged and reached up to 65 degrees C which is quite high. This is in spite of Xiaomi claiming that they have designed it with overheating protection. But the good news is that while charging up the phones/tablets the temperature went up to a maximum of 47% and never more which is actually expected.
In terms of the time taken for the unit to charge itself from 0-100%, Xiaomi stated that it will happen in 5.5 hours here is what we observed:
First reading – 6 hours 3 minutes
Second reading – 6 hours 14 minutes
Third reading – 6 hours 1 minute
It can be considered slightly off from what the claim is but we do not want to brood over this! We made us of a charging adapter that comes with a Mi3 and the tiny cable that comes with the power bank.
OnePlus Powerbank:
OnePlus claims that the power bank can charge a OnePlus One up to 3 times and in our tests the following is what we found:
2 times of 0-100% and 40% in the third time before it juiced out
2 times of 0-100% and 35% in the third time before it juiced out
2 times of 0-100% and 30% in the third time before it juiced out
We tried out non OnePlus phones and here are the results:
Motorola G 2nd Gen – 2 times + 43%
Mi3 – 2 times + 15%
Mi4 – 2 times + 7%
Unfortunately, we did not have an iPhone or an iPad to test when we got the OnePlus power bank but we will try to get hold of one and update this article and keep you folks posted. OnePlus too has not made any official claims around Apple devices. So we will have to test it out.
So overall it was a satisfactory performance though we did not see the OnePlus power bank touch the company's claims. Though the Xiaomi power bank has 400 mAh more power there is no striking difference between the two devices.
Though OnePlus claimed that the power bank will NOT overheat we did observe that the temperatures shot upwards of 50 degrees C while it was being charged and upwards of 45 degrees C when it was connected to a device for discharging.
Verdict:
Both the power banks are good performers and come close to what each of them claims to deliver. It now boils down to one's personal preferences to make the choice.
Pick a OnePlus power bank if:
Design matters a lot
Badly need 2 charging ports
Need a lighter unit
You are fine with shelling 400INR more
Pick up a Xiaomi power bank if:
You are looking for slightly more capacity (400 mAh more)
OK with the heaviness
OK with plain and simple design
Do know that the Xiaomi powerbank will have a longer age being a Lithium-Ion battery as compared to a Lithium Polymer battery in OnePlus and also Li-Polymer ones lose slightly more charge when kept idle.
We personally would pick up the OnePlus Powerbank as the dual charging ports are very handy while traveling or want to share power with more than one device. And do we need to mention that we love the wicked awesome design! What did you choose? do let us know in the comments.
We're also running a Giveaway of OnePlus Power Bank. Do participate! 🙂