Images play a significant role in loading time of a website and hence they must be well optimized for the web without any visible loss in quality. A new image format called '.WebP' has evolved over time and is currently developed by Google, that provides lossless and lossy compression for images on the web. Google reports that images converted to lossless webp are 26% smaller in size compared to PNGs, whereas lossy webp images are 25-34% smaller in size compared to JPEGs.
As of now, only Google Chrome and Opera browser natively support WebP while Firefox, Safari and Internet Explorer continue to serve images in their standard format, i.e. JPG or PNG. As .webp image format isn't acclaimed broadly, only a few companies use it like Netflix, eBay and Google of course on its services like Google+, Google Play, Chrome Web Store and YouTube (for thumbnails).

The problem arises when you save WebP images on your computer and are unable to view them. That's because standard image viewing software's like Windows Photo viewer doesn't offer native support for webp. Though one can convert webp images to JPG/PNG format or use some other web browser like Firefox to save those images in their standard format. However, that's certainly a cumbersome task just to save and view the images later. Thankfully, there is a simple trick that allows you to do so without much hassle.
Saving WebP format images in JPG or PNG format on Google Chrome –
Right-click on the image and select 'Open image in new tab'.
Remove the -rw suffix from the end of the image URL in the address bar and hit enter to reload the image.
Now right-click and select 'Save image as..' or just drag it to the desktop.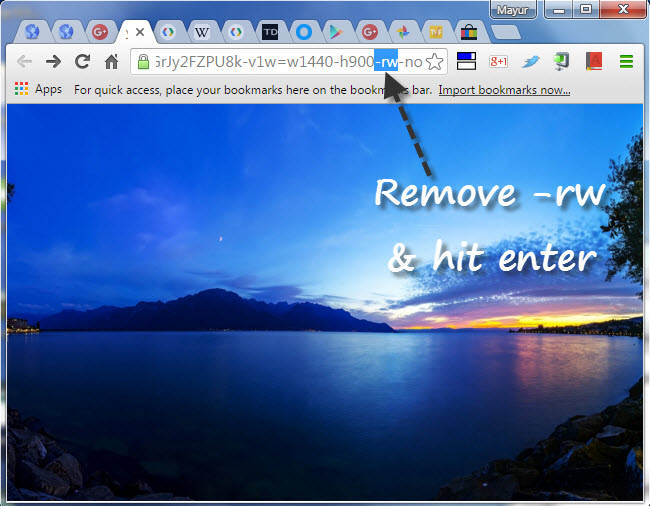 That's it! The image will be saved in its standard file format, i.e. either JPG or PNG which can be viewed anywhere without any restrictions.
Tip via Jason (Google+)