Boy o boy, the MWC 2016 has just begun and unlike last year where LG held off on its flagship release, this time around they'd be among the first to unwrap their 2016 flagship, the LG G5. Tons of leaks have got us here. Many indicated a modular design, some indicated a dual camera, and many indicated a different shape in the form factor. Well, here were are now with the G5 officially launched in Barcelona, and let's jump into more details of LG's 2016 flagship.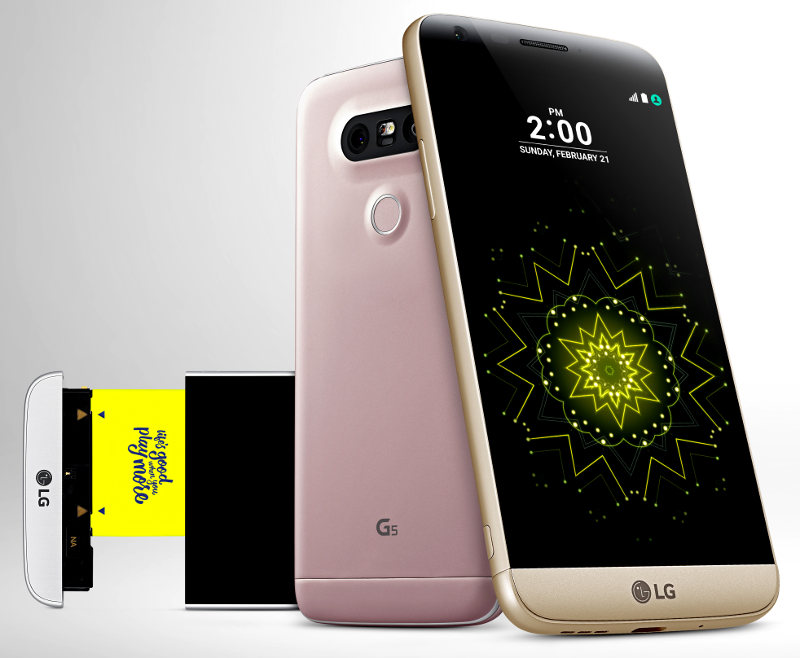 Before we talk about anything, let's get the spec sheet over with to set the context right in.
Features
Details
Display
5.3 inches QHD display at ~554 PPI, protected with Gorilla Glass 4

Features 'Always On Display' mode

Form factor
7.7mm thick and 159 gms in weight
Processor
Qualcomm Snapdragon 820 SoC with Adreno 530 GPU
RAM
4GB
Memory
32GB internal memory that can be expanded up to 200GB via micro SD slot
Camera
16 MP with f/1.8 aperture, autofocus, OIS and flash + 8 MP front shooter
Battery
2800 mAh removable battery with modular design

USB Type-C connector, Quick Charge 3.0 support

OS
LG UI built off Android 6.0 Marshmallow
Connectivity
Dual Sim 4G LTE,Wi-Fi 802.11 a/b/g/n/ac, NFC , Bluetooth 4.2
Colours
Silver, Gold, Titan, Pink
OK, now that is one heck of a loaded spec sheet having all of the latest hardware in there, including the software. There is much more to this, so read on!
Always-on Display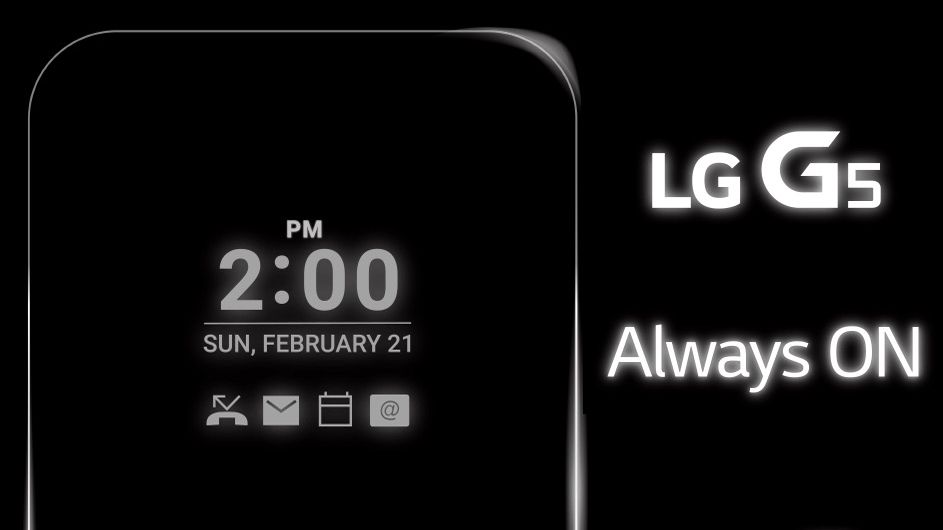 The G5 is the first smartphone that has an IPS display to come with the always-on feature. We had seen a glimpse of this in the LG V10, that tiny partitioned screen at the top but this time around it will be applied to the entire screen that will display some vital information such as time, date, and battery status. And this will be on even when the sleep mode gets activated. We hear some buzz that the Galaxy S7 too may come with this feature but LG seems to have mastered this having done it before in baby steps. The technology used here is the one that is similar to what LG uses in their TVs, to ensure that the battery is not sucked out which tends to be a major concern. Thankfully, LG claims the battery drain due to this always-on display will not more than 0.8% of the overall battery, per hour which is very much acceptable.
Modular Approach Design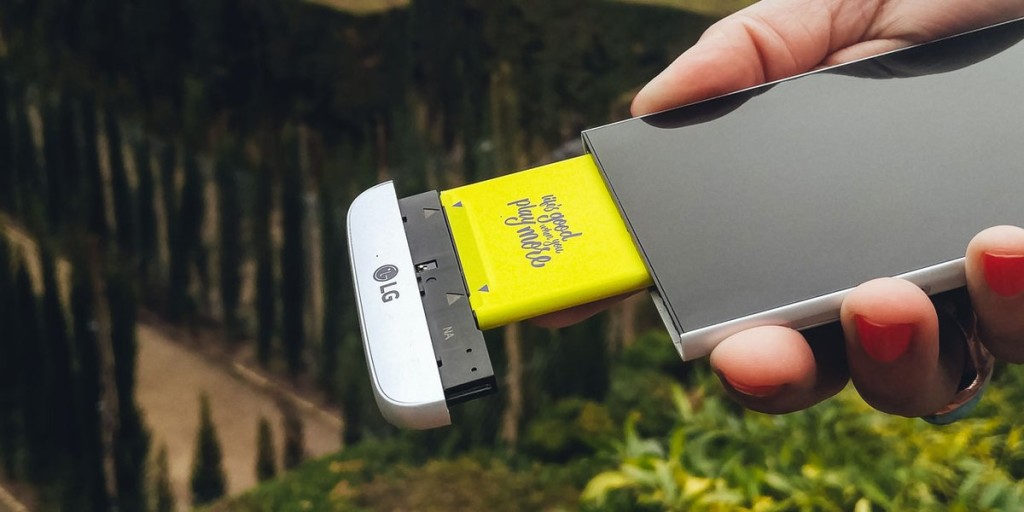 While the G5 is not something that will be like Project ARA but the approach seems to be the same though done in a very tiny proportion. There is a liner at the bottom portion of the phone and when pulled out, will allow for access to the removable battery. And there is an addition here for one of the many plug-and-play add ons that one may have. First up is an LG CAM Plus that can be added here that provides an enhanced grip to the phone along with providing physical buttons for power, shutter, record, zoom, and LED display. The second up is with this, one will also get an additional battery life worth 1200mAh that will ensure you can click more pictures with the camera. LG also announced that they'd open up this tiny module for more 3rd party add-ons to make their way to add more "coolness" to the phone. This is a brilliant step! We have seen the iPhones having tons and tons of addons that allow users to do lots of cool stuff to ones that make sense in the fitness and surgery paradigm.
Camera Brilliancy 
LG's flagships have bettered their predecessors when it comes to the camera and the G4 was one of the best ever smartphones for a camera. The G5 brings more muscle into this department. G5 has two cameras at the back. The first one is a standard 78-degree lens while a new 135-degree wide-angle lens makes its way, the widest available in any smartphone. No more stepping back when you wanna cover a huge wide crowd or a monument. The G5 also has tons of software options on the camera app this time around including the very solid manual mode.
A bunch of "Friends"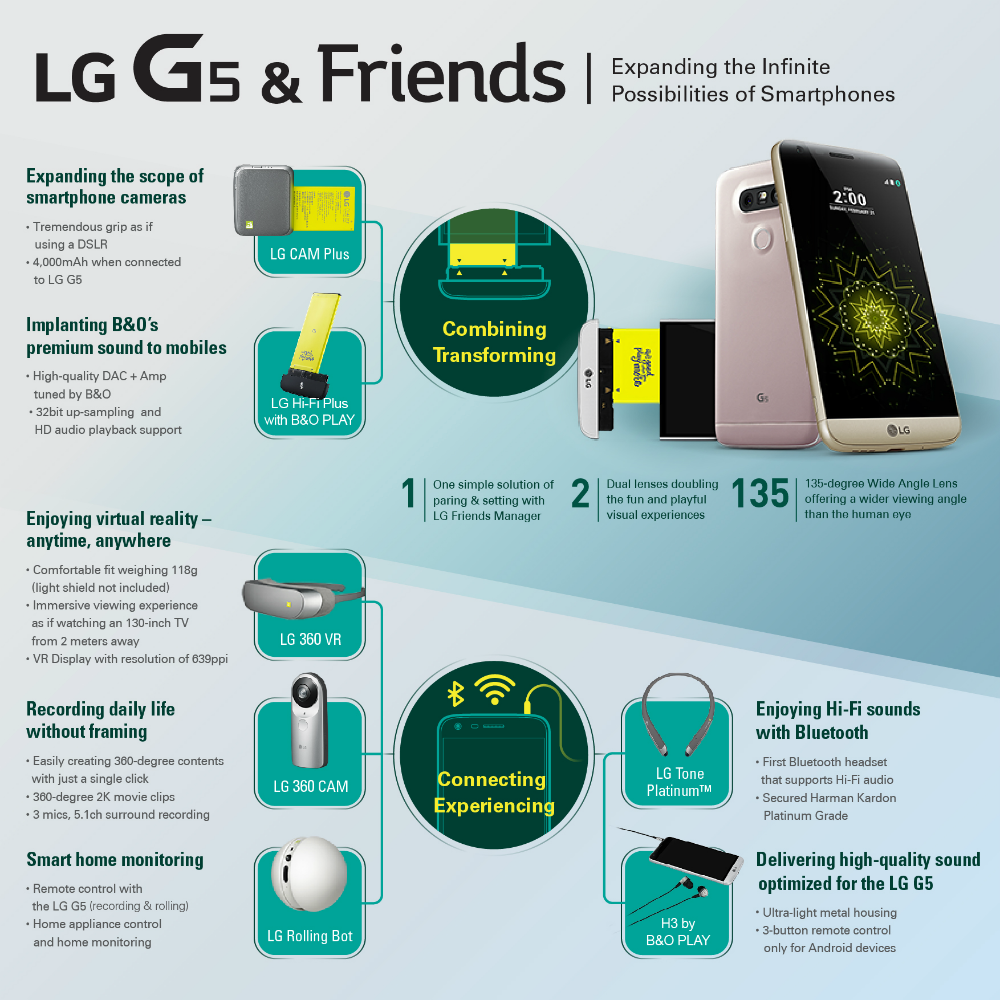 A good smartphone will always have tons of friends to go with and this seems to be something that LG is trying to push with the G5. Along with the G5, LG also announced other tiny gadgets that go with the G5:
Smart home monitoring with the ROLLING BOT, that can also simply play a game of fetch with you
360 VR for those movie buffs for a theater-like experience
360 CAM, something similar to what HTC did with the RE sometime back
B&O's DAC support for an enhanced audio experience
Tone Platinum again for an enhanced audio experience
With all of the above LG has pulled out a stunner for the G5. While much of the specs were known via the leaks, including the design what was not known was how exactly the modular design would work. And the range of support for other meaningful gadgets allows for an ecosystem-like environment to be created. These are very refreshing steps taken by LG apart from merely adopting the latest greatest in the hardware. The Snapdragon 820 is supposed to deliver stunning performance and also highly efficient in the battery department too.
We cannot wait to get our hands on this phone but at the moment we feel it's a brilliant offering from LG. Pricing will play the key factor and knowing LG from earlier we feel it will be quite competitive. We will wait to see.