If you're looking forward to install 3rd party themes on Windows 8, then you won't be able to do that straight away because Windows restricts the use of unofficial themes and visual styles. This can however be done by patching a couple of Windows 8 system files which if done manually can be a tedious task. Luckily, Skin Pack has recently released the latest UXTheme Patcher 2.0 that offers patch multi-theme support for Windows 8 RTM and Windows 8 Server 2012 too.
Skin Pack Auto UXThemePatcher 2.0 is a GUI-based simple utility that automatically patches all the required files and lets you install custom themes on Windows 8. It includes support for various Windows OS, all languages, all service packs, and is compatible with both x86 & x64 systems. The program is designed to patch uxtheme.dll and themeui.dll in Windows 8, located in the System32 directory.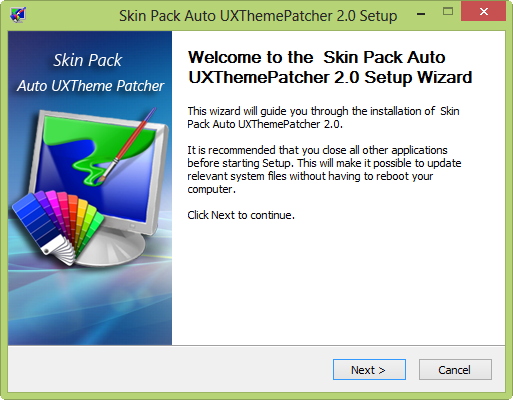 Supports: Windows 8, Windows Server 2012, Windows 7 & Server 2008 R2, Windows Vista & Windows Server 2008, Windows XP & Windows Server 2003] [X64 (64Bit) & X86(32Bit)] [All Service Pack] [All Version] [All Language]
It's recommended to close all other running applications before starting the setup. You must also reboot your computer afterward for letting the changes take effect.
Note: The program asks to install the Incredibar toolbar during setup, you can skip its installation by unchecking all the 3 checkboxes.
Download Skin Pack Auto UXThemePatcher 2.0
via [WinMatrix]