Unlike Windows 7 and other Windows OS, the Windows 8 Consumer Preview misses the substantially used Start menu button (located at the bottom left corner). Though, it was available in the initial Windows 8 Developer Preview but Microsoft somehow decided to remove it from Windows 8 Beta. This is quite a bummer for majority of Windows 8 CP users who frequently use the start menu on Windows. Fortunately, Stardock – the makers of popular Windows customization programs like Object Desktop has released 'Start8', an application to retain Windows 7/Vista like Start Orb in Windows 8.
Start 8 is a free program, specifically designed for Windows 8 Consumer Preview to bring back the traditional 'Start Menu' functionality to Windows 8. However, on clicking the Start button it doesn't shows the classic start menu but an impressive Metro like cool interface, enabling quick access to installed applications and search function.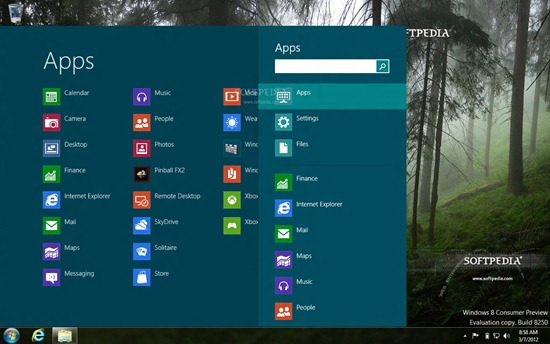 Moreover, it adds Run and Shutdown option to the context menu, easily accessible by right-clicking the Start button. Other options include: 'Choose a custom Start button image' and 'Show Fullscreen Metro Start Menu' to entirely display Metro Start screen.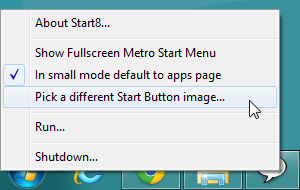 Currently in beta, Start8 supports both 32-bit and 64-bit versions of Windows 8 CP.
Image credit: Softpedia