Microsoft has gone a step ahead in order to defeat illegal Windows 7 users who are using non-genuine, cracked, and pirated versions of Windows 7 OS. A WAT (Windows Activation Technologies) update is now live on Windows update which aims to detect more than 70 activation exploits.
KB971033 update for WAT helps detect validation errors, activation exploits, and any tampering attempts made to important Windows 7 system files. Be aware that some counterfeit copies of Windows include malware.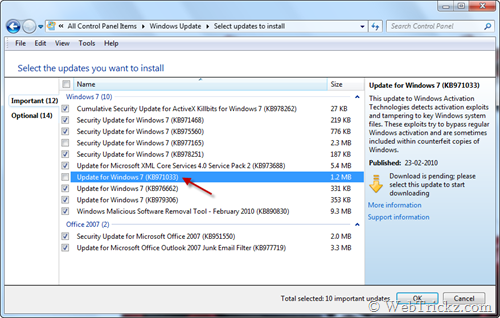 Causes of WAT update – When this update is installed, it performs a validation process for the copy of Windows that is running on your computer. If a validation error or activation exploit is detected, and you decide not to resolve the validation error or the activation exploit at that time, you will be periodically notified that the copy of Windows 7 that is running on your computer is not genuine. More here
Note – It is advisable not to install this update if you're running non-genuine Windows 7. You can easily avoid it by hiding it from Windows update.
Disclaimer: We always advice you to run a genuine copy of Microsoft Windows.