You all must have heard about the name Coolpad when it comes to Chinese smartphone makers. They are among the top 10 sellers in China and also known in the context of Yu Yureka which was termed as a rebrand of one of Coolpad's phones. It was never officially announced that way but many articles on the internet seem to hint that. With so many phonemakers entering India in the recent past, Coolpad also times its entry in a time that is closer to one of the biggest and grand festive seasons in here called Diwali. Recently, Coolpad launched the Note 3 phone and we have been using it close to a month now and are here to report you the findings we made in its full review.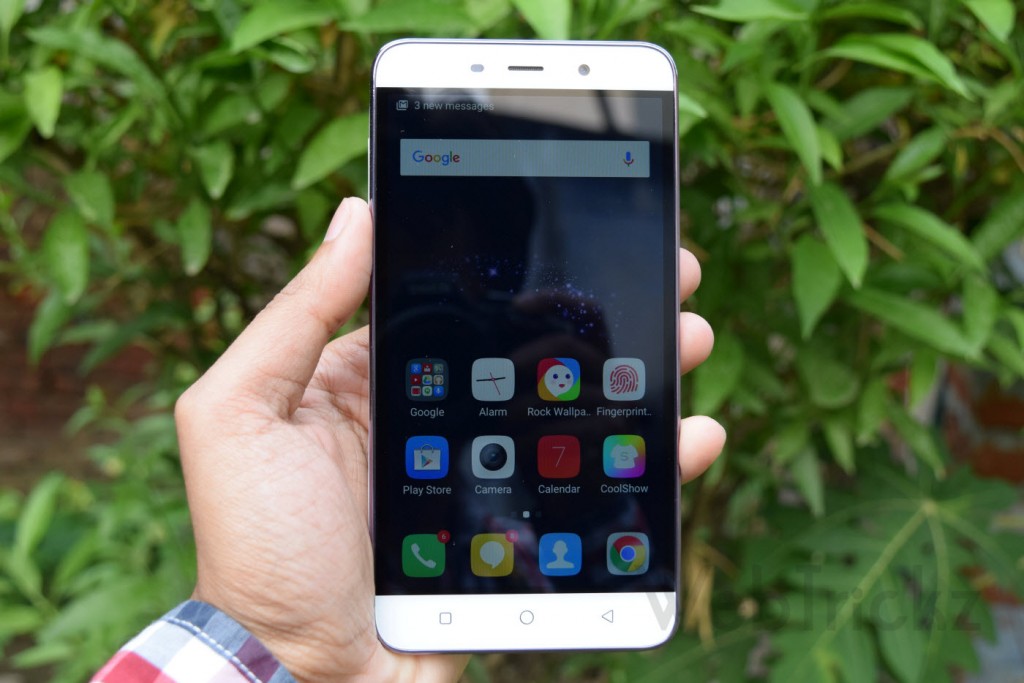 In the box:
Comes in a white box made of good quality with Coolpad branding on the top. Box contents include:
Coolpad Note 3 phone
Charging / Travel adapter
Pair of custom earphones
Micro USB charging Cable
User guide and warranty notes
Design and Display:
The design of Coolpad Note 3 sticks to basics as it is a budget phone. Overall build is based on plastic and the phone comes with a good sized battery also which means the phone will be thick, as much as 9.3mm. And since the display is big at 5.5″ with some real thick padding on the top and bottom, the phone is heavy weighing as much as 150 gms. The edges have big curves that ensures ease of use by offering a good grip. One highlight of the phone is the chrome edge which saves the design from looking too basic. The bottom portion has 3 capacitive buttons without backlight but they shine well in day light. The chrome edge and these buttons provide the phone some good looks. The polycarbonate back cover features a soft matte finish that feels good in hands. From a distance the Coolpad Note 3 does look like a luxury phone in the white color it comes.
There is a power button on one side and volume controls on the other. Both work well but we don't like the left side placement for volume rocker as it isn't really convenient to access with right-handed usage.
At this price range there is a surprise in the package. The Coolpad Note 3 comes with a finger print scanner that is neatly placed at the back of the phone, we will come to this in the later part of the review. The rear camera is a circular shaped lens surrounded by a chrome ring that looks aesthetically nice.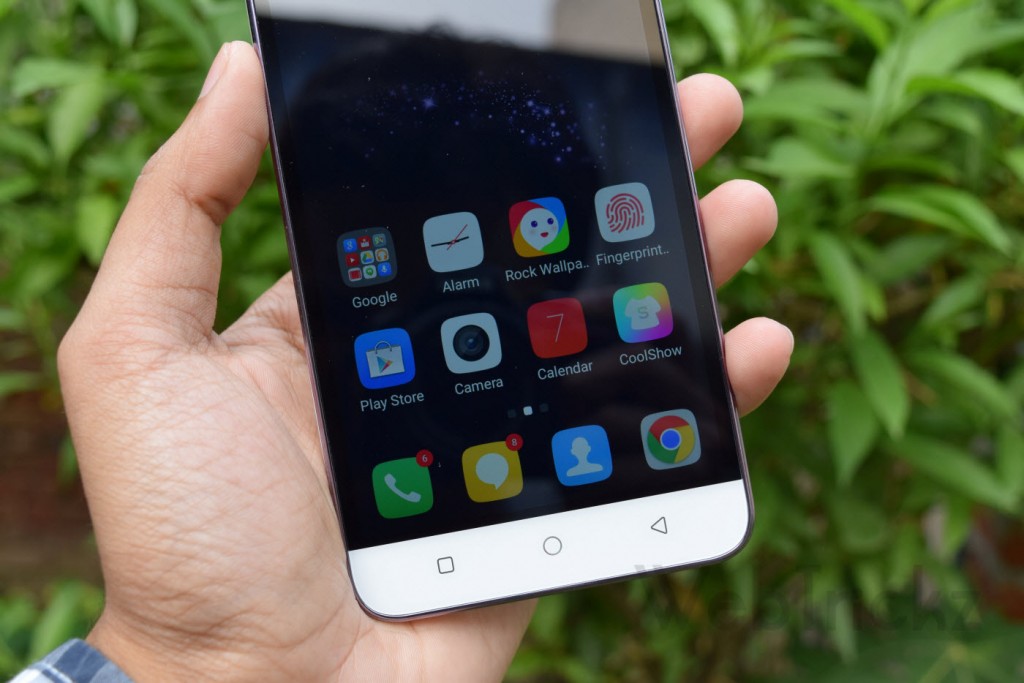 The display consists of a 5.5″ IPS LCD screen with a overall resolution of 1280 * 720. There is no Gorilla protection for the screen but has NEG layer that prevents it from scratches. The screen is highly reflective and if you use it in directly in the sun it will be very difficult to view the content of the screen and you will be forced to push the brightness to its fullness. But apart from that one issue the screen is very vibrant and colors come well. Even with the lowest level of brightness it is very readable and this will come very handy when you are using the phone in the night where the usual struggle happens – adjusting the brightness so it doesn't hurt your eyes. Good job done here by Coolpad.
Hardware inside the hood: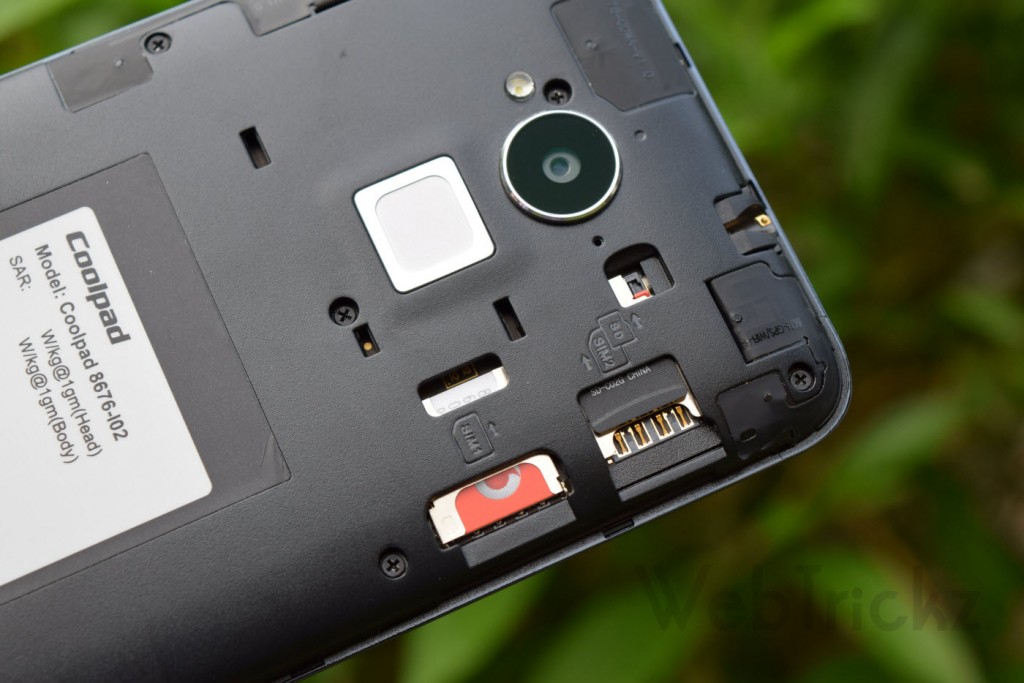 The Coolpad Note 3 is making use of the MediaTek MT6753 Octa-core processor clocked at a speed of 1.3 GHz and Mali-T720 GPU. The phone comes with 3 GB of RAM which will empower the phone a lot. 16 GB of internal memory is what it will have inside and a little more than 10 GB is available for the user. This can be expanded upto as much as 64GB using a micro SD slot at the back of the phone. You can also find the dual micro SIM slots with the micro SD slot and these support 4G SIMs. Alongside is also the massive 3000 mAh battery that will run the phone housing Android 5.1 based Cool UI. The highlight of Note 3 is 3 GB RAM which is usually found only in higher range phones above 15K INR.
Software:
As mentioned earlier, the Coolpad Note 3 runs on Cool UI which has lots of features added into it and we will list them in quick points:
There is no app drawer and all the icons are laid out in many pages that you can scroll
Icons are quite bright and the display is good too hence gives a rich experience
There are lots of pre-loaded apps and mostly related to Indian market. We did not feel this is a good idea. Huge widgets too occupy some pages
The notifications and options menu is feature rich with options like:

Multi window
Long Standby
Hotspot
Data activation option for each SIM

Colorful settings menu
Lots of Gestures : M for music, C for phone keypad, O for Facebook and W for WhatsApp and many of these can be customized for your needs. The best part of the gestures is the fact that they work on the locked screen as well.
Colorful Themes – The CoolShow app in the phone packs some 8 beautiful themes by default that you can use without any difficulty. Gives an entirely refreshing new look to the device.
Overall the performance of the UI and OS was very satisfactory and this is where we see the 3 GB RAM coming into play. On a medium to heavy usage we never saw the RAM usage hit its full which means there is good handling of the jobs.
Performance:
For the sake of simplifying, let's split the performance across various features for you:
Finger Print Scanner: Superb is the only word we have for this. Coolpad in their launch mentioned that the phone supports 360 degrees usage of FP scanner and during our usage we saw how smooth and accurate this is. Programming the finger print is fast and you can touch your finger that is programmed in any direction on the scanner and it just activates. You can unlock the phone even when its locked and screen is off making it very easy for usage. This is the only phone that comes with this feature at this price range and it works superb. It never failed in our usage as long as the feedback was in the range.
Gaming : We played lots of games for hours together. These included Nova 3, Mortal Kombat, Leo's Fortune, Temple Run 2, Asphalt 8 and likes. We had no issues at any moment. Graphics went smooth but there were frame drops here and there which we expected at the start given the processor which scored upwards of 30,000 all the time we test.
This is again the 3 GB RAM coming to good use. But there is a WARNING here folks, the Coolpad Note 3 heats up a lot. Even with 20-30 minutes of light gaming the temperatures went close to 50 degrees celsius which is simply not acceptable. The chrome part of the phone and the entire back portion become very hot and you cannot hold the device.
Audio and Multimedia : The speaker is to be found on the back of the phone and this is one of the below average performances we have seen. It is more like its there for the sake of it and do not have any high expectations. If you keep the phone on the table the voice is muffled.  Even with a good pair of earphones the sound was just OK and never too great.
Radio and Wi-Fi: This is one of the weakest areas of the Coolpad Note 3. Calls have echo issues and the signal reception is not upto the mark. Even when there were 3 bars on the signal, we had to try many times to get the call connected.
Battery: This area is the expertise of Coolpad Note 3. With average usage you can push the phone to be used for as much as two days. For heavy users and gamers there will be no issues to take it for full day. We got a screen-on time of minimum 5 hours which is very impressive.
Camera: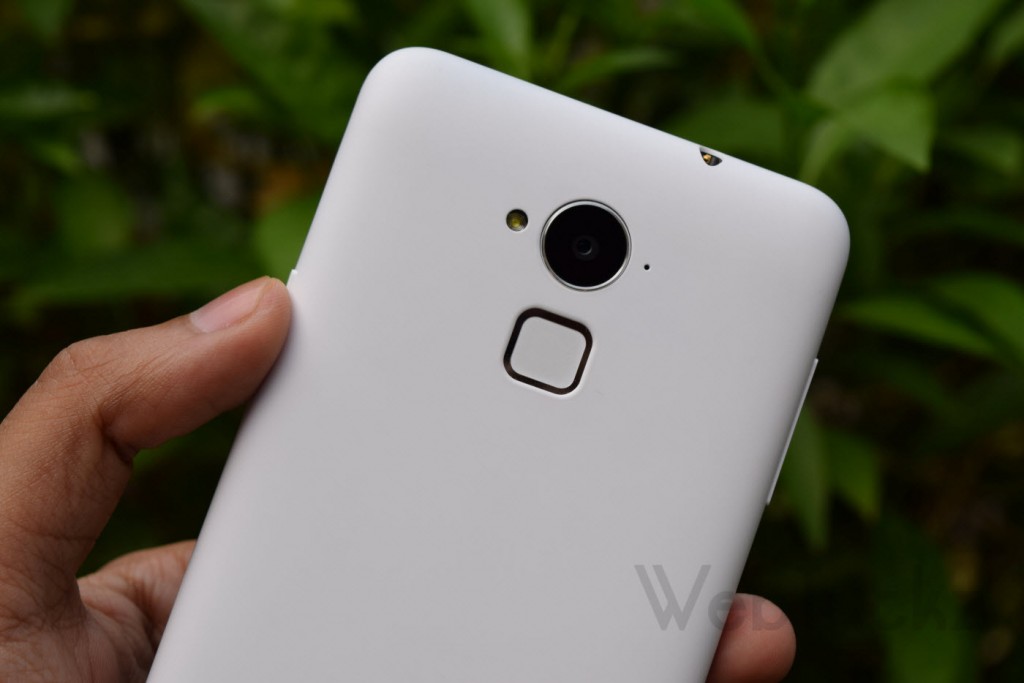 The 13MP primary camera managed to shine in its work when it was daylight. Pictures were slightly saturated but many a times things were slightly blurred exposing the weakness of locking focus on the subject. But 9 out of 10 times you will not complain. But in low light conditions there are lots of grains but surprisingly exposure was well handled. The camera app is pretty basic and we never found much difference in AUTO and HDR mode. Panorama option is also available and works well. Videos are just ok and struggles a bit in focusing while moving. The 5MP front camera is good enough for taking good selfies and sharing on your social media. Below are some camera samples to give you an idea.
The Good:
Battery life
Display
Finger Print Scanner
Camera
Price
Option to add memory + USB OTG support
3 GB of RAM
Lag free performance
The Bad:
Overheating issues even on simple gaming for short duration
Weak radio and Wi-Fi
Flaky operating system, has lots of issues / bugs
Not much known about after sale service
Below average loud-speaker
No LED on capacitive buttons
Highly reflective screen
Verdict:
Coolpad Note 3 is sold at 8,999 INR in India. At this price, for the features it offers like 3 GB of RAM and a very well working Finger Print scanner and a decent build quality, that too for a phone that looks as if its a premium phone – "go buy it" is what we say. But do consider the weakness of the phone which is to be found in other phones in its price range also. Yu Yureka, Redmi Note, K3 Note and all are also not very strong when it comes to signal strengths and loud speakers. But not all of them have overheating issues. If you are not into heavy gaming and a keen eye for photo clicking, this is the phone for you.