Get System Info utility (GSI) is the most useful and powerful tool developed by Kaspersky lab. It is the best way to analyse the hardware and software information of your computer system.
It provides detailed system information and help in troubleshooting and fixing various issues. It describes various categories like System properties, Devices, Processes/Services/Drivers, Files/Registry along with their sub categories. It also lists out unknown and suspicious files, Program errors and other incompatible softwares.
How to use GSI –
1. Create the report using the tool GetSystemInfo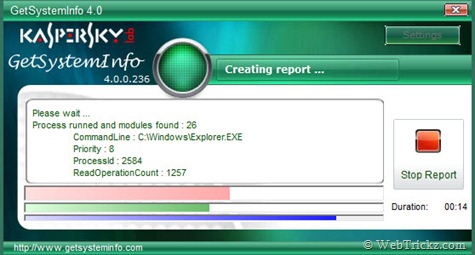 2. Now upload the report file using Browse button @GSI Parser for report analysis. 

3. Click on Submit to launch the analyse.

4. Now you'll see a full description of your system. Click on the tabs to open there sub menu and analyse the desired reports.
The newest version (Version 4.0) includes many new features that make the creation and interpretation of a user's system easier for both the user and the engineer.
Download Get System Info 4.0 (Windows XP, Vista, ++), V 3.0 (Win 2000, NT, 98)
via [My Technology Guide]