Chat Lock on WhatsApp lets you lock specific chats with a password rather than locking the app itself. This feature ensures your intimate conversations and messages stay private and secure when someone else uses your phone. Besides individual contacts, one can lock group chats and muted chats.
Where are my locked chats on WhatsApp?
When you lock a chat on WhatsApp, the locked chat doesn't appear anymore on the Chats screen. Your password-protected chats are instead kept separately in a Locked Chats folder.
WhatsApp keeps the locked messages and their notifications hidden for added privacy. However, users can view their locked chats anytime after authentication via the device's passcode, fingerprint, or Face ID.
Perhaps, have you turned on the Chat lock for some chats? If yes, then you might want to see your locked chats on WhatsApp. The need to access locked WhatsApp chats arises when you want to send or read locked messages. It's further necessary to view locked messages to unlock a locked chat.
Now let's see how you can find your locked chats on WhatsApp for iPhone and Android.
Before proceeding, note that the Locked Chats folder only shows up when you lock a particular chat.
How to find your locked chats on WhatsApp
Open WhatsApp and go to the Chats tab.
Swipe down your inbox or Chats screen to reveal the Locked Chats folder at the top.
Tap the 'Locked Chats' option and unlock with fingerprint or Face ID to see all the locked WhatsApp messages in one place.
Open a chat to view or send a message.
That's it. The above steps apply to both iPhone and Android.
TIP: You can even view your locked chats on WhatsApp Web (without a password or authentication) by simply searching the person's name whose chat you locked.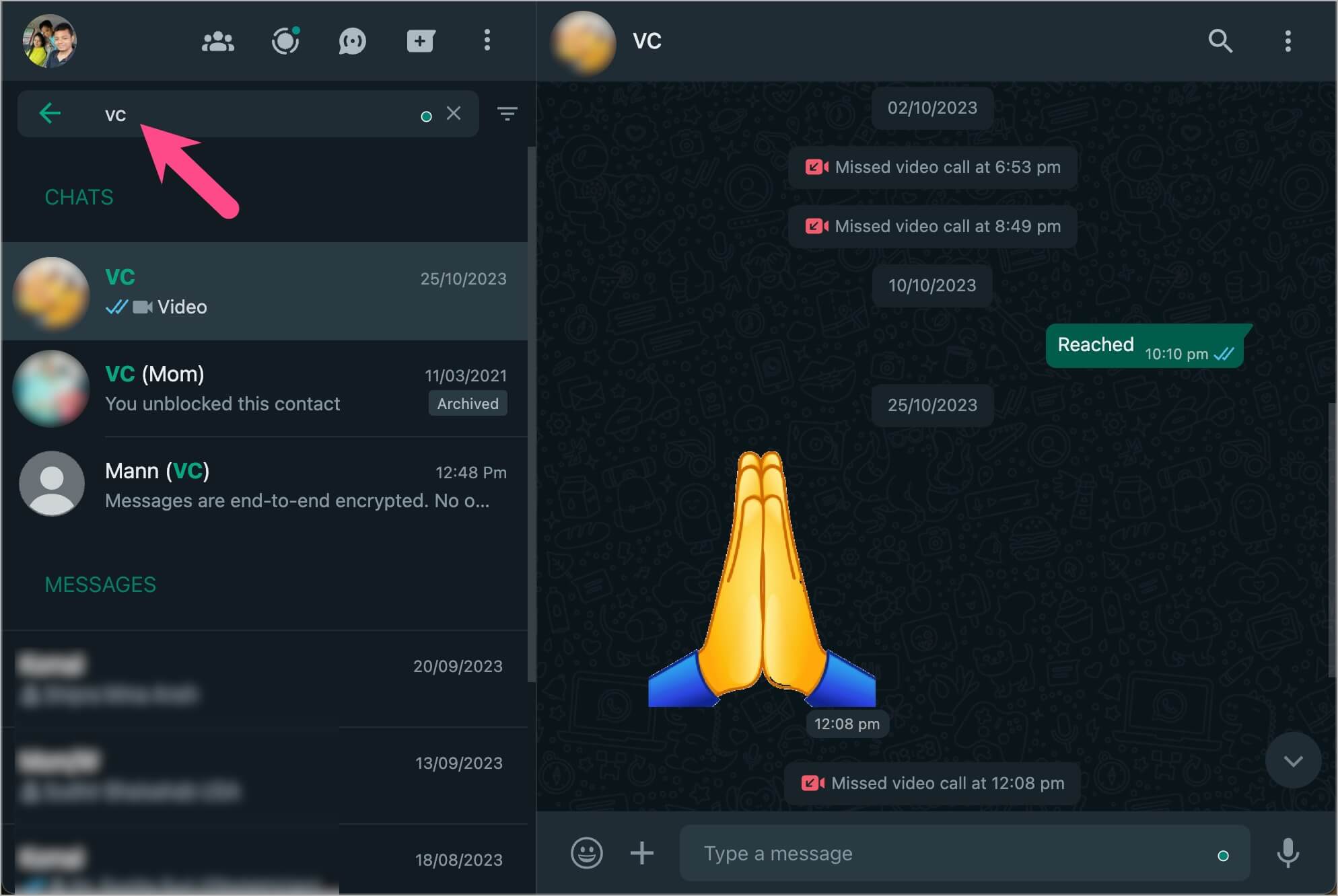 How to unlock a locked chat on WhatsApp
Looking to unhide and unlock a locked WhatsApp chat? Well, you can unlock or remove a locked chat on WhatsApp in a few simple steps. To do so,
Go to the Locked Chats folder in WhatsApp following the above-stated steps.
Open the chat you want to unlock.
Tap the contact's name or profile picture at the top-left.
On the Contact Info screen, scroll down and tap on Chat Lock.
To unlock locked chats, turn off the toggle button next to 'Lock This Chat with Face ID' (iPhone) or 'Lock this chat with fingerprint' (Android).
Confirm your Face ID or fingerprint to disable the lock.
The unlocked chat will be visible again in the Chats tab.
ALSO READ: How to find and download WhatsApp voice notes on iPhone