The much popular and handy tool 'EasyBCD' from NeoSmart Technologies is finally updated after 2 long years. The tool was last updated on April 8, 2008 and now the recent update is made to it on July 13, 2010.
EasyBCD 2.0.1 comes with a big list of new features and improvements, along with support for Windows 7. With EasyBCD you can easily edit and modify the boot menu on your Windows, Mac, Linux in a few clicks. Setting up and configuring a dual-boot, adding a new entry, backup and repair BCD, installing Windows 7/Vista/XP bootloader to MBR is all easily possible with EasyBCD. [Changelog]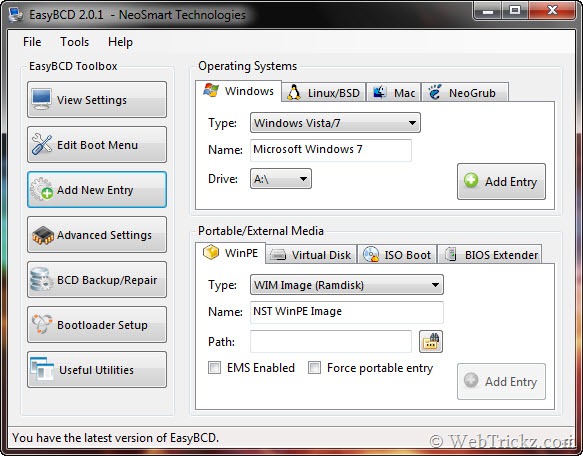 Boot into XP/Vista/7/Ubuntu/OS X and more!
Boot from USB, Network, ISO images, Virtual Harddisks (VHD), WinPE, and more!
Repair the Windows bootloader, change your boot drive, create a bootable USB, and more!
Rename entries, set default boot target, change BCD timeout, hide the boot menu, and more!
Create your own custom boot sequence, hide drives on boot, backup and restore configurations, and more!
Download EasyBCD 2.0.1  [Free]