There are times when we need to change the location of our phones. For example, when you want to play some location-based game like Pokémon go or want to access a restricted site in your country. Plus, it also helps in protecting our privacy. If we cannot go to that place, we generally set up a virtual location.
While it is effortless to do it on Android phones, setting a virtual location in an iOS device used to be a chore. But times have changed. And spoofing iPhone location is a piece of cake with a trustworthy iOS location changer.
Today, we are going to talk about different methods to change GPS location on iPhones, using both software and hardware, free and paid, along with their benefits, drawbacks, and prices.
Spoof iPhone Location Using Dr. Fone Virtual Location [No Jailbreak]
Works for both Android and iOS devices, Dr. Fone Virtual Location helps you to fake GPS location on iPhones easily. You can go to any place you want and do a lot of cool stuff without jailbreaking your phone.
How to Fake Location on iPhone using Wondershare Dr. Fone
Follow the steps mentioned below, and you will be able to change your virtual location at will.
Download and install Dr. Fone from the official site. As you open it, click on the Virtual Location tab.
Connect your iPhone to the computer. After your PC detects your device, click on Get Started.
In the next window, a map will open up. Initially, it will show your current position. Then, you can choose where you want to set your virtual location. Select "Teleport Mode," located on the upper right side of the screen.
Then, click on the map to select a location or search for the place you want.
After you have set the location, a small box will pop up on the screen. Click on Move Here, and you are good to go.
That's it. You have now successfully changed your virtual position on your iPhone. Once you are done, restart your phone, and it will detect your original location.
Key features of Dr.Fone Virtual Location
Go to Any Location Around the World Quickly
Using Dr. Fone Virtual Location, you can spoof your position on your iPhone at any time and go to any place you want. And all you need to do is to select the spot and click on Start, and that's all you need. So, say goodbye to long tutorials on how to spoof iPhone location.
Fool All Location-based Apps
A lot of the apps out there ask your precise location to work properly. Sometimes it gets too invasive. In such cases, you can use this iOS location spoofer to change your position to any part of the world without moving your feet. After that, even apps like Google Maps, Tinder, Snapchat, etc. will be fooled.
You can also use Dr. Fone Virtual Location to fool apps like Pokémon Go, where you have to move from one place to another. Dr. Fone lets you simulate movement from one place to another at a customized speed. All you need to do is to select a start and endpoint and set the movement speed to any value you want to simulate movement like walking, driving, or cycling.
Now you can hatch all those Pokémon eggs while sitting in the comfort of your home.
Choose the Paths You Are Going to Use the Most
Wondershare Dr. Fone allows you to import and export different paths that you have used before and set them as favorites. Then, you can simply choose any of those presets and simulate movement quickly.
More Stable Than Any App Out There
We tested this iOS location spoofer on various apps and games like Pokémon go, WhatsApp, Instagram, and many more. And not a single time did the apps crash.
No Need to Jailbreak Your Device
Previously, you needed to jailbreak your iPhone to fake GPS iOS. This was a lengthy and risky process, with the added problem of voiding your warranty. But now, you can do it by just connecting your phone to the PC.
Pricing and Availability
You can try Dr.Fone Virtual Location for free or buy a monthly license at $9.95. While the quarterly and yearly licenses cost $19.95 and $59.95, respectively. This tool runs on Windows and Mac computers and supports all Android and iOS devices.
Pros:
You can spoof your location in just one click.
No need to jailbreak your iPhone.
Stable and works with all apps
You can simulate movement with this tool
Cons:
Their services are not free. And the trial version is short.
Spoof iPhone Location Using Hardware – GFaker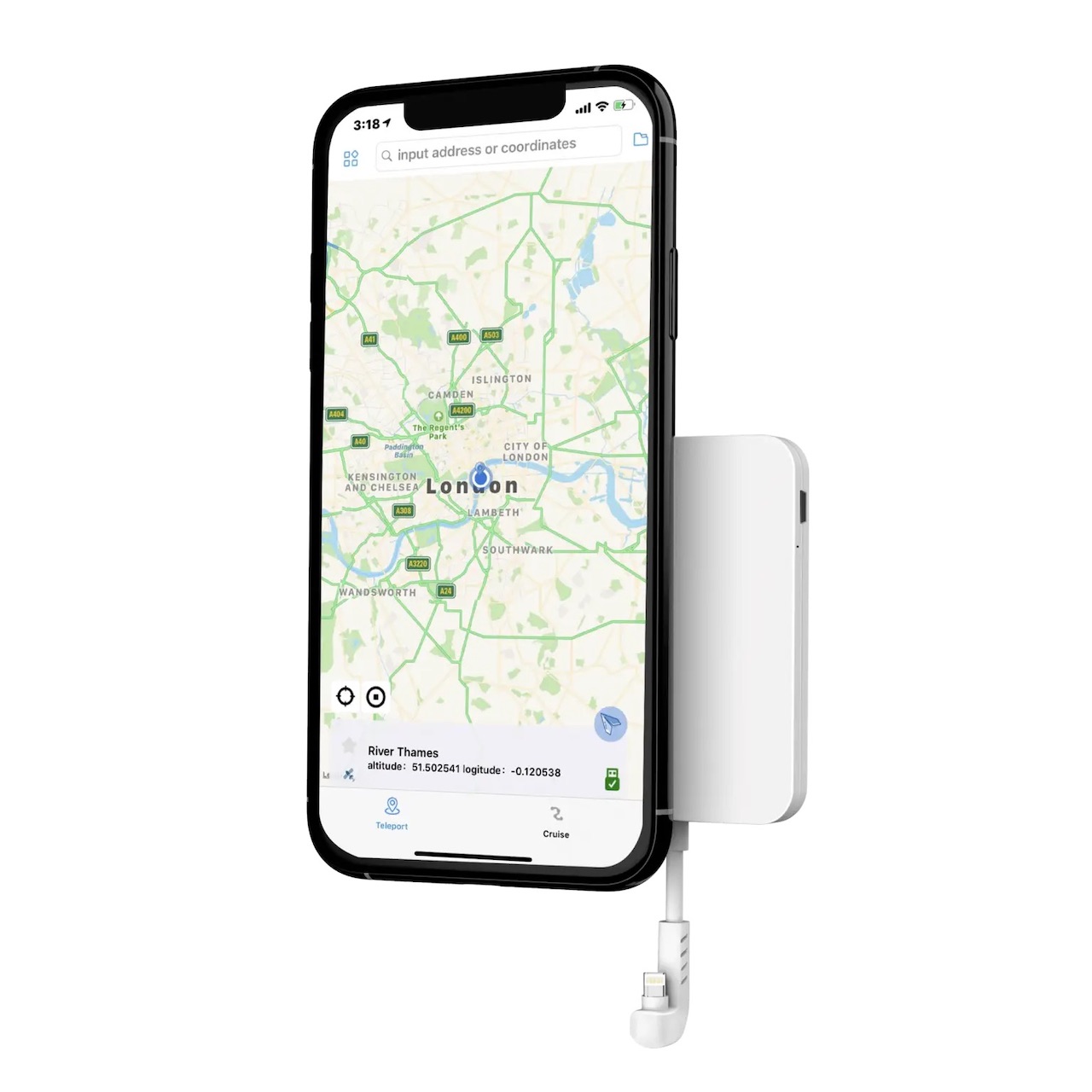 Say you are not a fan of using any form of software. Plus, Apple is not a fan of people spoofing their current positions. So, they put several restrictions and do not allow devs to create such tools.
Nowadays, you can use an Apple-compliant that allows you to spoof your iPhone location. The device isn't cheap but is highly reliable.
GFaker uses chipsets approved by Apple to present themselves as external GPS devices. So, you can use it to change your location to any place around the world without jailbreaking your device.
This tool will tell all your applications that your current location is the place where you have programmed your GPS tool to be.
One major drawback is that they do not allow you to set the altitude of your iPhone. So, using this iOS location spoofer won't make you fully anonymous.
They have two models – Pro and Phantom. The latter is the latest model and is compatible with all iOS versions.
Pros:
A solid hardware-based solution to spoofing locations on iPhone.
Uses parts approved by Apple, so you are not doing anything wrong.
It is compatible with all devices.
No need to jailbreak your iPhone.
Cons:
It does not allow you to change the altitude of your device.
It is an expensive product.
You won't be able to use your lightning port for other reasons.
Spoof iPhone Location Using 3uTools – Free Alternative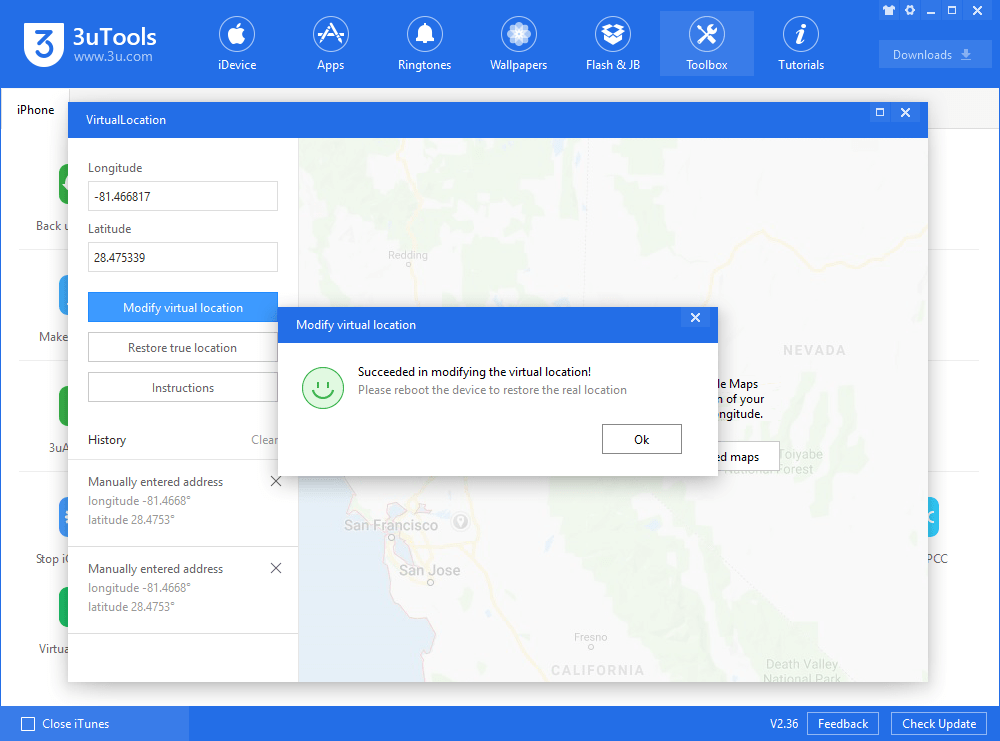 3uTools is another popular utility tool that may be used for a variety of tasks, including location spoofing. It is a free product that does a decent job at iOS location spoofing. Although, you won't be able to simulate movement.
You can use this tool for a massive number of tasks, and the location spoofer is good enough for occasional uses. However, you may face some stability issues with other apps, and it sometimes doesn't work.
This works on the most recent versions of iOS devices and is quite simple to operate. You can check out their guides to learn how to fake location on iPhone.
Pros:
It is a great multipurpose tool for iOS users.
Completely free software
Compatible with all iOS versions
Cons:
You cannot simulate movement using 3uTools.
The location spoofing may not work properly at times.
Final Verdict
These are our picks for the best iOS location spoofers you can get on the internet. Among these three, Dr. Fone Virtual location is the best choice, according to us.
GFaker may seem like a reliable option as you are staying on the safe side as the location spoofer uses products certified by Apple. However, it is incredibly costly compared to Dr. Fone, and you cannot perform any advanced tasks. Plus, it keeps your lightning port occupied, and the phone becomes bulky.
3uTools is a free tool that you can use to get a lot of benefits. However, the pricing is the only place where it shines over Dr. Fone. This is not a dedicated iOS location spoofer, so it cannot simulate virtual movements. Plus, it doesn't always work correctly. In addition to that, Dr. Fone itself contains a vast number of features and is the best of both worlds.
Now that you have made your decision, have fun teleporting around the world while moving just a finger.