Following the wider rollout, emoji reactions on WhatsApp are now available to many people. That said, Reactions are already available on other Facebook-owned platforms like Messenger and Instagram. WhatsApp Reactions offer a quick way to react to messages with emoji in an individual and group chat. Thereby, you can express your feelings towards a particular message without having to explicitly reply with an emoji. Reactions also reduce clutter and avoid flooding up a group chat with new messages.
As of now, you can react with six emojis to messages but WhatsApp has plans to bring "all emojis and skin-tones". The six emoji reactions include thumbs up, red heart, laughing face, surprised face, crying face, and folded hands.
Though reactions are useful, there are times when you may accidentally react to a WhatsApp message. The situation can turn awkward such as when you react with a laughing emoji to tragic news.
Thankfully, it is possible to remove reactions in WhatsApp on iPhone and Android. In addition, users can change reaction emoji on WhatsApp. This comes in handy when you react with an inappropriate emoji or simply didn't intend to react to a message.
Now let's see how you can change or remove a reaction emoji from WhatsApp.
How to remove a reaction on WhatsApp
Open a conversation and find the message you reacted to.
Press and hold (long-press) the message to open emoji reactions.
Tap the same reaction emoji that you reacted with.
That's it. The reaction will be undone and the emoji will be instantly removed for you as well as for the receiver. Just make sure to undo your choice before the recipient sees your reaction. Also, WhatsApp won't notify you if removing a reaction wasn't successful.
Alternate Way –
There is another way to undo a message reaction on WhatsApp.
To delete a reaction on WhatsApp, simply tap the emoji icon below the message you reacted to. Then tap on 'Tap to remove' or tap the emoji to remove it.
How to change reaction emoji on WhatsApp
Did you send a wrong emoji reaction by mistake? Worry not.
To change a reaction on WhatsApp, long-press the chat message you reacted to. Then tap the desired emoji to replace your reaction with a different emoji.
TIP: The steps to react to a message, change, or remove emoji reactions are similar on WhatsApp Web. The only change is that you have to hover your cursor over a message and click the drop-down arrow to find the relevant options.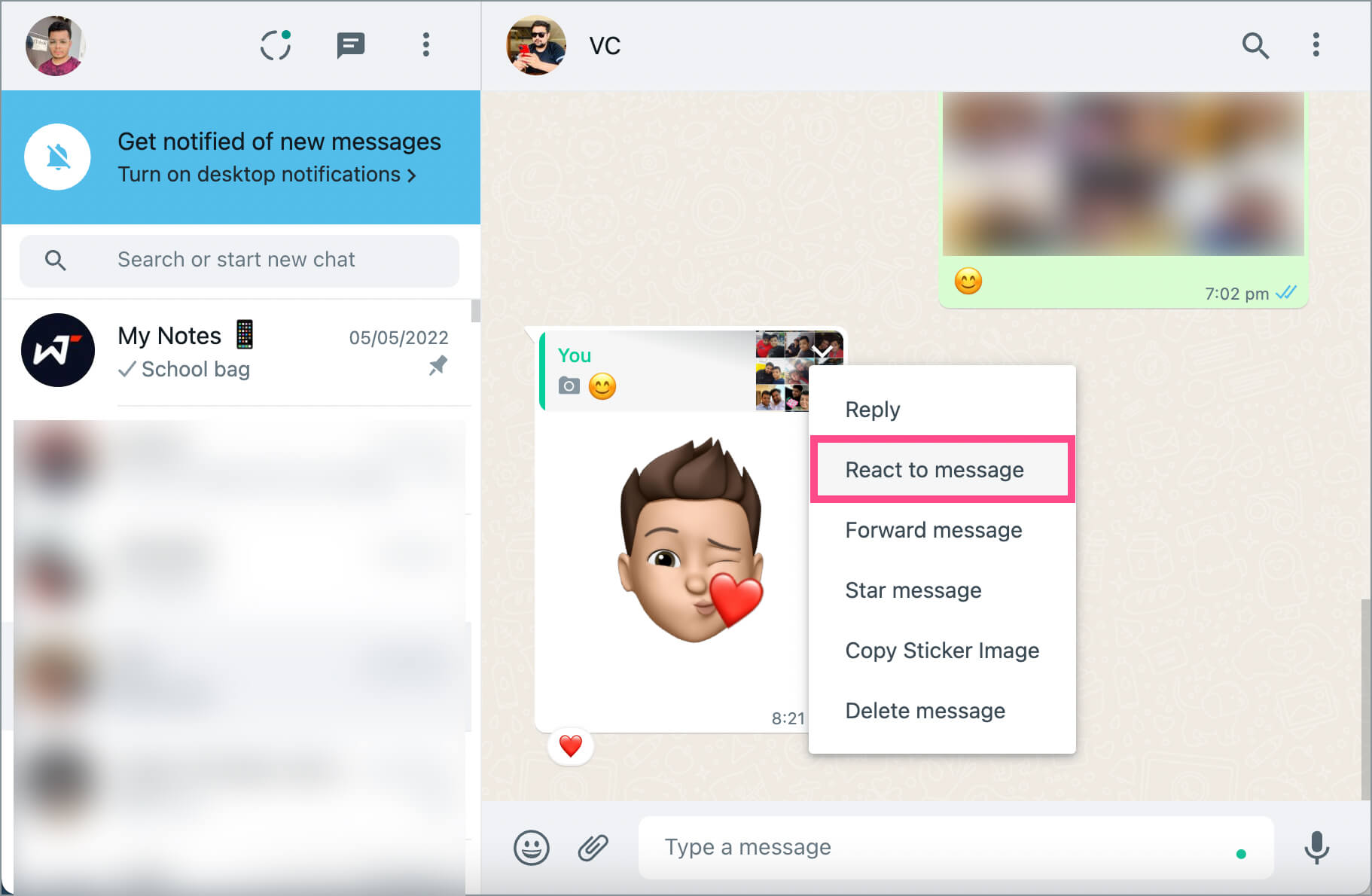 How to turn off reaction notifications on WhatsApp
By default, WhatsApp sends you a notification every time someone reacts to your message. Perhaps, this can be annoying if you tend to receive a lot of reactions on your WhatsApp messages.
Fortunately, there is a setting that allows users to get rid of emoji reaction notifications from both individual and group chats.
To disable reaction notifications on WhatsApp, open WhatsApp and go to Settings > Notifications. Then turn off the 'Reaction Notifications' toggle for both Message and Group notifications or either of them.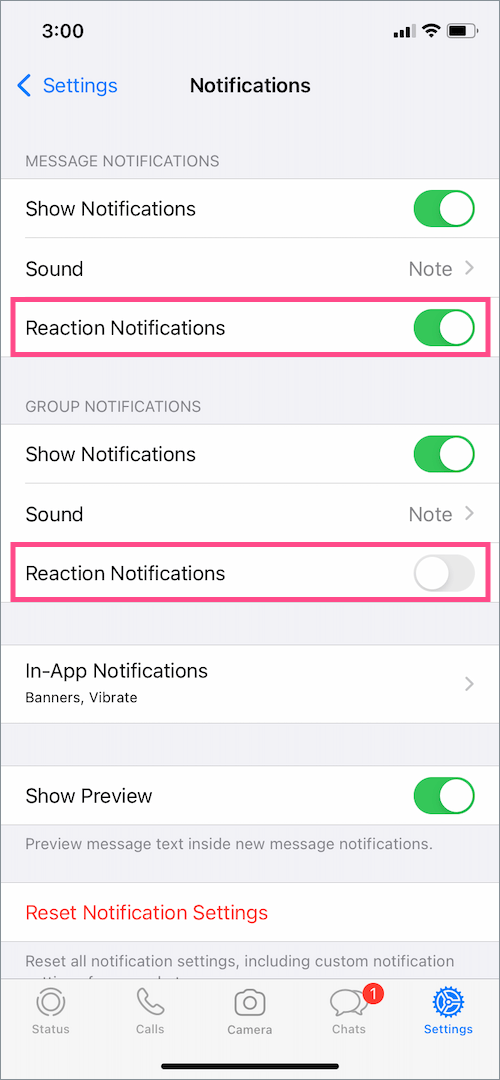 Voila! Now you won't get a notification when a person adds a reaction to your message.
Similarly, you can mute sounds and notifications for reactions on WhatsApp Web.
RELATED TIPS: