The newly launched Android 5.0 Lollipop update comes with a brand new interface featuring Material design, beautiful transition animations, lock screen notifications, improved quick settings, revamped multitasking (Recents) interface, multiple users support on phone, battery saver mode, Do Not Disturb function, Priority Modes, and a whole lot more. In Lollipop, the multitasking has evolved and recent apps are shown in the form of a card stack. One can simply scroll to navigate through the stack of recently opened apps and swiping the card left or right closes that specific task. The new Recent Apps in Android 5.0 shows individual tabs opened in Google Chrome browser within the recent apps drawer itself, for easier access.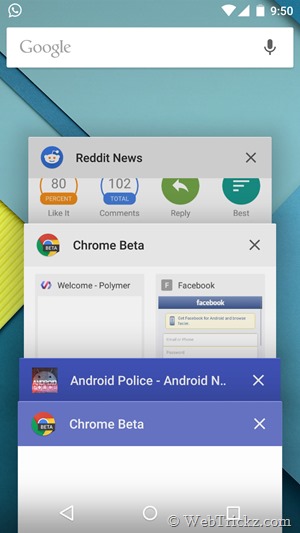 By default, Chrome tabs are displayed alongside with recent apps which is pretty handy and at the same time annoying as well. That's because, when tabs and apps are merged together in the phone's app switcher tray, users can neither see nor switch between tabs from within the browser itself. This could annoy users who prefer the old traditional way and have tons of tabs opened in Chrome browser. Well, that's optional for now and you can easily disable it!
How to Remove Google Chrome tabs from Recent apps in Lollipop –
To prevent Chrome tabs from being shown with Recent apps in Android 5.0, open Chrome browser on your device, go to menu and select Settings. In settings, select the "Merge tabs and apps" option and turn it off. Click Ok to confirm. The tabs will now appear like before.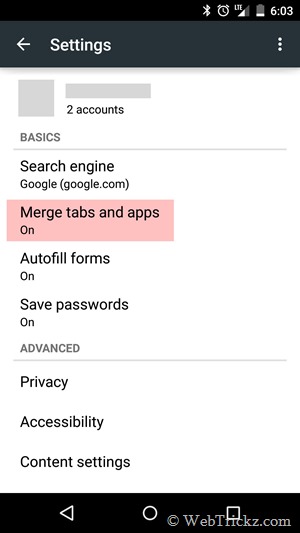 Note: The "Merge tabs and apps" setting is visible in both versions of Chrome, and only on phones running Android 5.0 Lollipop. Apparently, if you're on a tablet like Nexus 7 or Nexus 10 then you won't see tabs in recent apps nor an option to enable/ disable the function in Chrome. That's because tablets have the desktop-esque UI.
Tip via [Reddit]