Today, I will tell you "How you can cut your audio files" using the free application "Audacity".  You can cut audio files to make ringtones for your mobile phone in Mp3 or Wav formats. It can currently import WAV, AIFF, AU, MP2/MP3 and OGG Vorbis files.

This is the best application for editing audio and making ringtones, as it offers a great list of functions to modify and improve the music file. It provides various effects like Change Pitch, speed, tempo, echo, fade In/Out, vocal removal and lot more…
Follow the Simple steps below to cut portions of your audio files:
1. Open the song from the file menu by choosing Open option.
2. Then choose the Selection tool for selecting the range of audio that you want to edit or listen.
3. Highlight the portion of the song that you want to cut out from the audio file.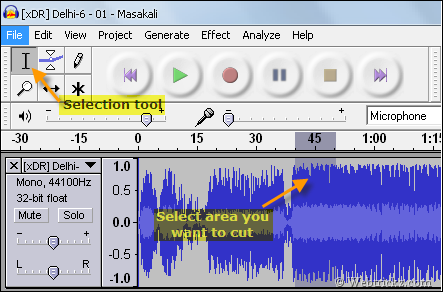 4. Now click the Trim button to cut out the selected portion. You can also listen the cropped portion.

5. Go to the File menu and select the format in which you want to save the audio file. You can save it in 3 famous formats: Export as MP3 / Export as Wav / Export as Ogg Vorbis.
Note:  The first time you try to export an MP3 file, Audacity will ask you to locate your Mp3 encoder. Extract and locate the files indicated below. Audacity will ask only the first time for the file and you will be able to export your Mp3 files easily.
Download the required Mp3 Encoder below:
For Windows: Download lame_enc.dll
For MAC: Lame_Library
Linux/Unix: Follow these instructions
By default the export MP3 file bit rate is set as 128 kbps which you can change if you want. Simply Go to Edit > Preferences > File Formats and choose the required bit rate for your file. It allows to choose from 16 to 320 kbps of bit rate.
To change the ID3 tags of your file go to Project menu and select Edit ID3 Tags..
The output produced by Audacity is of best quality without any noise or breakage. This software eliminates your problem of buying any MP3 Cutter to cut files with are mostly not available for Free.
>> Hope you liked this method. Do share it with your friends and stumble if you like it.