If you have Kaspersky Antivirus or Internet Security installed on your PC, then you will notice a loss of disk space. This space is mostly acquired by the temporary files that are stored by Kaspersky. I freed about 1.3 GB of space from my PC by removing these temporary files, which were around 200+ each having a size of 5MB (Approx).
Here's how you can free up your disk space by following the simple steps below.
1. Open Kaspersky Settings > Options and disable the Self -Defense option.

2. Now Exit your Kaspersky product ( KAV or KIS ).
3. Enable "Show Hidden files and folders" option from the folder options.
4. Go to C:\Documents and Settings\All Users\Application Data\Kaspersky Lab\AVP8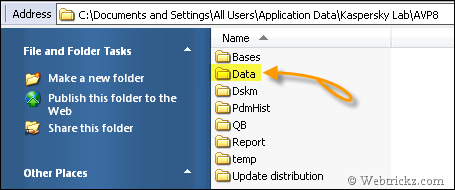 5. Open the "Data" folder where you will find many files named as av1A.tmp, av2A.tmp, etc. and other files and folder.

Properly select all the files having a .tmp extension and leave all other folders and files. Then delete all the temporary files ie. .tmp files. Make sure you don't delete any other file. You will now notice a high reduction in your disk space.
6. Now Start Kaspersky and turn ON Self–Defense.
It is completely safe to remove these files as they are temporary files which have been used earlier by Kaspersky. I have tried it myself on my PC, so don't worry.
Update – Windows 7 & Vista users need to open this path: C:\ProgramData\Kaspersky Lab\AVP9\Bases\Cache to find the .tmp files and delete them.