Facebook is the world's largest social networking site, dealing with millions of photos and videos uploads everyday. Following a large user base of Facebook mobile users, there are a vast majority of Android users with phones and tablets who wish to download photos and videos on their device either for offline viewing or downloading Facebook videos for sharing via WhatsApp. Perhaps, that's not possible as the Facebook app for Android doesn't offers the ability to neither save pictures nor download videos to your phone. However, there is a workaround for this restriction that requires a 3rd party app.
The trick involves using 'ES File Explorer' for Android which is also an amazing and powerful file manager app with multi features like App manager, Download manager, System manager, SD Card Analyst, Root Explorer, Remote manager, etc. Also, this method will let you download Facebook videos only with great ease and at high speed.
Downloading Videos from Facebook App to Android Phone –
1. Install the 'ES File Explorer' (version 3.0) app from Google Play. [Free]
2. Open the Facebook app for Android and view any Facebook video (Not YouTube). A pop-up box will appear asking to Complete action using, simply choose 'ES Downloader' and tap on Just Once if you don't want to use the same option next time.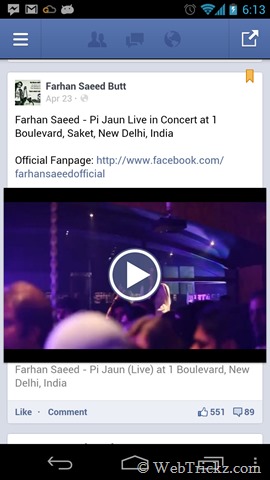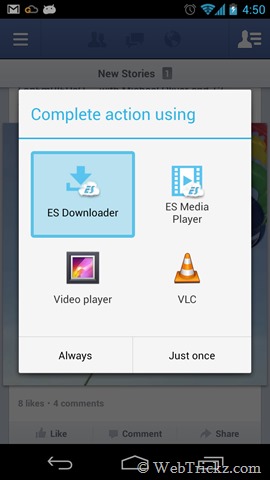 3. The video will instantly begin downloading, plus shows information like remaining time, percentage downloaded, size of file, download speed and the save location.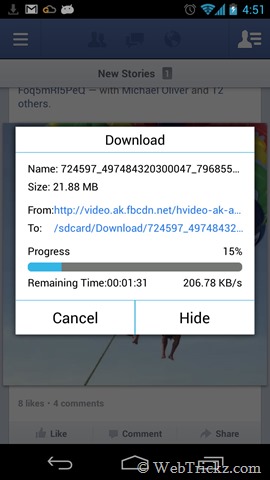 Tip – Select the 'Hide' option to continue using FB while video is downloading in the background. You can view the progress from notification drop-down menu.
~ Now open Gallery >> Download folder or /sdcard/Download/ to view saved videos.
Hope you found this post useful. 🙂
Also See: How to Save Photos from Facebook App on Android devices