We often skip a certain segment while watching videos to view only the necessary clip. Likewise, when sharing YouTube video links with your friends, you might want to set YouTube video to start/play from a specified time interval so that the viewer only sees the desired portion and doesn't need to buffer the unneeded initial part of the video.
Luckily, YouTube has now made it very easy to do this by adding an extra option to the right-click context menu of its videos. To set a specific start time for YouTube videos, just pause the video at the desired time, right-click on the video, and select the 'Copy video URL at current time' option. Now use or share this video URL to let the video automatically play from the defined starting time.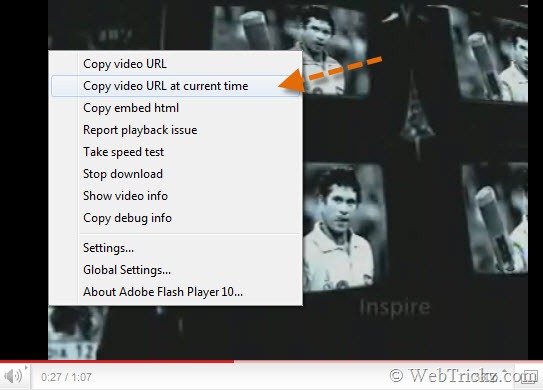 Alternate way – You can manually add the string #t=27s (replace 27s with the required starting time like 40s or 1.04m) to the end of any Youtube video URL.
Example: http://www.youtube.com/watch?v=9Kyb7U_djUk#t=27s
Hope they also implement this feature when embedding YouTube videos. 🙂
Update – Our friend Amit Banerjee has shared an easy way that allows you to set a specified start/play time when embedding Youtube videos on a site or blog.
Embed Youtube video to start at a specific time – Get the HTML code of the video from Youtube and paste it in the HTML section or Source (in Windows Live Writer). Now add the parameter &start=27 right after the video ID in the YouTube video embed code.
"Remember to replace 27 with the desired starting time and paste the same parameter twice, right after 2 video IDs present in the video embed code."
An illustration is shown below:
<object width="560″ height="340″><param name="movie" value="http://www.youtube.com/v/TNMpa5yBf5o&start=27?fs=1&amp;hl=en_US"></param><param name="allowFullScreen" value="true"></param><param name="allowscriptaccess" value="always"></param><embed src="http://www.youtube.com/v/TNMpa5yBf5o&start=27?fs=1&amp;hl=en_US" type="application/x-shockwave-flash" allowscriptaccess="always" allowfullscreen="true" width="560″ height="340″></embed></object>
Thanks, Amit for the hat tip!