If you have a laptop or notebook, then it's recommended to turn off its screen before leaving for a short break to save the battery. Though the display turns off itself after some time and on closing the lid but your device may go off to sleep, thus preventing any ongoing tasks like downloading files at night. So, it's better to manually turn off the LCD screen to save power. Now let's see how you can do it on your MacBook or MBP.
Turning off the monitor or display on MacBook & MacBook Pro – This can be easily done using a simple keyboard shortcut, just press Shift + Ctrl + Eject key (located at the top right corner) at the same time. The display screen will turn off instantly, press any key or touch the trackpad to turn on the screen again.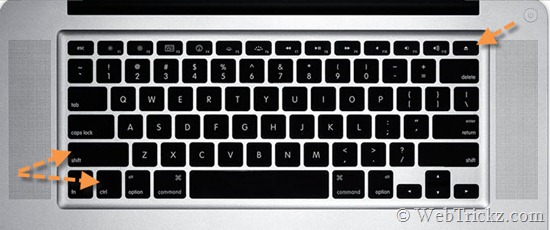 Tip: Lower down the screen brightness if the battery is running short on your MacBook.