After having hands-on OS X, I went straight off to download Firefox and Chrome browser on my MacBook Pro because the default pre-installed Safari browser has not been my choice ever. After running Firefox 4 on MAC, I noticed that some very handy features were missing from its Mac version too like 'Save Tabs and Exit'.
Similar was the case with Firefox 4 for Windows, for which we provided a simple solution that works perfectly. But applying the same trick of setting browser.showQuitWarning value to true in about:config doesn't enable the 'Save and Quit' option in Firefox 4 on OSX.
Don't worry, I've figured out an alternate way that brings this nifty option back to Firefox 4 on Mac OS X. To save tabs on closing Firefox, DO NOT close it using the red x located at the top left corner of the browser window. Instead, move your cursor to the Firefox icon on the dock (assuming Firefox is pinned to Dock), right-click it, and select Quit. (Alternatively, you can use the keyboard shortcut Command + Q to quickly save and quit Firefox).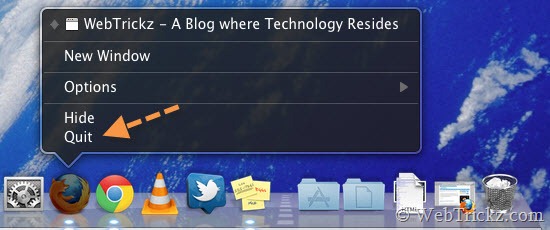 Note: If you're using a MacBook or MacBook Pro, then secondary click with 1 finger or secondary tap with 2 fingers using the Trackpad to right-click the Firefox icon on Dock.

Upon selecting the Quit button you'll be presented with the old message asking 'Do you want Firefox to save your tabs. Clicking 'Save and Quit' will restore all the closed tabs when you start Firefox next time. Hope you found this tip useful. 😉