In addition to our everyday tasks like eating, working, and sleeping; Downloading has become a daily practice for mostly all users who tend to download GBs of stuff every day without even realizing it. Talking of power users, their Internet bandwidth consumption is certainly heavy, especially those who download movies, videos, software, and games from the web. Although most modern browsers come with a built-in download manager, they lack the essential features and some take ages to finish a download. That's where comes the infamous "Internet Download Manager" aka IDM which is an award-winning download manager. IDM is a highly acclaimed application for Windows with more than 20 million users worldwide. We've been actively using IDM for a decade now and can vouch for it! So, here's our review of Internet Download Manager.
Wait! Not just a review but a Giveaway as well for our loyal readers. In partnership with Tonec, WebTrickz is offering 10 genuine licenses of IDM valid for 1 Year. In the past, we've conducted a few giveaways of IDM as well because it deserves to be on your PC. For those unaware, IDM is a paid software whose lifetime license retails for $24.95 whereas the 1-Year license costs $11.95. Without further ado, let's proceed with the IDM review.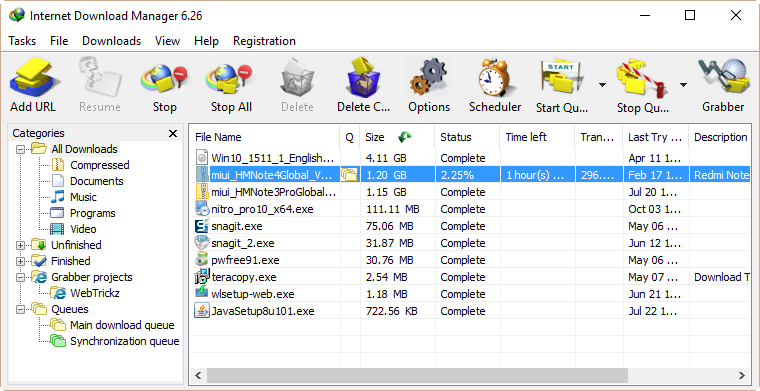 How does IDM work?
Unlike other download accelerators, IDM features an intelligent 'Dynamic file segmentation' technology that segments downloaded files dynamically and reuses available connections without additional connect and login stages, resulting in a significantly improved download performance. It can increase file download speeds by up to 5 times and offers the ability to pause, resume and schedule downloads.
Functionality & Browser Integration
IDM is a feature-rich application with an easy-to-use interface. It supports a majority of file types and all popular browsers such as Google Chrome, Firefox, Internet Explorer, Opera. IDM integrates seamlessly with supported browsers using the 'Advanced Browser Integration' feature that hijacks the browser's downloader and takes over any sort of downloads. When downloading a file, IDM will automatically detect it and display its info like the file size in a download dialog. The downloaded files are automatically sorted, can be placed in categorized folders or one can set a user-defined directory to save files. There are instances when IDM fails to catch the right file, in that case, one can right-click the file and select 'Download with IDM'. Optionally, one can drag and drop links to IDM or add a download address directly into the app using the 'Add URL' option.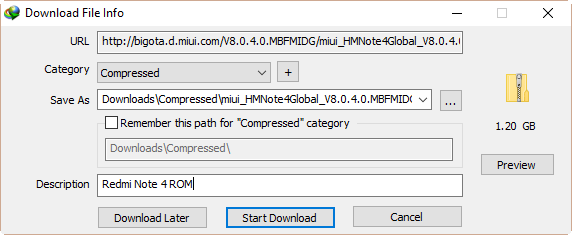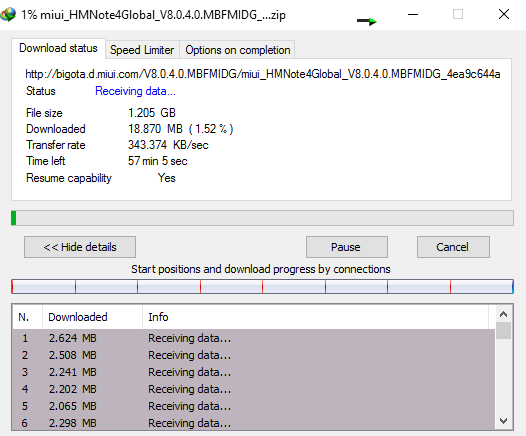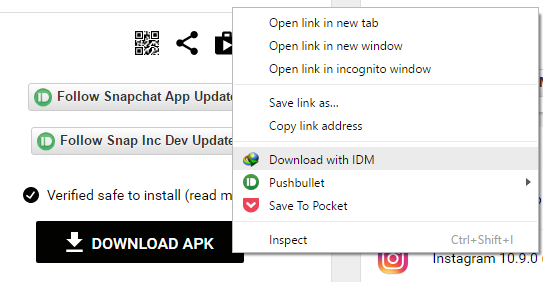 Key Features –
Speed Limiter – This comes in handy when you're watching a live stream or browsing the web and hence want to limit the downloading speed. IDM lets you do so easily while the download is in process or as a separate setting under IDM > Downloads > Speed Limiter.

Scheduler – Users can add downloads to a queue to download them manually later or automatically at a specific time. They can queue up multiple files for download while the computer is idle and can also set Download limits. Useful for broadband users with unlimited night usage who can set a start and stop download time. [Refer]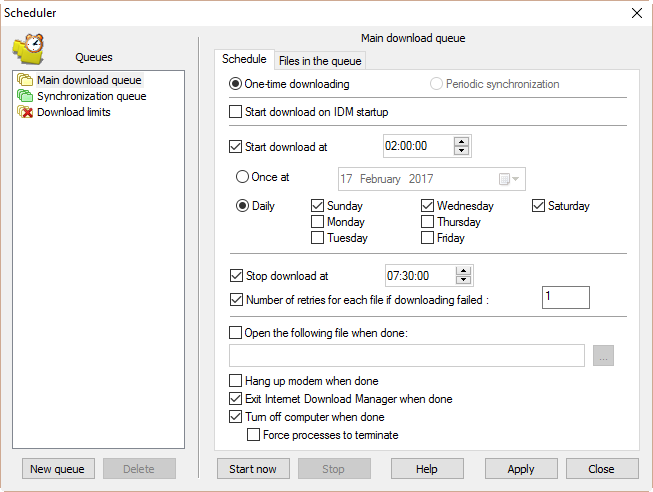 Video Grabber – IDM offers an easy and quick way to download videos embedded on a webpage from popular video websites. While watching a video, a "Download This Video" button pops up that lets you download the video in multiple screen resolutions. The IDM download panel in browsers is customizable too.

Site Grabber – A powerful tool that is capable of downloading several types of files at once from a website such as pictures, audio, videos, and even the entire website for offline viewing. IDM supports authorization and users can select one of the pre-defined templates or configure a custom template too. They can schedule multiple site-grabbing projects to run at a pre-defined time or set the projects to periodically synchronize to remain updated with the site.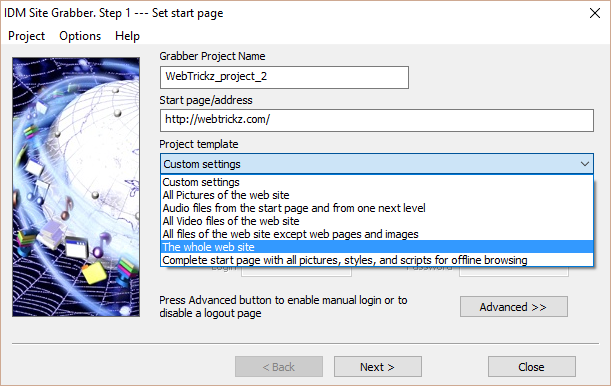 Customizable UI – IDM offers a host of customization options and settings for a flexible operation. Users can customize the look and configure browser/system integration options. Hotkeys can be defined to prevent or force downloading with IDM. The right-click context menu for browsers can be edited along with the associated file types and you can specify custom download directories for different categories to keep your downloads organized.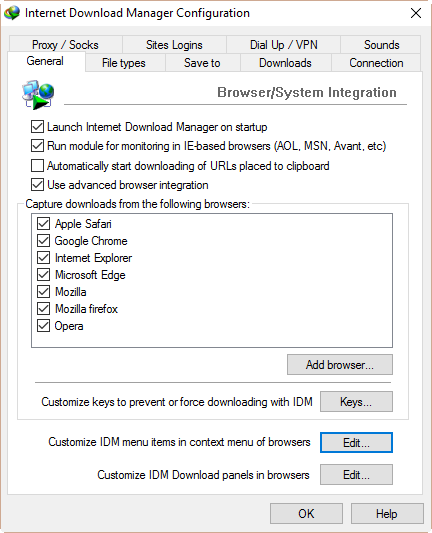 Quick Update – IDM may check for a new version once every week and lists a dialog with the changelog and new features added to the latest version. Then users can automatically update the app with ease.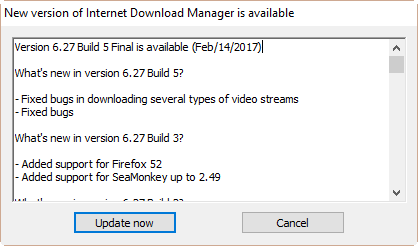 Other features include:
Automatic Antivirus check – Configure IDM and select the installed Antivirus program to enable virus checking after the file gets downloaded.
Prompts and asks what to do if a duplicate download link is added.
Batch downloading support – Download multiple files at once
Arrange downloads on basis of their file name, size, transfer rate, etc.
Multilingual – supports 33 languages
Verdict
IDM is an effective solution to speed up your lazy downloads besides the range of other features. The app is totally worth it for users who frequently download big-size files and wish to download them at the best possible speed which also saves time. IDM is mainly targeted towards power users but normal users can also get the most out of its native functionality, i.e. downloading files with ease. We like that the app works silently in the background and receives regular updates. However, IDM isn't multi-platform yet and is available for Windows only. Even the GUI hasn't been revised for years which makes IDM look dated but that doesn't affect its core functionality. One more gripe is that even its lifetime license offers 3 years of free updates, the app continues to work though. Overall, we're happy with the good old IDM (yes, we love this nickname) which remains our reliable and speedy companion for downloading content.
~ Interested users can Try IDM now by downloading its 30-day fully-functional trial.
GIVEAWAY – We're offering 10 licenses of Internet Download Manager. The license expires in one year and is eligible for a Free upgrade to all new versions of IDM during one year. To participate, follow the simple rules below:
1. Retweet (RT) the below giveaway tweet on Twitter.
Win Free Licenses of Internet Download Manager (IDM) – Review & Giveaway by @web_trickz https://t.co/BUfd28WNFI Enter now!

— WebTrickz (@web_trickz) February 17, 2017
2. Post an engaging comment below, briefly describing what you like most about IDM?
Note: Remember to share your tweet status link along with the comment.
10 Winners will be chosen from the comments section below and results will be announced on February 24th.
Update (24th Feb) – Below are the 10 lucky winners of IDM chosen randomly. Your license will be emailed to you shortly. Thanks to all the participants. 🙂
John Draxler
Daniel Hidalgo
Ibrahim
Baziroll
Thanh
Navjot
Daniel
Namrata
Dhamodharan
Kaushik