I just got my new MacBook Pro 13 and was pretty excited about it as it was my long wished Apple product. Apparently, all Apple Macs come pre-loaded with OS X to which I'm a newbie and had my hands on OS X first time ever yesterday. As a Windows 7 lover, I wished to get most of the similar features in OS X too but was surprised to see that some small but nifty features were missing from Apple's OS. So, I'm here to cover my first tip, i.e. How to get 'Show Desktop Screen' on OS X.
Unlike Windows 7, OS X 10.6 Snow Leopard doesn't offer a 1-click option to minimize all the open windows and see the Home aka desktop directly. But after some searching, I got hold of a Keyboard shortcut that hides all the opened windows on Mac OS X and shows just the wallpaper and other stuff present on the desktop.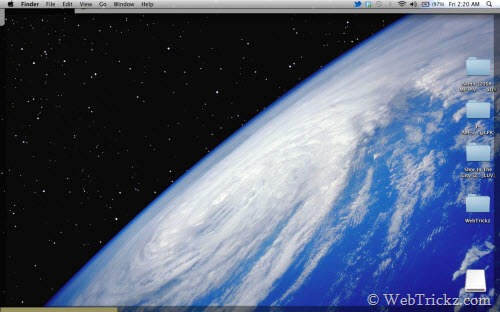 To hide all open windows and view the desktop, just press the Command + Exposé key (F3), or Fn + F11 at the same time. The home screen will appear instantly.
Although, this is not as quick as the Aero Peek function in Windows 7 but does the job perfectly. I'll be covering more interesting tips and tricks on OS X soon! 🙂