Apple iPad 2 features an amazing and smart accessory known as "Smart Cover" that is perfectly designed to protect your iPad screen in an elegant and compact way. The smart cover uses a bunch of magnets to hold itself instantly and perfectly with iPad 2.
The Smart Cover not just protects your iPad, but also wakes it up as you open the cover and automatically makes it sleep as you close the cover back. Not to forget, smart covers folds into a perfect stand making it really easy to type quickly on your desk.
By default, the Smart Cover Automatically locks and unlocks your iPad when you close and open the iPad cover. However, there's is an option to easily turn off this feature so as not to let the iPad go to sleep and wake up as the cover is closed and opened.
To Enable/Disable this feature, go to Settings > General > iPad Cover Lock/Unlock and set the option to either On or Off as required.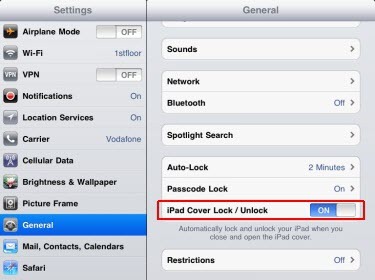 iPad Cover Lock/Unlock missing? Most of you might have noticed that iPad 2 doesn't shows the iPad Cover Lock/Unlock option in settings. That's NOT an issue, this option automatically shows up once you attach the smart cover for the first time on your iPad.