The Prefetch (in Win XP) and Superfetch (in Vista & 7) feature in windows reduces the time required to open the applications and those required for the initiation of the operating system.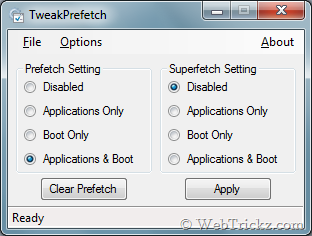 TweakPrefetch is a small utility coded in VB.net that can handle the fetching operating systems Windows XP, Vista and 7. It allows you to separately set the parameters of Prefetch and Superfetch.
The options are:
Disabled: disables completely the function of fetching. The"Optimization Start" (which handles the Superfetch) will be disabled.
Only Applications: fetch only active applications running on the user.
Only Boot: fetch only active on the startup files (system files, services, and startup programs).
Applications & Boot: fetch focus on applications and boot files (default for Windows Prefetch and Superfetch).
It has a 'Clean Prefetch' button which will empty the Prefetch folder, forcing the operating system to reconstruct the data fetch (or not to create them more if you choose to disable prefetching).
Note – Emptying the folder Windows / Prefetch is highly discouraged and will cause a temporary decrease in the time of opening of applications.
The program also has a "Rebuild Layout.ini" function selectable from the "Options" menu.
[Homepage]