Facebook offers the ability to flexibly manage content such as posts, posts, and videos you share on its platform. Users can move their posts either to trash or archive so that they aren't visible to the audience anymore.
When you delete something using 'Move to Trash', the deleted content isn't permanently deleted from your Facebook account. The deleted items are instead moved to the trash folder and are automatically deleted after 30 days.
Thankfully, you can restore deleted posts within 30 days or delete them earlier from your Trash. Besides, one can move the deleted stuff from the trash to the archive, in case they want to hide it from everyone but themselves.
Seemingly, a lot of people delete posts and wish to recover them later. Well, you can simply get back deleted posts on your Facebook timeline if you know where is trash located on Facebook.
That said, it can be tricky for most people to find trash posts on the Facebook app and website. That's because there is no shortcut to the Trash folder anywhere in the Menu or profile tab.
Where is Recycle Bin on Facebook for desktop, iPhone, and Android?
To find trash on Facebook, you have to go to Activity Log, a place where you can view and manage your account activity. The Activity Log section also lets you access the Trash and Archive directory.
Here's how you can go to your trash folder on the Facebook app and desktop.
How to find your Trash folder on Facebook
Follow the steps below to see posts in Trash on Facebook for iPhone and Android.
Open the Facebook app and go to the Menu tab.
Scroll down and navigate to Settings & Privacy > Settings.
Under the 'Your activity' section, tap 'Activity log'.
On the Activity Log screen, tap the Trash (Android) or Recycle bin (iPhone) option at the top.
That's it. Here you can see all your deleted Facebook posts and the number of days before a certain post is deleted forever.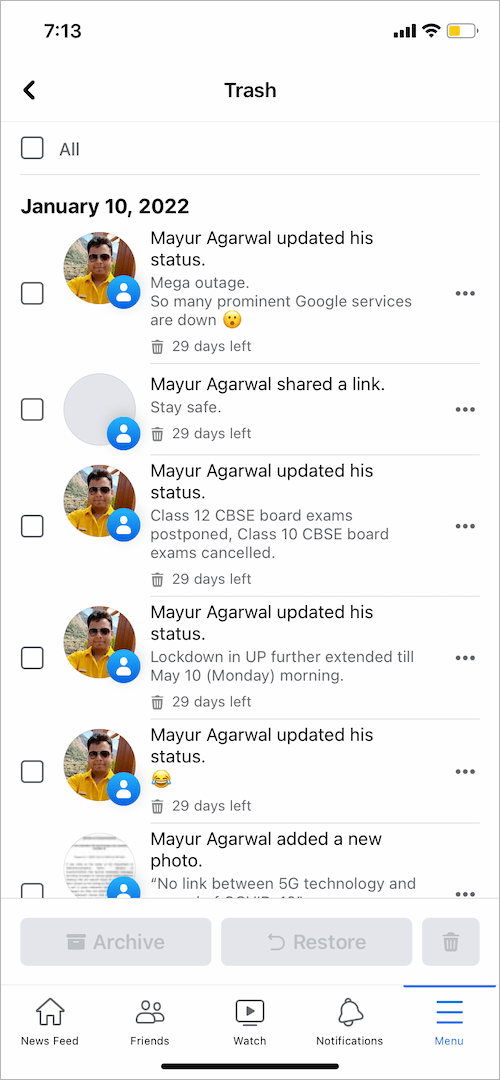 On Desktop
To go to Facebook recycle bin on the desktop,
Visit facebook.com on a computer and log in to your Facebook account.
Click your name in the top-right or left sidebar to go to your profile.
On your Facebook profile page, click the 3-dot button shown under the 'Edit profile' option.
Go to 'Activity Log'.
On the Activity Log page, click on 'Trash' in the left sidebar.
You can now view all the items stored in your trash and they are only visible to you.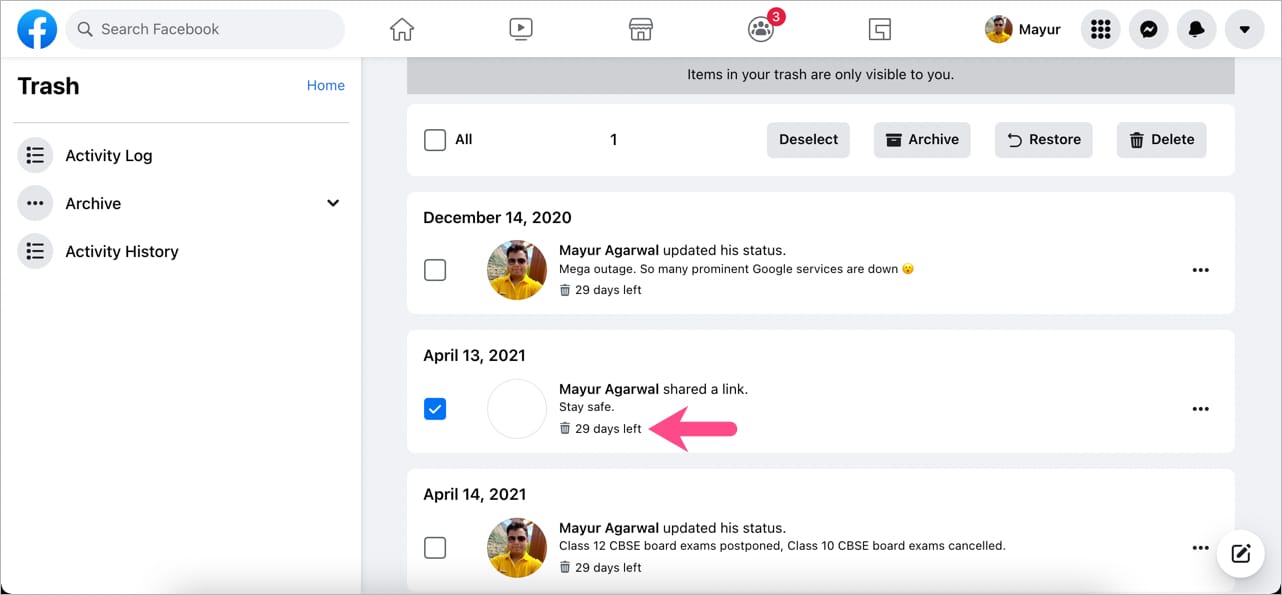 How to empty trash on Facebook
Facebook posts moved to trash are automatically deleted after 30 days and cannot be restored later.
It is however possible to delete content from the trash before it gets permanently deleted on its own. You can selectively delete multiple posts or all the content from your Facebook trash at once.
To do so,
Navigate to the Recycle Bin or Trash folder following the above-stated steps.
Select the post or status you'd like to delete forever from Facebook.
Tap the 3-dots icon at the bottom right and tap the 'Delete' option. Tap Delete again to confirm.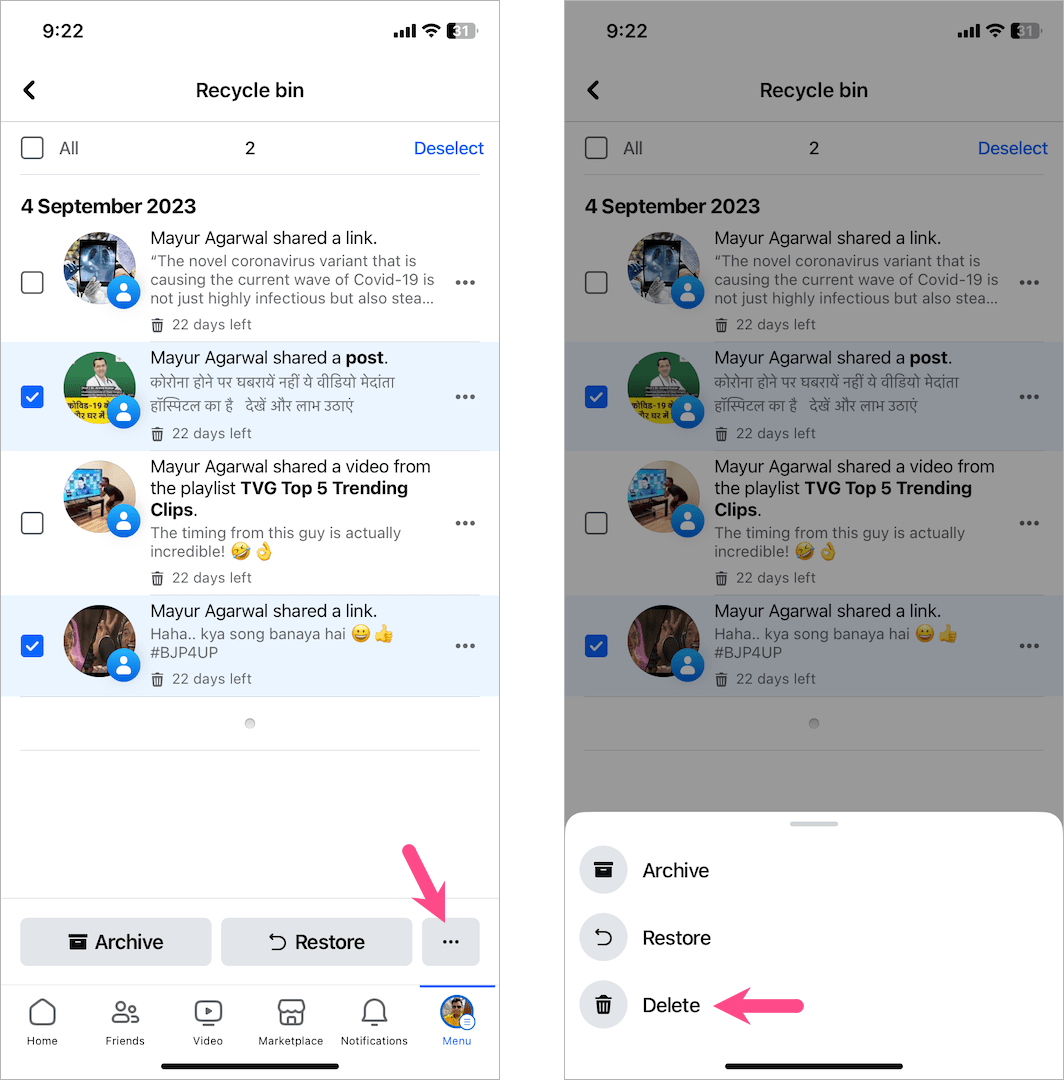 To empty all your trash posts in one go, tickmark the 'All' checkbox at the top, then tap the 3 dots, and select 'Delete'. Tap Delete again to empty your Recycle bin or Trash on Facebook.
ALSO READ: How to view your saved items on Facebook Marketplace