Mobile accessories are equivalent to smartphones in terms of popularity due to the fact that they're necessary for every mobile user out there. As we know, a wide range of accessories are available for mobile phones ranging from headsets to chargers, cables, cases, covers, screen guards, power banks, and likes. Mivi, based in Hyderabad is one such company that deals in this certain category and intends to provide quality products at an affordable price in addition to promising after-sales service. Mivi has a vast portfolio of mobile accessories, including Bluetooth earphones, multiple chargers, tough and durable nylon braided cables, OTG adapters, screen protectors, and such.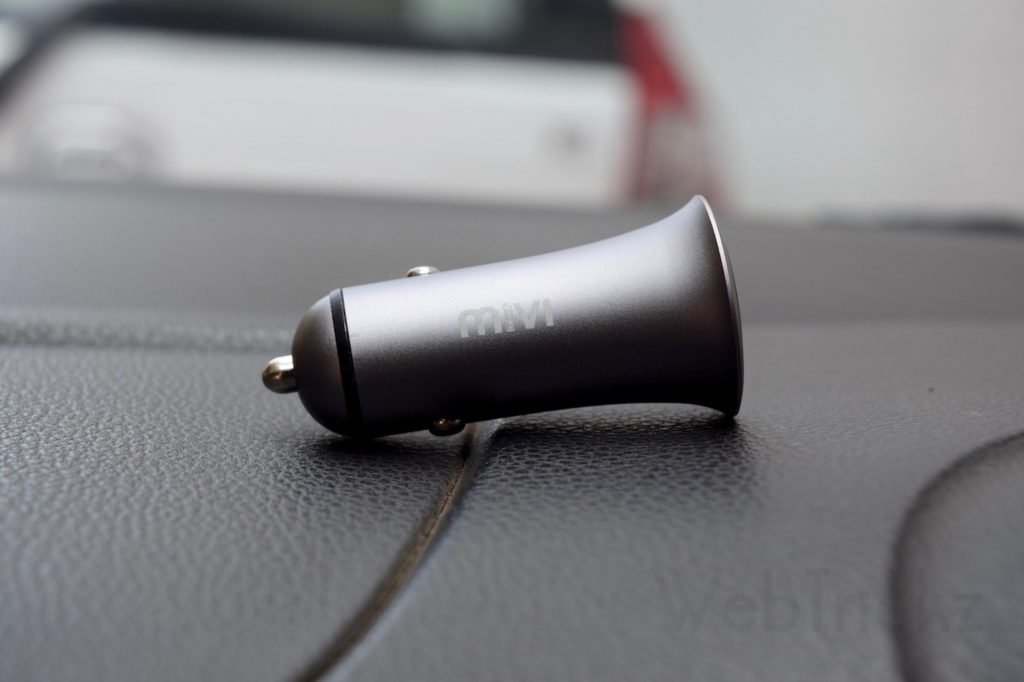 Mivi also offers car chargers that come in handy to power up a phone or tablet easily while traveling, using their usual 2 port smart charger and single-port Quick Charge 2.0/3.0 charger. The company has just added a new car charger to its lineup and we were lucky to test it out prior to the official launch. It's a Qualcomm Quick Charge 3.0 certified dual-port car charger that offers a quicker, safer, and more efficient way to charge any USB-supported devices such as a smartphone, tablet, smartwatch, Bluetooth speaker, fitness band, and more.
Key Features
Premium and Compact Design – Unlike conventional car chargers from various brands, this one certainly stands out in terms of build and form factor. It features a metal body that seamlessly curves towards the connectivity ports and the entire body has a smooth matte finish. The top-notch metallic build reminds us of those premium flagship phones sporting a unibody metal design. Despite packing two USB ports, the charger is very compact in size, thus making it very easy to carry along. The charger tends to easily fit in the cigarette lighter slot and didn't attract any scratches while inserting or ejecting. Its premium design and solid build quality surely won't disappoint you.
Dual Charging Ports with dedicated output – Having a dual-port car charger is always better than a single one as you can charge two devices at the same time, without wasting time. Of the two ports, one is a Quick Charge 3.0 port that supports fast charging on devices having Qualcomm Quick Charge 3.0 technology. The second port delivers a dedicated output of 2.4A. The best thing is that both the ports output the supported power simultaneously as long as the devices are looking for that input. This means there is no power distribution between both ports. Moreover, it features Smart Charge Auto Detect technology that detects the connected device and charges it at its fastest supported speed. The two ports combined together, result in a 30 watts output (18W+12W).
Multiple Safety features and 1 Year Warranty – The charger ensures all-around safety to protect your devices as well as the car charging circuit. It comes with Input/Output over-voltage protection, Surge protection, Short circuit protection, and temperature control. Also, it's backed by a one-year manufacturer warranty and users can register for the same on the Mivi site.
Charging Performance
Having covered all the key features, it is now time to see how this charger performed in real-life usage. We initially tested it by connecting Moto G5 Plus and Asus Zenfone 3 simultaneously for a time interval of one hour. Those unaware, both these handsets pack a 3000mAh battery. During our test, the Quick Charge 3.0 port charged the Moto G5 Plus from 16% to 72% (that's 56% of charge in an hour which is equivalent to Moto's Turbocharging), whereas the Zenfone 3 charged from 45% to 81% through the secondary 2.4A output.
In another test, we connected only the Zenfone 3 via QC 3.0 port with 56% of charge. In around 1 hour 18 minutes, the device got charged up to 98 percent which converts to 42% of charging. This is good considering Zenfone 3 doesn't support Quick Charge fast charging and the rate of charging significantly decreases once a phone reaches 90% of charge due to a certain algorithm.
In a quick test, we also tried charging the OnePlus 5 via QC 3.0 port. When powered off, the phone charged from 0 to 10% in 12 minutes which is good but nowhere close to the OnePlus Dash Charge technology that charged it from 0 to 25% in flat 13 minutes under the same condition.
Verdict
Priced at Rs. 899, Mivi's dual-port metal car charger is a value for money product. Featuring an elegant and compact design, this charger is reliable and efficient in terms of actual performance. It also packs a LED light inside that notifies you about the active connection and doesn't distract the driver's attention while driving the car. That said, we totally recommend it for frequent commuters who don't want their smartphone or other gadgets to run out of battery, while on the go. Interested buyers can easily order it from Amazon.