Even a high-end smartphone having an adequate-sized battery can easily run out of juice as people nowadays tend to stay hooked to their mobile phones now and then. This results in faster battery drain especially when users repeatedly access the Internet for daily routine tasks like listening to music, frequent usage of social media apps, gaming, and GPS navigation during their commute to the workplace or home.
This is where Powerbanks come to the rescue, letting you charge your phone while on the go and without the need for wall sockets. One can easily find numerous brands that manufacture power banks in varied capacities but not all of them do it the right way. Today, we'll be reviewing an essential accessory from "dodocool", a HongKong based brand that deals in quality products ranging from earphones to mobile accessories, multiple types of chargers, cases, power banks, connectivity hubs, and more. Without further ado, let's get started.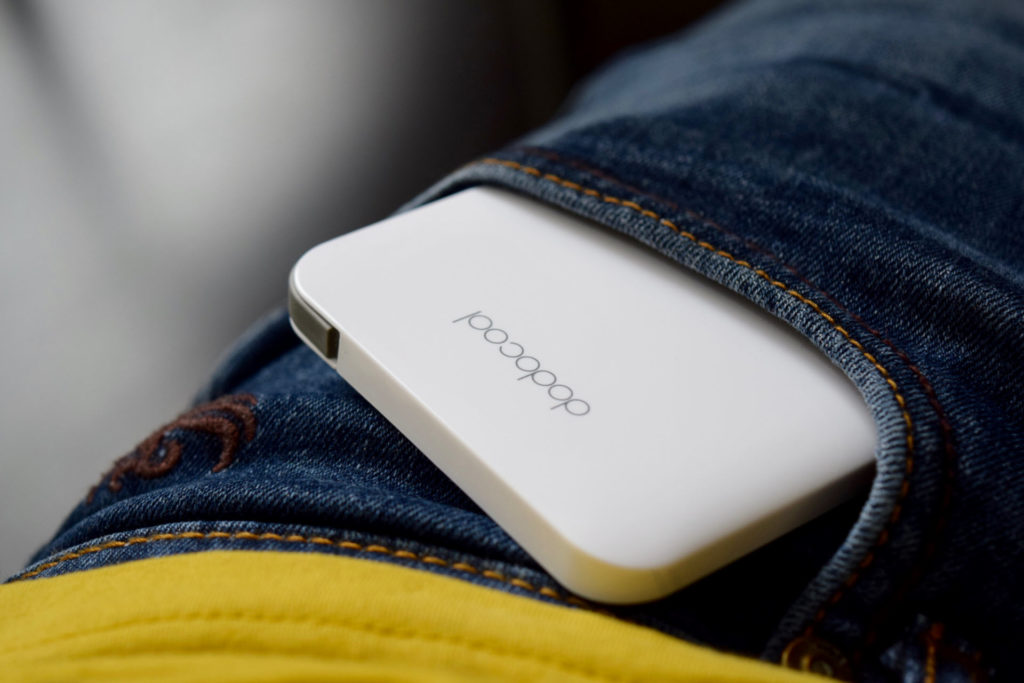 dodocool's 5000mAh power bank is one of its kind, targeted towards users looking for a feasible yet effective solution to charge more than one device, anytime and anywhere. What's interesting is the fact that it comes with a detachable and interchangeable Apple MFi certified Lightning cable and micro USB cable. Either one of these cables can be attached to the power bank itself which overcomes the usual possibility of leaving the charging cable behind.
Additionally, the powerbank has another output port, thereby letting you charge two devices simultaneously. The dual USB output ports allow users to charge a host of devices, including iPhones, Android phones, Bluetooth speakers, smartwatches, portable LED lights, and more. Now let's look at other aspects of the dodocool power bank.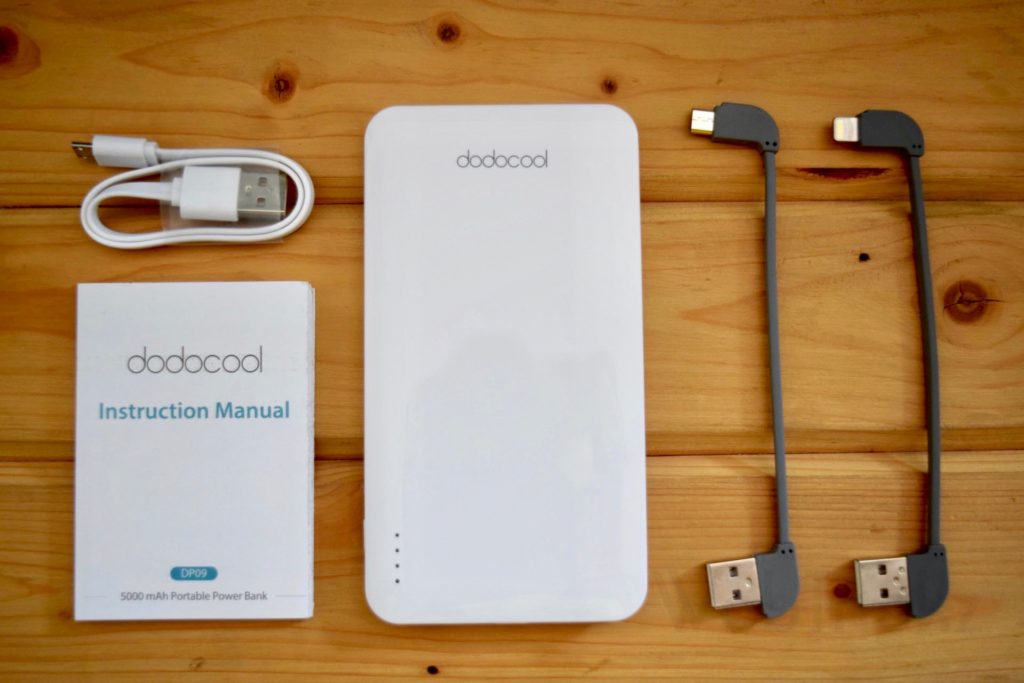 Package Contents:
Power Bank
Micro USB charging cable
Detachable Lightning to USB cable
Detachable Micro USB to USB cable
Instruction manual
Specifications:
5000 mAh capacity
Lithium-polymer battery
132.6 x 71.9 x 8.9 mm and 123.5 g in weight
Input: 5V/2A (Max)
USB Output 1: 5V/1A (Max)
USB Output 2: 5V/1A (Max)
Blue LED indicators
Safety features to prevent short-circuit and overcharging
Design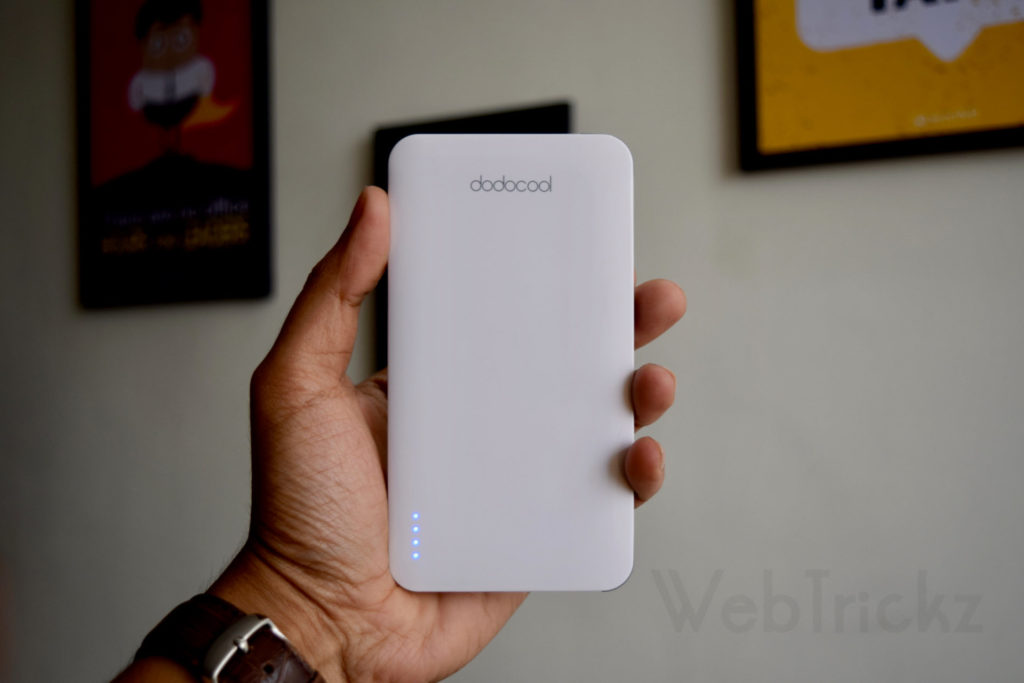 I usually avoid carrying power banks unless necessary because most of them are bulky and heavy, thus making them an inconvenient partner. Fortunately, the experience is entirely different from this product. Measuring just 8.9mm thick and weighing a mere 124 grams, it's an ultra-slim and very lightweight 5000mAh power bank we've come across. The incredibly compact form-factor is similar to that of a 4.5″ smartphone, letting one simply slide the battery pack into their jeans pocket. The rounded corners and curved edges further offer a firm in hand grip and make it comfortable to carry.
Speaking of build quality, it's made of plastic with a semi-gloss finish. 4 blue LED lights indicate the charging and discharging status when the power bank is active. On its adjacent side is a small power button to check the battery level and turn it on. The bottom side houses the micro USB input port and the secondary USB output port. The other side snugly holds the charging cable in place which can be detached and interchanged with either a micro USB or Lightning cable.
In a nutshell, the power bank is pocket-friendly with an ergonomic design. Comes in Black and White colours.
Performance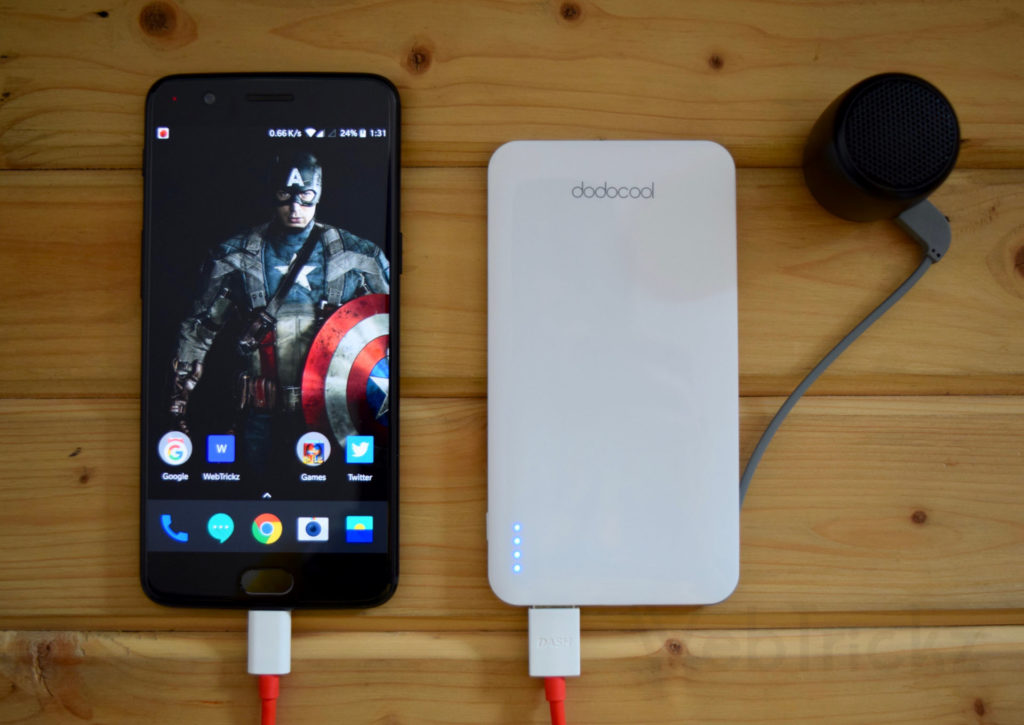 Here's our observation after testing the device for a week. The 5000mAh power bank took about 3 hours to charge from 0 to 100 percent using the Motorola 15W TurboPower charger. The charging time is not too long but it's better to hook the power bank overnight for charging and unplug in the morning. The built-in overcharging and overcurrent protection feature keeps it safe.
In our initial test, we charged OnePlus 5 with a 3300mAh battery from 0-100% and the power bank charged it in around 2 hours and 20 minutes. With some juice still left, it charged Moto G5 Plus 3000mAh battery up to 6% and then turned off.
0 to 50% – 1 hour
50 to 100% – 1 hour 20 minutes
It's worth noting that the LED lights continue to glow when the devices are connected for charging. Also, don't expect any power bank to output the exact amount of power as advertised by it. That's because the actual capacity of a power bank is relatively lower than the rated capacity, due to lesser conversion rate and loss of charge while conversion. Technically, this 5000mAh power bank has an actual output capacity of 3500mAh which is certainly not bad.
In another test, we tried charging two phones simultaneously – OnePlus 5 and Zenfone 3 with 3300mAh and 3000mAh battery, respectively. Here are the results.
1 to 45% (44%) – 1 hour 12 minutes (Zenfone 3)
6 to 61% (55%) – 1 hour 12 minutes (OnePlus 5)
Technically, the above test shows that the power bank delivered an actual output capacity of 3200mAh when two devices were connected. This is significantly less than what we got in our initial test.
That said, the power bank doesn't tend to heat up and outputs an adequate amount of power for charging.
Verdict
Unlike 10000mAh or 20000mAh battery packs, this 5000mAh power bank from dodocool is a perfect companion for users who spend an entire day outside and don't want their smartphone to suddenly run out of battery. The best aspect of this power bank is its ultra-slim and lightweight body that makes it practically possible to carry it anywhere, without any difficulty. Moreover, the built-in cables for charging both Android and Apple devices prevent the need to carry cords separately.
We found the charging time of both the power bank and connected devices to be fairly quick as well. The detachable cable also comes in handy to sync data between phone and PC. All of these factors combined, make this power bank an overall good performer. Available at $16.99 or 1100 INR on Amazon, it's reasonably priced too.