Technology advancements, as much as they can work for you, can work against you as well. One such area is accessing the internet on your smartphones where you have so much sensitive and private information that you do not want someone lurking on it. And many times you get into situations where you're traveling and that particular regions block certain applications (a classic example of China where Facebook is restricted) and you get stuck out of nowhere. And there are situations where you have to get into unknown network zones and do not really know if you can trust them or not. One of the best solutions to get around all of this is using VPN. Of course Android comes with a VPN option in the settings but there are tons of apps out there that make it so easy for you to set things up. We will be taking you thru one such app called the Rocket VPN.
Rocket VPN powered by Hotspot Shield comes from the house of Liquidum, a company based out of Ireland and very well known for its simplistic and intuitive UI. The app is free to download from Google Play & Apple App Store and should work on a majority of phones out there. Following are the features that Rocket VPN brings that make life about VPN so easier and more than anything, secure.
Simple and Intuitive UI:
The UI is so minimalistic and gives you a demonstration of how well material design can be implemented. The color scheme too with basic shades like orange and blue being used that goes well in all sorts of smartphone displays. Access to the options is available at the top right corner with the list displayed. Transitions too are smooth and buttery and we never saw any stutters. It is one of those apps that won't require you to refer to a user guide! Entire usage happens in literally just one page and all you need to do is scroll up and down
Setting Up:
Setting up on the Rocket VPN is also starting to use the app! It literally takes less than 10 seconds to set up the app and start using it. If you're on the latest version of Android you'd be asked to grant permission for the app to operate on your phone. Go ahead and do it.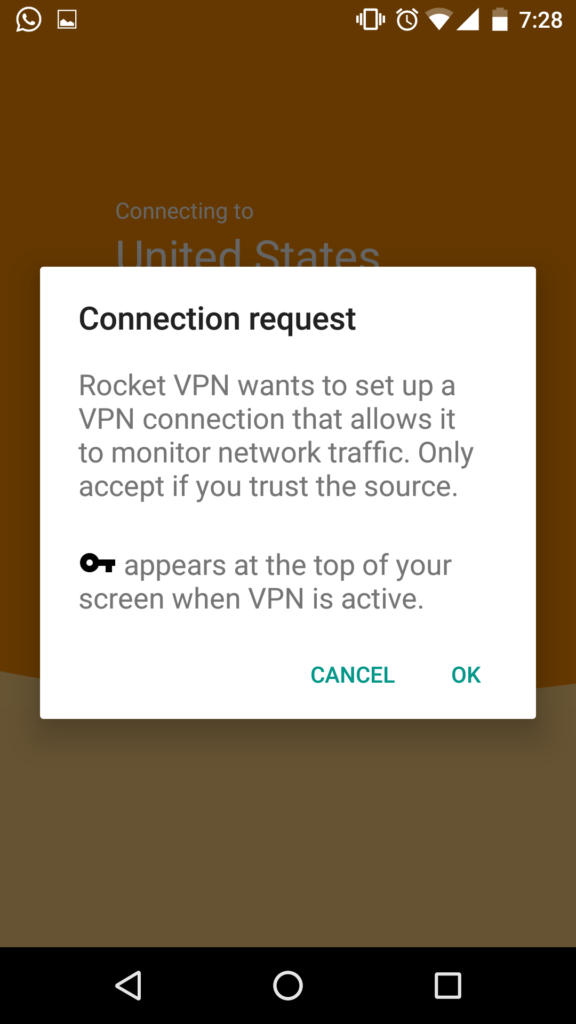 Once this is done, all that you need to do is choose among one of the 10+ server locations of Liquidum that can be used for the routing. Once done it's all about tapping the "Connect" button and in a matter of few seconds you should be connected and you can start connecting to the internet! The app will also tell you the status of certain very important things – whether or not if the connection is secured, whether or not the data is encrypted, and finally what is your location/routed location.
Yes, you read that right! Rocket VPN encrypts the data once you've logged in and you can start using the internet worry-free as all of the data would be secure.
Using Blocked Apps:
Right below the status of the key attributes spoken above is a list of apps that may be blocked in the location you're in and you can tap on each of them to have the app unblock them and allow you to start using them. You can also browse the internet from the Rocket browser to stay protected and access content not available otherwise in your country.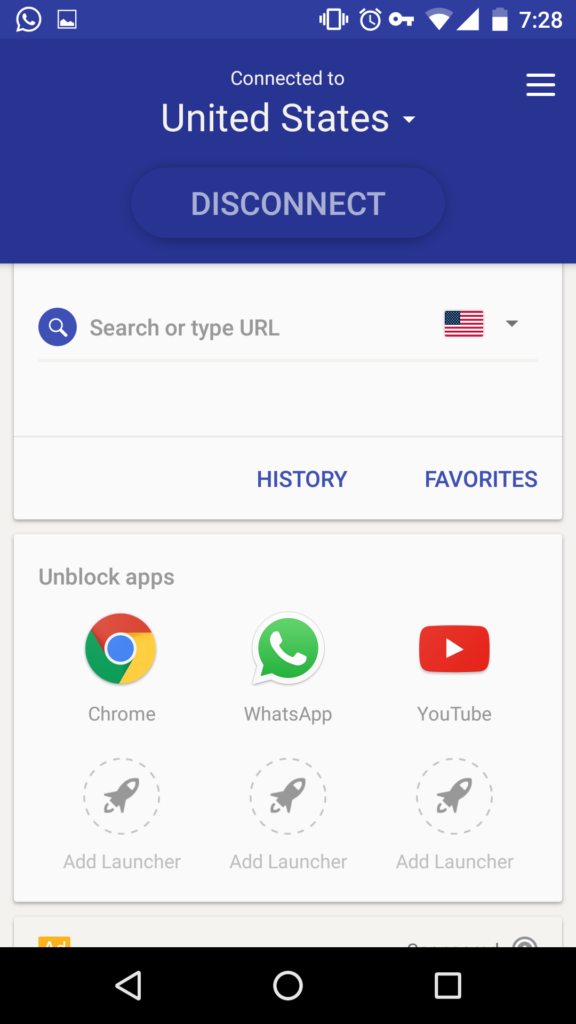 Embedded Launcher:
Another cool feature is "App Launcher" that lets you pool in apps and start using the apps right from within the Rocket VPN app and you do not have to toggle from and into the Rocket VPN app, saving you time at the same time making it all a much better user experience.
Other quick features:
The app also lets you enable an option that automatically connects to the previously set location as soon as you launch the Rocket VPN so that you need not hit that Connect button every time.
There is also a FAQ section under the options that educates you about the basics of VPN and also how to use the app itself.
The app also shows you details around the usage of data that helps you monitor and keep a track of the bandwidth you're using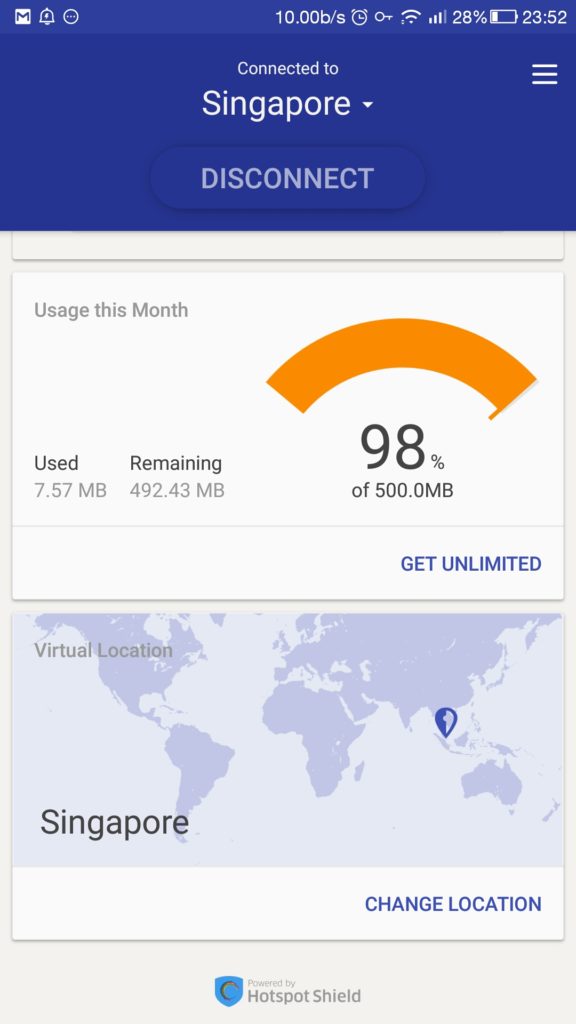 You can also create a profile with Rocket VPN if you plan to purchase the app and manage the purchases and licensing. Speaking of which there are full-screen ads and videos that come up every now and then in the free version of the app and this can be really irritating. As far as we are concerned this is the only negative aspect of the app!
Conclusion:
Pros:
Simple and Intuitive UI
Speedy performance
In-house app launcher
Data usage monitoring
Auto-connect ability
Better bandwidth usage compared to other VPN apps (not much of slowing down)
Cons:
Full-screen ads
App suggestions that keep popping up
No options to manually set up proxies even in the paid version. Just has basic VPN options
With the kind of simplicity that Rocket VPN comes with, ease of use and reliability, and seamless performance it is easily one of the top VPN apps out there. We highly recommend you to try this app as it super worthy of consideration when you're on the lookout for VPN apps. As long as you can live with those irritating full-screen ads and videos that show up from time to time, this is the best free VPN offering we've found in recent times.
Download Rocket VPN – Google Play | App Store