Being an Apple iPhone user, you might have come across a vast variety of cases for iPhone ranging from TPU, wooden, glass, metallic, leather, armor cases, bumpers, and so on. In addition to these typical protective cases, there are battery cases available for iPhone from known brands like Anker, Tylt, Mophie, Lenmar, Trianium, Alpatronix, and others. Apple also has an official Smart Battery Case designed for iPhone 6 and iPhone 6s that retails for $99 in 2 colors.
All these battery cases including the smart one from Apple have one thing in common – all of them aim to extend the iPhone's battery life besides offering standard protection. But all of them, yes ALL have one more thing in common – they're bulky, thick, unattractive, and have an extended portion visible across the bottom that holds the speaker and mic thereby increasing the overall length significantly.
On the basis of their visual appearance alone, we didn't find any of these cases appealing rather they look boring and ugly, thereby spoiling the overall beauty of your iPhone.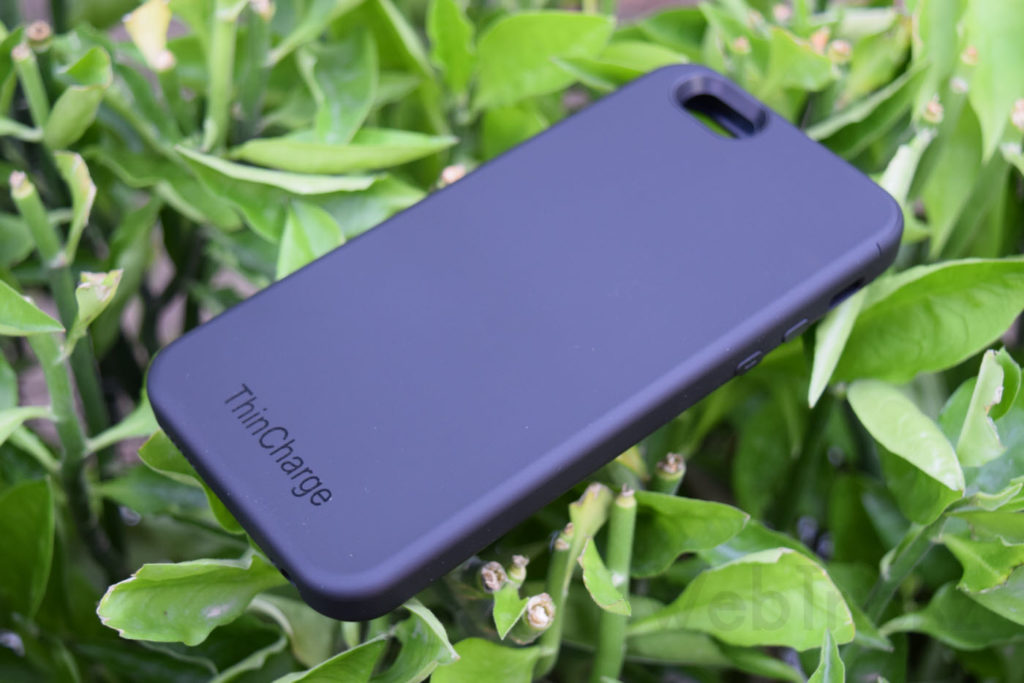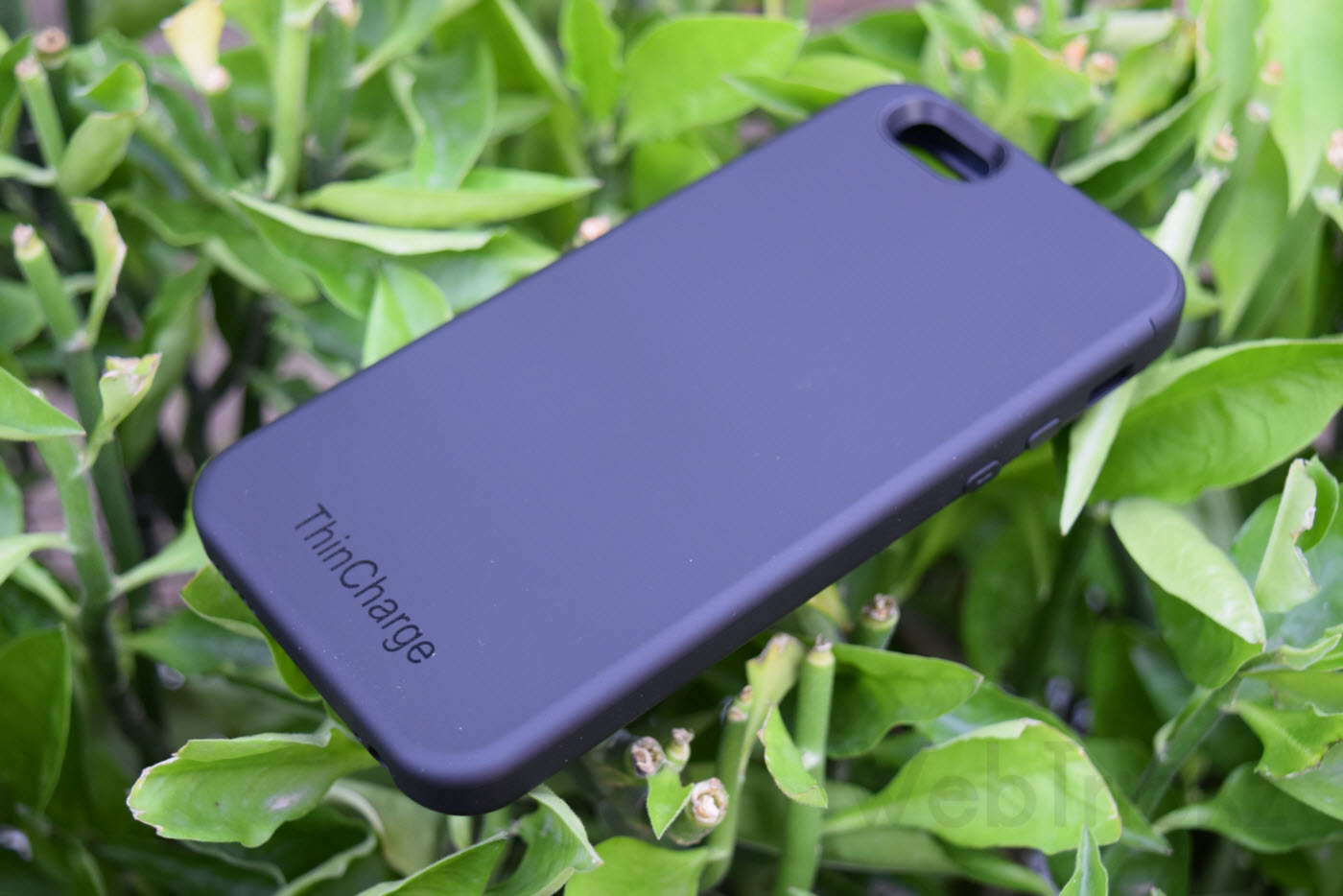 Meet ThinCharge Battery Case
Luckily, there is one extraordinary battery case for iPhone 6/6S that stands out of the crowd and gives similar battery cases introduced yet, a run for their money. We're talking about the ThinCharge battery case by ChargeTech which is one of the best and most popular battery cases for iPhone with some unique offerings. The makers claim that the ThinCharge case (as the name says) is the world's thinnest and lightest battery charging case for iPhone which is also the highest crowdfunded battery case on Indiegogo to date.
Today, we will be reviewing this premium case (iPhone 6 one) that packs a cool design up to its sleeve!
Build and Design
ThinCharge battery case offers power and protection in a single package without compromising iPhone's original look. We personally found the overall design and form-factor to be remarkable as the case is smartly designed in such a way that it looks like a normal case without any integrated battery, which isn't true. The case is super slim at 11.5mm which includes the thickness of iPhone 6 and 6S, measuring at 6.9mm and 7.1mm respectively.
Do some quick maths and you'll find that it packs a 2,600mAh battery in a 4mm thin profile that also guards the phone against accidental drops and scratches. This is kind of surprising considering the entire case weighs just 73 grams making it the world's lightest battery case. In terms of length, it's 145mm tall which is just 7 mm extra when compared to iPhone length (138mm) which certainly differentiates and sets it apart from the rest of the battery cases out there.
The case comes in nice packaging with an instruction manual for user convenience. ThinCharge is made using a shock-absorbing polymer material that aims to offer better drop protection and is light in nature. The case has a 2-piece construction where the upper portion can be taken off easily and applied back once you've slide-in your iPhone. The black version features a soft matte finish that feels premium in hands, offers a comfortable grip to hold, and isn't prone to fingerprints. The cutouts for the camera, speaker grille, silent slider, etc. are precisely done similar to what you'd expect from Apple. The volume up button on the case acts as the function key whereas the volume down has a LED indicator to check power levels. On the top is a lightning port to charge both the phone and case that is covered with a flap which we found tricky to open most of the time. The case has rounded corners and slightly protruded edges across the front to prevent it from direct contact with the surface when the phone is placed upside down.
Compared with the Apple iPhone Smart battery case
It's quite amusing and surprising to see someone beat Apple's creativity and design. Just compare the ThinCharge case with Apple's Smart case in the images below. The official case that's is priced much higher has a wide and ugly-looking lip across the bottom on the front and the rear has a plateau-like odd design such that the phone with the case on would resemble a submarine when placed on a desk. On the other hand, we have the ThinCharge case which we feel is how the official case by Apple should've been.
Apple Smart battery case vs. ThinCharge battery case – 
Setting up
Installing the case on iPhone 6/6S is pretty simple and the same case is compatible with both iPhone models, i.e 6 & 6s.  To apply, gently pull the top cover of the case and then slide the iPhone into the case and make sure it's fitted tightly with the bottom portion that has a lightning port. Then place the upper part back on the case.
NOTE: Though, the upper portion fits well into place on the case but it can fall off accidentally at times while using or taking the phone out of pocket. Take caution so you don't lose it!
Overall, the case is a delight to hold with a sleek, lightweight, and extremely compact size such that one might confuse it with a regular case when applied to an iPhone.
~ Comes in 3 colors – Matte Black, Metallic Gold, and Glossy White
Functionality and Usage
The case doubles up iPhone battery life without you even really noticing it, thanks to its ultra-thin and lightweight design. When the phone is plugged in the case and charging via a power outlet then it will first charge the phone and then the case. The volume keys allow operation in the following manner:
1. the + button is the + volume button, used to start/stop charging and check power.
2. the – key is the – volume key, used to see what percentage of power is left in the case.
3. the LED indicator is on the – volume button and below is how it will flash:
* 1-33% green light will flash 3 times
* 34-66% green light will flash 2 times
* 67-99% green light will flash once
* 100% green light always on
* <1% red light is flashing
4. the upgrading mode is currently not available as there are no updates for Apple iOS updates, this is to be used for future updates with the software.
It uses your existing lightning cable so there's no need to carry an extra cable. The downside here is that the volume gets raised while checking battery power and start/stop charging.
Battery
The case packs a 2600mAh lithium polymer battery which is the same capacity as your iPhone. Technically, the case battery is larger in the capacity as iPhone 6 has a 1810mAh battery whereas 6S has a 1715mAh battery according to iFixit. The case has an output of 5V @ 0.5A-1A and is rechargeable over 500 times in terms of full charge cycles. The charging time is around 3-6 hours when both the case and phone are charged. The only issue is that the lightning port remains at the top so you won't be able to use the phone with a dock.
Conclusion
ThinCharge is currently available for $60 on Amazon whereas ChargeTech has it on sale for $45 only right now with an exclusive coupon. The case looks totally worth this pricing considering it doubles up your iPhone battery and hence the standby time without compromising your iPhone's aesthetics and user experience. The case can come in handy in most situations, letting your charge your phone anytime and anywhere without the need to search for charging stations or carry a power bank.
We're not sure though if the case is MFi-certified and how well it will protect the phone in case of accidental drops as we couldn't test that. We're pretty impressed with its design that doesn't add bulk and looks minimalistic just like a protective case even when it has a bigger battery than iPhone packed inside. If you're looking for a case that can protect your phone and power it up with extra battery life then do look out for ThinCharge. We recommend it!