Internet is becoming more and more widely available especially in emerging countries and more and more people now make use of public Wi-Fi offerings, more so when they are on the move say hopping across countries or for that matter everyday travel and so on. While it is a good thing to make use of it to save some cost it can also be a very dangerous proposition when venturing into a 3rd party Wi-Fi zone as you never know what would lurk into your work or who is tapping into all of the incoming and outgoing information! Even with the normal data connections on your phone you never know who is lurking somewhere not known to you, trying to get a glimpse of your data and other details, while you are blissfully unaware of it.
The best way is to have a VPN shield with you when required or all the time is even better! There are tons of options out there in the Google Play store but today we will be diving deep into one of the best ones out there – Hotspot Shield VPN by AnchorFree. This app is available on Apple's store as well but we will confine ourselves on the Android platform.
This app was released more than a year ago for iOS devices and now comes for Android devices. It is not just VPN software but also holds the ability to curb malware entries and compressing broadband data. The app comes in two versions which are as follows:
Free version

VPN only
Ads

Elite version with a fee of 4.99 USD per month or 29.99 USD for 12 months

VPN
Malware protection
Data compression
One fee per account and can be used across MULTIPLE Android devices
The app and the options:
You can download and install the app from the Google Play store. If you have a code for the ELITE version, you can head over to the official website to activate it or maybe purchase it for that matter.
Open the app, while making sure you have an active data connection or WiFi on. The landing page will tell you that the app hasn't kicked in yet and you will have to start it. Tap on the "Start" button and that is practically it! Then on, all of your outgoing data is encrypted thus making it hard for anyone trying to sneak into it to make any sense out of it or even trying to find your location and many such details.
Observe that that red shield at the top left-hand corner will go from RED to GREEN (it goes to AMBER while it's making an attempt to fully activate itself) indicating that the protection has kicked in.
Protection:
On the protection front, there are three options available: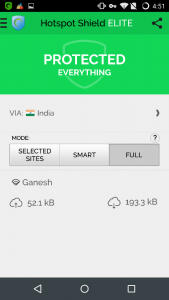 1. Full Protection – this is what gets selected by default and this offers protection for ALL the networks you venture into and for ALL the sites that you visit. This is indeed the best, safest option for you to go with. But if you feel that you can trust specific sites and connections 100% and you'd NOT want the VPN to kick in on such occasions you can use the other options to tell the app what you want it to do
2. Smart Mode – this is where the app uses its own intelligence to kick in to protect you. However, you can also work with it to specify the connections and sites you'd want the app to protect you on. It can be either FULL or partial depending on your situation and preferences.
3. Selected Sites – this is where you can specify the set of sites that you think are SAFE and SECURED and you do not want the app to kick in. You can use the ADD DOMAIN HERE field to add the website/domain and tap on the + button and you're done! You can add as many sites as you'd want to here.
Virtual Location:
This is easily the COOLEST feature of the app! Imagine you are in countries like China where the networks block you from accessing sites like Facebook, Google, and such and you get so damn frustrated! Worry not, Hotshield has you covered there. Tap on the VIA option and you will be taken to the VIRTUAL LOCATION page that has a list of countries you can select from to use as your virtual location/proxy. Imagine you selected the US while physically being in China, the servers would think that you are actually in the US and allow you to start accessing the restricted sites specific to China. Well, we do not encourage you to break the laws of the land but merely say that there is a way to access your profiles and content if need be for good purposes 🙂 We tried moving the location to the United States and were able to access Pandora Online Radio which was COOL!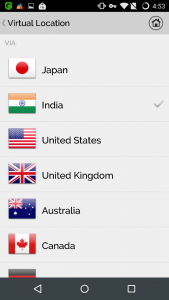 Settings, Data consumption, and the UI:
Settings:
Tapping on the Settings options will take you to a list of options of which most of which we've already spoken about. There is the MY ACCOUNT page that tells you of the account details used for signing in and also about the number of devices using the account. Note that up to 5 devices can use one account and this is where you can keep a tab on it.
You can also PAUSE the protection momentarily if need be for one or more reasons. You can also monitor the network activities around the incoming and outgoing data to each and every app and site that is being used. The General Settings will let you specify if you want the VPN to stop working while the device is put to sleep mode, just to save some battery. You can also manage the startup and notifications options here.
Data Consumption:
On the landing page, the app also quickly tells you the amount of total data that has gone out and come in that gives you a heads up of the overall data consumption. Though it doesn't give a break up of how much of it was on WiFi vs Data connection which is still OK! This is not a data consumption monitoring app.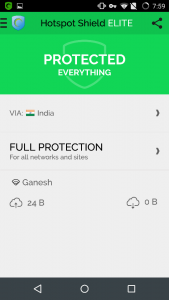 UI:
Simple and Intuitive! that is it. Any novice person can easily use this app and one does not have to be technically intelligent. Usually, the word VPN freaks out many people as this is usually seen as an IT Admin's job but not so with this app. Keeps it all simple and quick to get thru and all the visual cues it provides in the form of the shield at the top left-hand corner, notifications et all makes it such a peach to use. BRILLIANT is what we will call the UI.
The Good:
Data encryption is good and reliable
Virtual location option
Very good notification and visual cue system
Simple to use interface
Ability to do country-proxy
One account can be used across multiple devices at the same time
The Bad:
Ads can irritate you a bit, in the FREE version
Slows down the system a bit
Your device may start heating up a bit more than normal
Battery drains out a little faster when turned on, say 10-15% faster
The one for your Windows PC: The Hotspot Shield VPN software is also available for Windows PC which encrypts all your Internet activity and routes the packets through AnchorFree's servers which are located in many different locations. The software decides the server location based on your location, thus making the transactions faster to deliver better and smoother performance. All of your data sent and received is fully encrypted, thus making it hard for anyone trying to sneak into your information. Turning on Hotspot Shield allows users to surf vanilla-HTTP Websites as if they are actually HTTPS-secured sites. The software also keeps the users warned about any malware encountered and just like in the mobile app, there are cool notifications that are sent out to the users.
Having over 300 million downloads across the world and being awarded as one of the most promising companies in the US by Forbes Magazine, as well as the fastest growing companies by Inc. Magazine Hotspot Shield VPN is easily one of the best, trustworthy apps out there that run their own servers. It is SIMPLE to use and has one of the BEST UI we've seen. With the Virtual Location option this app is the one that we will highly recommend. Do try out the free option and if you hate the ads too much, there are ad campaigns that you can get into and if lucky it can move you to the elite mode! And we will still say the paid version at 29.99 USD per year is worth it, considering the vulnerable worlds your device will be venturing into across various periods of time.
Giveaway – Win 5 Free Licenses of Hotspot Shield Elite
Alright now that you've learned the what, why how of the Hotspot Shield VPN we are sure you'd be yearning to lay your hands on the ELITE version! We are giving away as many as 5 license keys with a 1-year subscription. Here is what you'd need to do to enter the giveaway:
Tweet about this giveaway. "Hotspot Shield VPN for Android – Detailed Review & Giveaway by @web_trickz Enter now! http://t.co/itA7253pD1" Tweet
Comment on this article as to why should we give you a free license or why you'd want one!
We will announce the winners on the 25th of May!
Update – Giveaway ended. The 5 lucky winners are Prabhath, Akshay, Tarek, Karan, and Masoud. Thanks for participating. 🙂
P.S. This giveaway is sponsored by AnchorFree.