If you're out in the market looking for a top-end
Android
smartphone then you must be aware that the Samsung Galaxy Note 3 and Sony's Xperia Z1 are among the top contenders to occupy the best smartphone title. Both the devices have their own pros and cons which we will demystify in this post and help you choose the best phone as per your need and requirements. We will review both the devices and rate them based on the top criteria that people usually look for while buying a phone which include – design & display, software features, camera output, hardware specifications, and last but not least, the pricing.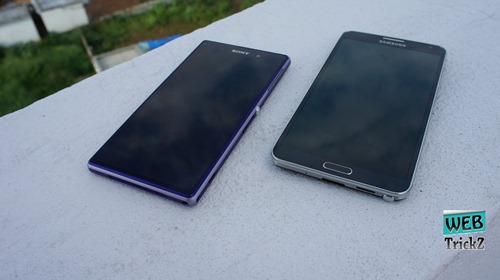 Design and Display:
If you are a power user looking out for a phone with a large screen estate then the 3rd generation of Samsung's Note series device – Galaxy Note 3 won't disappoint you with its 5.7″ gigantic screen size but on the other hand if you are not a big fan of these mammoth-sized phones then the Xperia Z1's display has a moderate size of 5″. Both the devices have full HD display with a resolution of 1080×1920 pixels and a pixel density of 386 and 441 PPI (Pixels per Inch) respectively in the Note 3 and Xperia Z1. While the former has the advantage of having an AMOLED screen the later device's screen has its own advantages to flaunt about – shatterproof and scratch-resistant capability.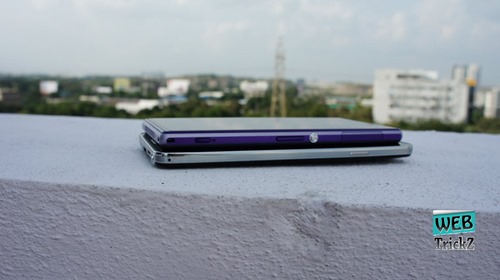 Coming to the overall looks and dimensions of these devices, both of them are more or less equally thick and weigh the same. Note 3 is 8.3 mm thick and weighs 168 grams while the Z1 is 8.5 mm thick at 180 grams. But you will feel the difference in their design and the materials only when you hold and feel each of them. Unlike many other devices from Samsung, the note 3 has a premium-looking leather finish on the removable rear cover of the phone while the Z1 retains the unibody glass finish as seen on its younger sibling – Xperia Z.
Software and UI:
Both the phones – Galaxy Note 3 and Xperia Z1 run on the latest Android Jellybean operating system and on top of it are the proprietary UI by each of the device manufacturers that aims to revamp the stock android UI experience and letting the users access the most used features with minimum taps possible. I am sure, the comparison of Samsung's Touchwiz UI and Xperia UI is itself worth an individual post so I will not go ahead declaring which one is superior to the other. But in terms of software features, Note 3 has got some really cool and productivity enhancement tools that include multi-window feature and air-gesture combined with other proprietary apps such as S Memo – for taking notes flawlessly using the S-pen that comes bundled with the device, SHealth for tracking workouts and steps count, story album, group play, etc. On the contrary, if you prefer clean and uniform UI over the ease of use and number of functionalities available, then chances are high that you would want to go for Sony's Xperia UI over Samsung's Touchwiz.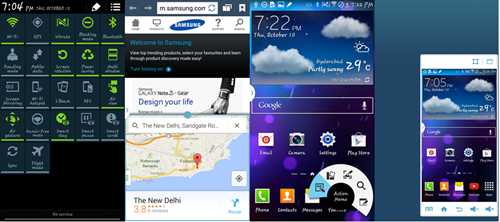 Specifications, Storage and Battery:
The specifications of the Galaxy Note 3 on paper easily beats that of the Xperia Z1. Galaxy Note 3 is powered with Samsung's Exynos 5 Octa-core processor which is a set of 2 quad-core processor – a 1.9 GHz Cortex A15 and a 1.3 GHz Cortex A7 processor with a whopping 3 GB of RAM onboard and a Mali T628 chip that takes care of high res graphics on the device. The specs of Galaxy Note 3 also take good care of the infamous Touchwiz UI that used to substantially affect the performance of earlier Galaxy devices, but thanks to the power-packed processor and RAM onboard Galaxy Note 3, this problem remains on the bay too. On the contrary, Xperia Z1 is powered with a 2.2 GHz Qualcomm Snapdragon 800 processor and has 2 Gigs of RAM onboard which is decent too considering the fact that there are no games or apps as of now that can fully leverage the kind of processors and amount of RAM available on Galaxy Note 3.
Coming to the storage of these devices, Note 3 comes in 64 GB and 32 GB flavours while the Xperia Z1 has 16 GB of internal storage available on the device. Nevertheless, both devices have the capability of expanding the phone's storage up to 64 GB using a micro SD card.
If you're concerned about the battery in these devices, luckily both Z1 and Note 3 have huge batteries that keep the device running for an entire day with moderate usage. While the Galaxy Note 3 has a removable 3200 mAh battery, the one on Z1 is 3000 mAh which cannot be replaced with another spare battery in case of emergency, but with the invention of external battery packs, I don't think a non-removable battery is a setback anymore.
The connectivity features in both phones are almost the same as those found in any other top-notch device in the market. Both of them support GPRS, EDGE, 4G LTE, Wi-Fi, Bluetooth, NFC, and a micro USB connector. Though one advantage Note 3 has over Z1 in connectivity front is, it comes with an infrared port too.
Camera:
The camera is an important factor to take care of while choosing a high-end device, after all, you are not paying a premium just to make and receive phone calls, are you? The 20.7 MP primary camera on the rear of the Xperia Z1 has left us completely impressed with its image quality whether it be outdoor, indoor, or low light photography. An add-on feature to this 20.7 MP camera is that it has a feature called 'Clear Zoom' that lets you zoom photos more clearly and precisely up to 3x unlike the normal digital zoom features available on any other device. Needless to say, the Z1 also has a 2 MP secondary camera on the front which could be used for video calling. Both, the rear and front cameras on the device are capable of shooting full HD videos at 30 FPS.
(Low light photography using Xperia Z1)
On the contrary, even the 13.1 MP camera on the Note 3 performs its task well as long as you are snapping pics in bright light, but low light photography using Note 3 will leave you a tad disappointed. Just like the Z1, the Note 3 has a 2 MP secondary camera both of them capable of shooting full HD videos at 30 FPS.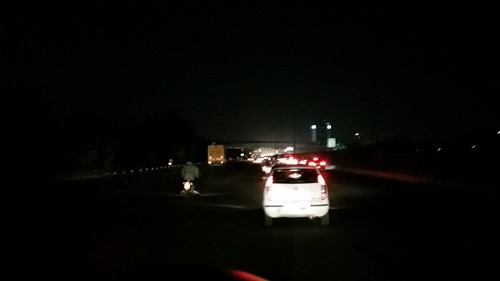 Pricing:
Final Verdict:
Both the devices, Xperia Z1 and Note 3 cater well to their targeted customers. At the end of the day, it would be very difficult for us to answer which device is superior to the other. While the Note 3 is more of a tool for professionals that promises to increase productivity with its S-pen features, large screen size for better multi-tasking using the multi-window, etc; The Xperia Z1 is kind of balanced phone with not a huge screen like that of Note 3 and it surely gives Note 3 a run for its money.
We are sure, just like us even you will have difficulty choosing 1 among the two devices, but let me reiterate, if you are comfortable with a phablet then the Note 3 is probably one of the best devices out there but if you are looking for all-round features if you are a person who believes in clean UI and uses your mobile a lot for photography then the Xperia Z1 is for you.