Since Internet Explorer is the default browser on all Windows, it is used by majority of users. If you are experiencing issues with IE8 on Windows 7 like: unable to access sites, web browsing is very slow or it crashes frequently, then you must troubleshoot IE.
You can easily fix Internet Explorer problems, with the built-in troubleshooter that can automatically find and fix some common problems with IE. To Troubleshoot Internet Explorer 8 in Windows 7, follow the below steps:
1. Go to Start menu, Control Panel and select 'Troubleshooting' (select 'view by' as large icons first in control panel).
2. In Troubleshooting window, click View all from the left side pane.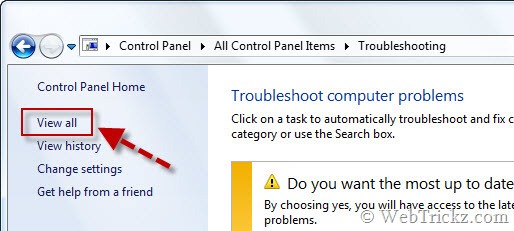 3. Click "Internet Explorer Performance" from All Categories window.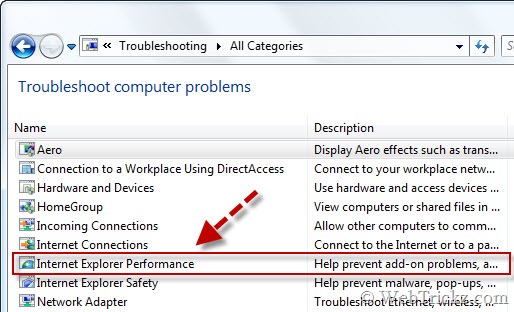 4. Internet Explorer Performance troubleshooter will open. Click the Next button and it will automatically start checking IE for defects and hopefully fix them.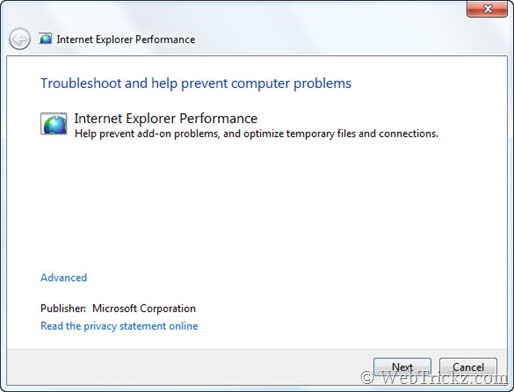 5. Upon completing, close the troubleshooter or view the troubleshooting report.
Now open IE and it should run fine. If Internet Explorer is still having problems, try to Disable all add-ons or Reset Internet Explorer settings.