iOS 14 packs several new features of which the ability to take screenshots by tapping the back of your iPhone is most exciting. 'Back Tap' is an accessibility feature that lets you perform a host of quick actions. Users can initiate a back tap using either a double-tap or triple-tap gesture. With the Back Tap shortcut, one can quickly take a screenshot, lock the screen, open the Control Center, bring up Siri, and much more.
A lot of users find it very useful and convenient to take screenshots with a double tap. That said, you may end up taking a lot of accidental screenshots if you aren't careful while handling your iPhone. In such a case, you might want to turn off the double tap to screenshot option. Here's how it can be done.
How to disable double tap for screenshots in iOS 14
Go to Settings > Accessibility.
Under Physical and Motor, tap the 'Touch' option.
Scroll down to the bottom and select "Back Tap".
Tap on 'Double Tap' and select None. Optionally, you can choose a different action instead of a Screenshot. In case you're using Triple Tap for screenshots then select None for it as well.
That's it. Now a screenshot won't be captured when you double-tap the back of your iPhone.
RELATED: How to turn off Sleep Mode on iPhone running iOS 14
Tip: Turn off Tap to Wake on iPhone
As the name says, this feature lets you wake up your iPhone by tapping the screen. The 'Tap to Wake' feature is found on iPhones with Face ID support such as iPhone 12, 11, XS, XR, and iPhone X. With Tap to Wake, you can simply wake your iPhone from standby mode with a single or double-tap instead of pressing the Side button.
While a double tap to wake is useful, it may lead to unintentional or accidental touches on the screen and light up the display. This usually happens while holding or when the device is in your pocket. Unnecessary waking up of the screen various times in a day can cause quick battery drain.
To prevent any accidental taps, it's better to turn off double tap to wake on the iPhone. To do so, go to Settings > Accessibility > Touch. Then turn off the toggle button next to "Tap to Wake".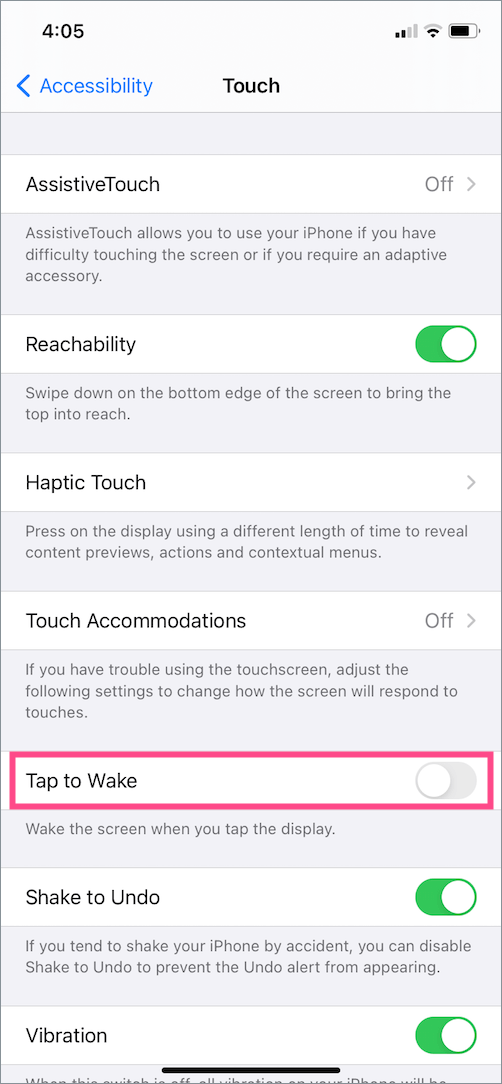 In addition, you can turn off Raise to Wake feature by going to Settings > Display & Brightness. Then turn off the toggle for 'Raise to Wake'. Now the phone's screen won't turn on automatically when you lift the iPhone from a flat surface.
ALSO READ: How to double click to install apps from App Store