The PDF file format was developed by Adobe co-founder John Warnock in the early 1990s. It is a standardized document that can be read on any system, and the layout would not change as it is viewed across various hardware. PDFs can be opened and checked in any browser or with a PDF reader. However, if you want to edit or annotate PDF files, you'll need dedicated PDF software.
With so many PDF tools in the market, it's quite difficult to quickly find the most suitable one. Don't worry, we've tried many PDF software programs in this regard and SwifDoo PDF seems to be an appropriate solution.
To start with, we will show you how to annotate PDF on Windows 11 for free with the help of SwifDoo PDF.
Annotate a PDF file using SwifDoo PDF
SwifDoo PDF is an all-in-one PDF software that supports viewing, annotating, editing, and converting PDF files. Its latest online PDF converter works irrespective of the operating system.
The quick guide below shows how easy it is to annotate a PDF file with SwifDoo PDF.
Download and install SwifDoo PDF on your device.
Open the target file. Click Annotate to unfold the sub-navigation bar.
Select the feature you need. Then save your files.
The Annotate tab contains many powerful and useful features, which will have detailed below for your quick reference.
Highlight and Area Highlight
The Highlight feature allows you to highlight a specific part of a PDF file. After selecting the target text, a yellow background is added by default, but you can change the color manually. It offers a wide range of theme color options, you can distinguish different marks on the PDF files. Besides, you can customize the opacity according to your requirements.
There is a subtle difference between these two features. Area Highlight is for a wider range of highlights, which you can also use for images and forms.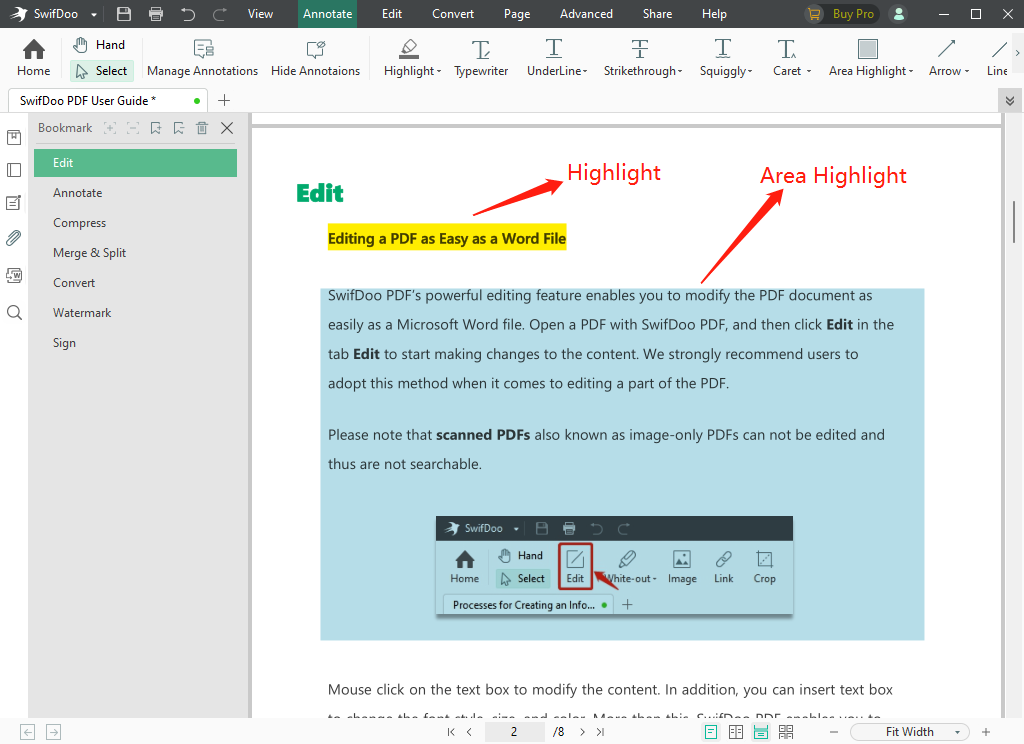 Typewriter and Caret
Typewriter supports adding text anywhere in the document. Users can further adjust the font size and the text color as per their needs.
The Caret feature is also helpful, especially when you miss any word or phrase. You can add text between any two words.
Underline, Strikethrough, Squiggly
The three options allow you to add a "line" to your text, which helps you highlight or distinguish the adopted ones easily.
Both Underline and Squiggly add lines under the text. One is a straight line and the other is a wavy one. In this way, you can stress the key parts of the paragraph. Strikethrough implies that the text was wrong and was recently deleted or marked as such.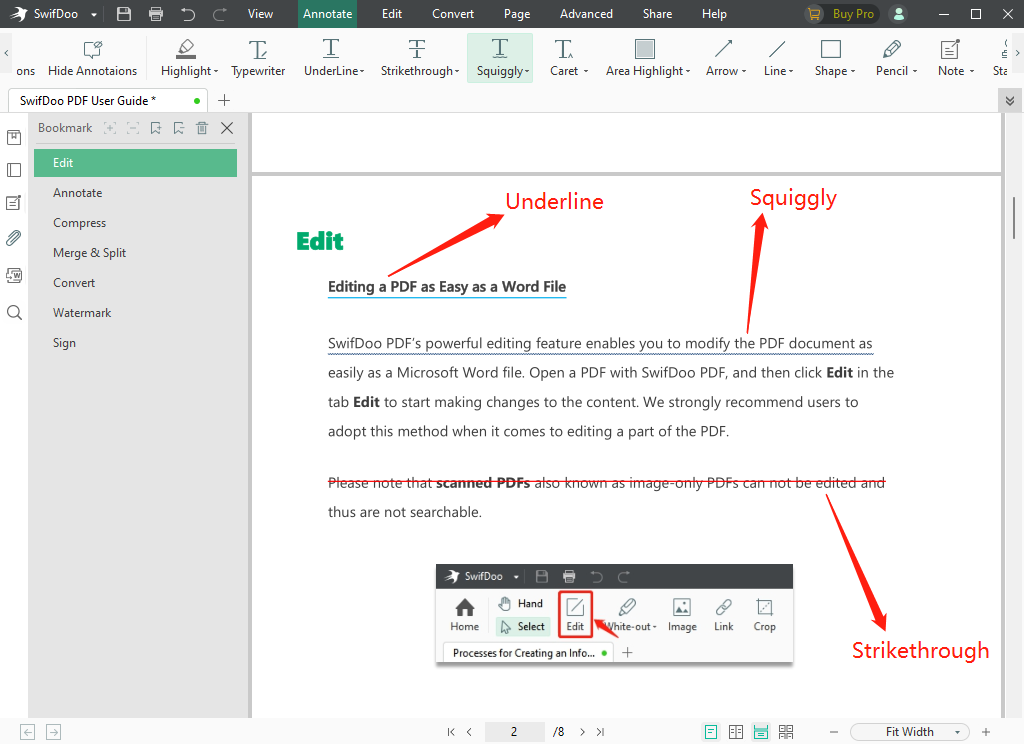 Arrow, Line, Shape
Both Arrow and Line offer straight lines, and the only difference is the former has an arrow, with which you can point out the key part in any PDF file easily.
The Shape is also a way to help you note paragraphs or images with a colored frame. One can also adjust the outline, weight, color, and form of the line as well.
Pencil and Eraser
The Pencil feature allows you to paint or write on your PDFs anywhere. Don't worry if you have drawn something by mistake as Eraser can remove and wipe out any symbols or text that exists in your files, without a hassle.
Note and Stamp
Like Note in Office, one can easily make notes in PDFs with a single click. You can also drag around the comment box.
The stamp has many built-in pictures for you to add to your PDF files. Besides, it supports uploading customize stamps as well.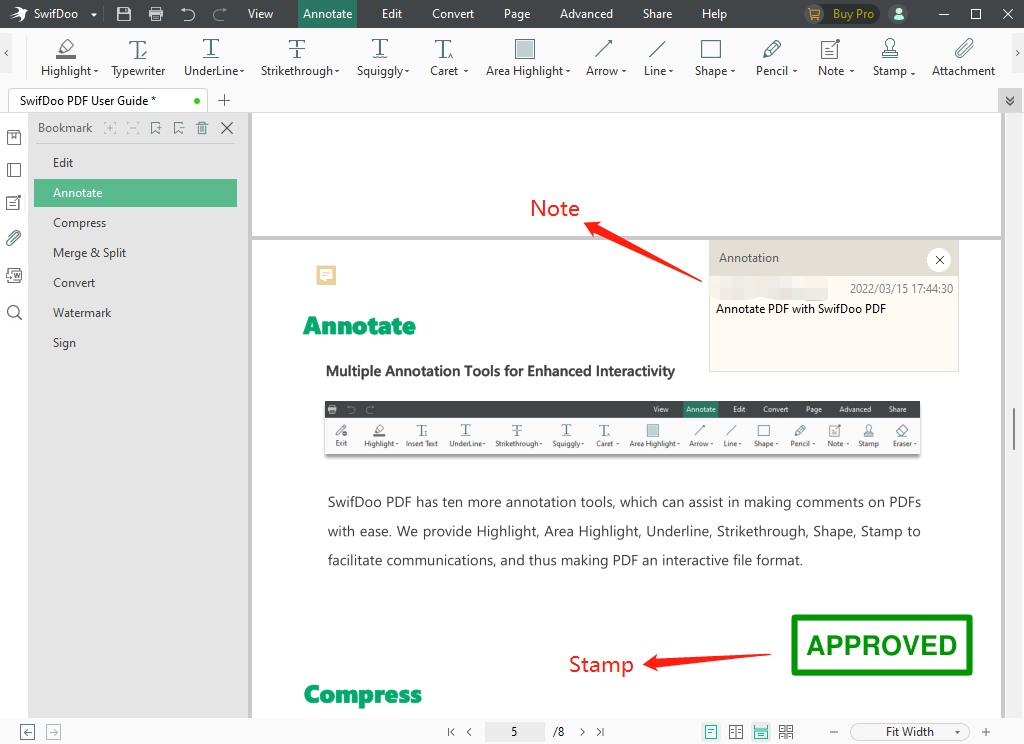 Attachment
If you want to add images or files somewhere in your PDF files, you can use the Attachment tool. What's more, there are no limits on the format or size. By adding attachment files to your PDFs, you can open them directly while viewing the PDF documents.
Final Thoughts
Available for Windows, SwifDoo PDF is far more than a PDF annotator. It is probably one of the most user-friendly PDF tool programs that offers you various features. You can test its other features by yourself; it won't disappoint you!