Google Chrome has certainly became widely popular in a short span and is giving a stiff competition to other Internet browsers just because of its minimal design, faster and safer browsing experience, and comes loaded with a variety of innovative features.

Chrome has the functionality to display PDFs integrated into webpages using the built-in PDF reader plugin. But some of you might not be aware that Google Chrome also offers the ability to open and view any PDF documents, residing in your local directory or computer. You no more need to use dedicated softwares like Adobe PDF Reader, Foxit Reader, etc. just to view the PDF files because Chrome does this job very well.
With Chrome one can read PDF documents without any distraction as there is no extra sidebar or menu bar to customize the PDF. However, there are options to view PDF in full-size, Zoom In and Out, Save or Print PDF. Luckily, the options panel shows up only when you hover the cursor at the bottom right corner of the webpage. Moreover, you can also view Password-protected PDFs with Chrome. Just try it out! You might then want to set Google Chrome as default PDF viewer to open your PDF files.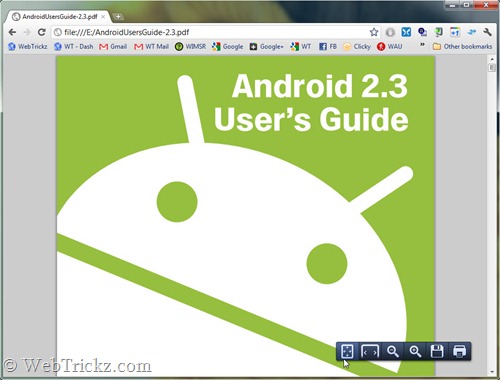 To make Chrome the default PDF reader, right-click on any PDF file and select 'Open with'. Choose Google Chrome as the default program and hit Ok. (Browse to the directory C:\Users\Mayur\AppData\Local\Google\Chrome\Application and select Chrome.exe). Listed location is for Windows 7, directory may differ in Windows XP.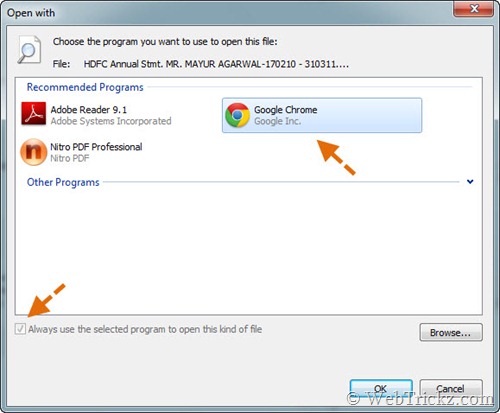 Tip: If you want to open specific PDF files with Chrome, then just drag the file to the Google Chrome icon on your desktop.