Since the ban of TikTok, Instagram Reels has seen tremendous growth in India for short-form video content. Those who love creating reels video must have noticed that there is no way to archive Instagram Reels. Well, the option to archive a reel was available earlier but Instagram decided to pull it down for some unknown reason. As a result, people now only have the option to delete the reel if they want to hide it from the Instagram community. A similar thing happened in the past as well when the company removed the feature to pause Instagram reels.
Can't archive Reels on Instagram?
While the Instagram app lets you archive your posts, stories, and live videos, there is no option to archive reels. Ironically, Facebook Reels offers the 'Edit Privacy' feature and lets you decide who can see your reel. Unfortunately, no such similar setting exists in Instagram 2021 app for iPhone and Android. Unlike Instagram posts, you can't even archive reel videos that you add to your profile grid. I feel Instagram removed this functionality to avoid bloating its servers with a heap of unpublished reels.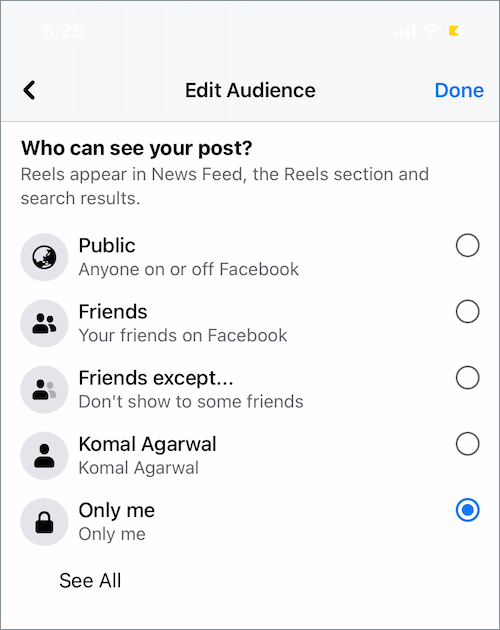 Why does the archive option matter? While deleting removes the reel for everyone that one can restore within 30 days. The archive feature, on the other hand, moves your archived content to a dedicated 'Archive' section. This means when you archive a post, no other users except you can no longer see your archived posts.
While most users would simply delete their reels to permanently remove them from Instagram. That said, you may want to archive reels on Instagram so that you can see them later and cherish the memories.
So, what can I do to archive an Instagram reel? Sadly, there is no way to archive reels on Instagram after posting. There are a few workarounds though that you can use to preserve your reels before deleting them.
How to archive Instagram Reels
Option 1: Save Instagram Reels to your camera roll
Follow the steps below to download your reel video that has been posted on Instagram. Here's how you can do it on iPhone.
In the Instagram app, go to your profile and tap the 'Reels' tab.
Open the reel you want to save to your gallery.
Tap the ellipsis button (3-dot icon) at the bottom-right corner.
Select "Copy link".
Visit a website like igram.io or instavideosave.net.
Paste the link in the Insert Link field and hit "Download". Tap the "Download .mp4" button and select Download to save the reel.
Once downloading is over, open the Files app and go to "Downloads".
Open the reel you downloaded and tap the "Share" button at the bottom-left.
Tap "Save Video" to save the reel to the Photos app.
You can now delete the particular reel from Instagram.
NOTE: Reels downloaded using this method will be saved to your gallery with music.
RELATED: How to Download Facebook Reels Video
Option 2: Save Reels as draft
Created a reel that you haven't published yet? In that case, you can save the reel as a draft and access it anytime from within the Instagram app. To do so, just make a reel and tap the "Save as Draft" option at the bottom of the Share screen. Then open the Drafts folder to find your Instagram reels drafts in one place.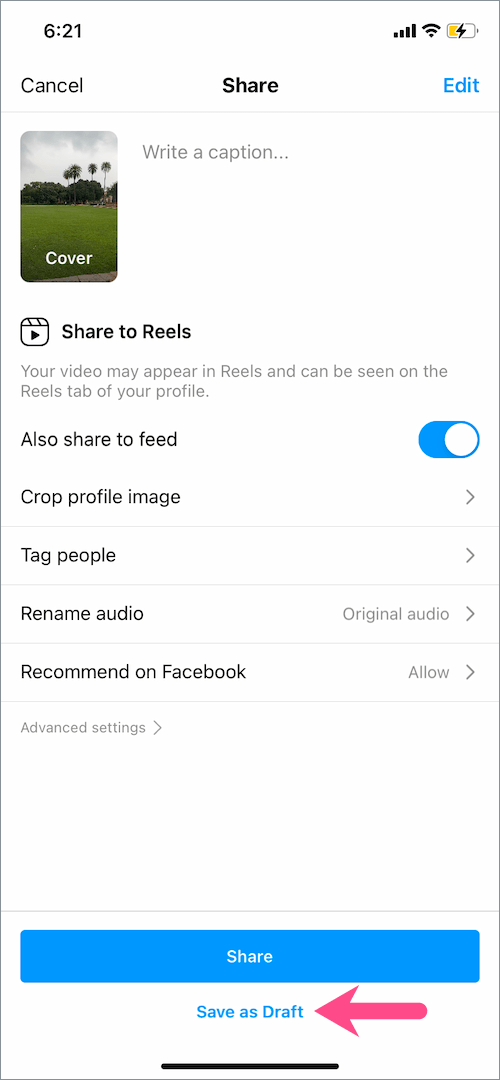 Word of Caution: Reel videos saved as drafts are automatically deleted when you uninstall or log out of your Instagram account.
TIP: You can also download your draft reel video to your smartphone camera roll. For this,
Go to the 'Reels drafts' section in the Instagram app.
Open the reel you want to save.
Tap the 'Edit' option at the top-right corner.
Tap the 'Download' button (downward arrow icon) on the preview screen.
The draft reel will now be saved to your gallery. Note that the reel will be saved without audio if it contains audio from the Instagram music library.
RELATED STORIES: